International Yoga Teacher
Training Courses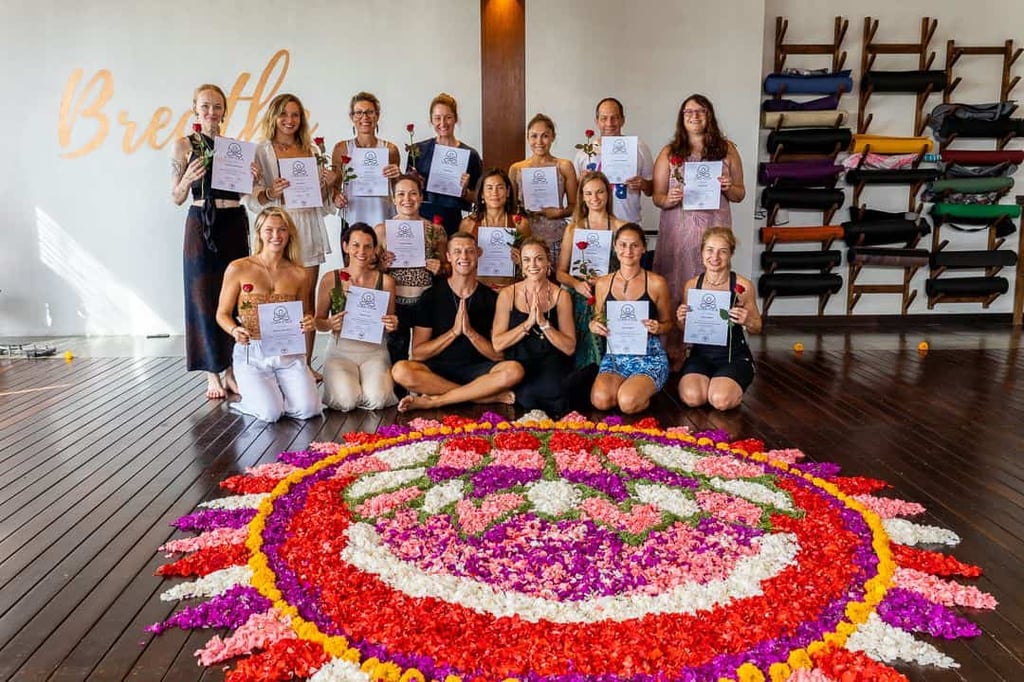 200hr Yoga Teacher Training
Loka Yoga School's teacher training path consists of a 100 hour immersion and 200 hour trainings.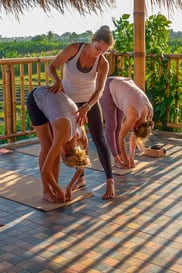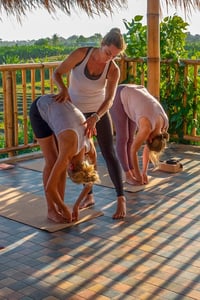 And Yoga Alliance Continued Education Program courses for your ongoing education and success.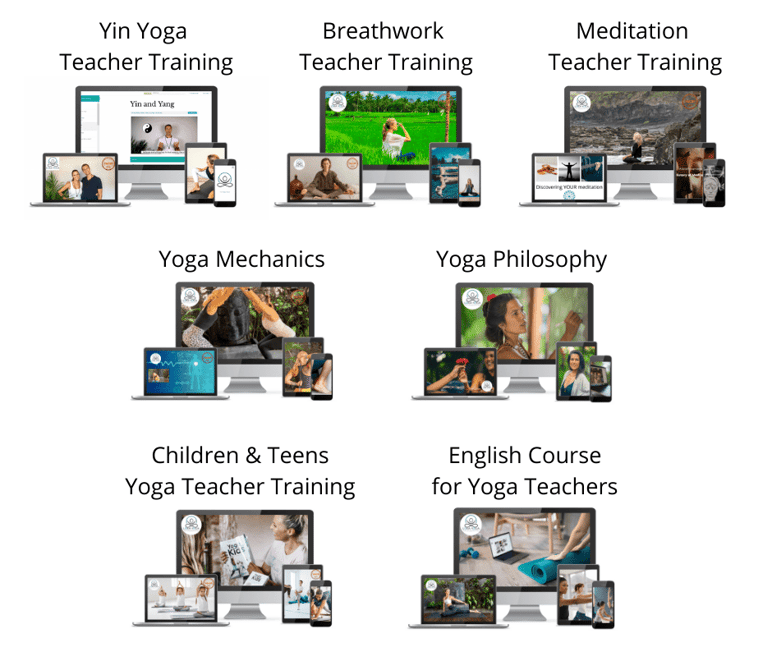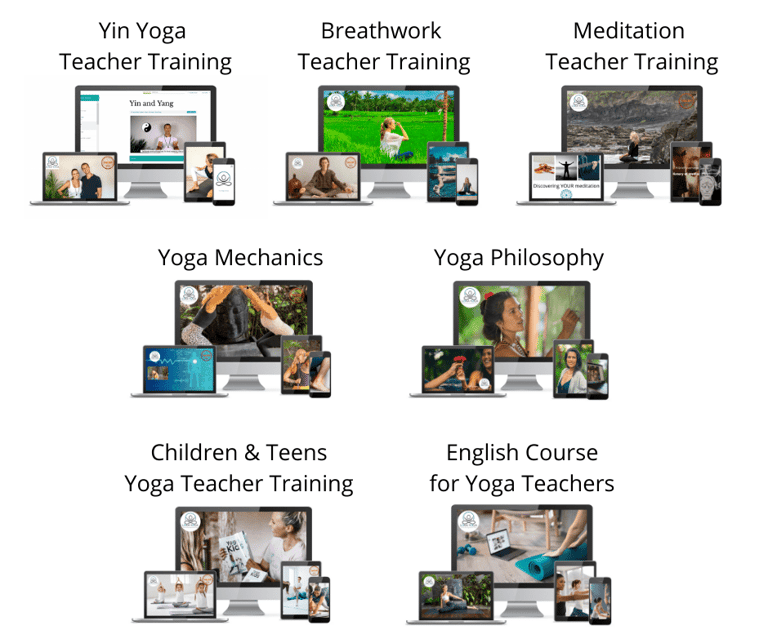 Are you called to aligning your passion with your life purpose, to live with more kindness, positivity and to leave a legacy of LOVE in the world? If so, you've ended up in the right place!


Loka Yoga teacher training provides a unique opportunity to study and practice yoga in a setting that differentiates itself by offering not only yogic practices but also by providing the correct understanding, traditions, context and meaning of yogic science, asana and philosophy. We have a strong focus on combining the ancient knowledge of the East with the latest understandings and research coming out of the West.
Our team is made up of practitioners completely committed to our fields of expertise. By dedicating our lives to our self practice and development, we have gained the ability to aid others take their next step on their journey.
We take our trainings very seriously. When a graduate of our program applies to teach at a yoga studio – anywhere in the world – with a Loka Yoga School certificate, the studio will know that the class will be well-sequenced, confident, intelligent, safe and a transformative experience! We hold ourselves to the highest standards, even exceeding the requirements as set out by Yoga Alliance, and have been running Yoga Teacher Teacher Training programs since 2016. Our students can be assured they will have access to deep information, taught by the most respected experts in their specialised fields and be surrounded by a loving community of like-minded people and incredible teaching tools.
This course beautifully blends the traditional Hatha Yoga while implementing today's modern Vinyasa Flow. It brings you a balance between a holistic, grounding practice and a strong dynamic style. As a result, you will walk out with a solid foundation in two Yoga styles, giving you dynamic range as a teacher. The training is designed to have a completely interactive experience, giving our students the opportunity to not only study the "map" of yogic teachings, but also explore the "territory" internally through deep practices that will be closely facilitated. The course has been created in this way to ensure the graduates will be teaching from a place of true experiential wisdom, rather than borrowed knowledge from books.​
You will be given the tools to create sequenced classes in addition to a strong base for growing your personal practice in the future. With our Bali yoga teacher training, you can connect with your inner self on this path to find out your personal style and learn how you would best be able to share with everyone. Most of all, this training will give you the opportunity of self-discovery through the ancient science of Yoga.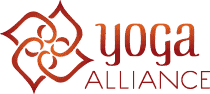 Our globally recognised courses in Bali offer an opportunity to combine the lush beauty and healing energy of the island; amazing nature, the best beaches, good food, surf locations and an authentic and deeply moving Yoga Teacher Training program.
Our courses and teachers are accredited with the international body of Yoga Alliance. ​​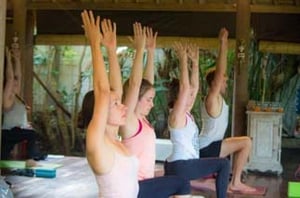 Joining Loka Yoga's Yoga Teacher Training is the best gift I have ever given to myself!
I cannot thank you enough for the wonderful time we had and for the transformation. It quite literally changed my life.
– Marie J (Denmark)
Finally, after many requests and popular demand, our Yin Yoga teacher training course now is now Online! Join Taryn and Yann as you dive deeper in to the Science of Yin. Learn how to apply this incredible practice to work on such a deep level to release tension and stress, prevent injury and promote recovery.
– 64 poses
– Ready to teach sequences
-Videos, modules & quizzes
The scientific teachings of Yin Yoga.
– Our courses and teachers are accredited with the international body of Yoga Alliance. Log 50 hours YACEP.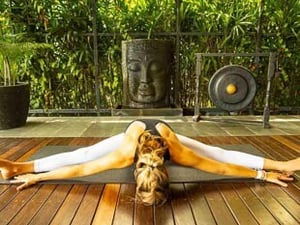 This online Yin Yoga teacher training gave me a deeper insight into the practice of Yin Yoga. I feel I have the knowledge to safely deliver a Yin class, ensuring my students are safe and being able to offer adjustments with props to support my students. There were fully comprehensive anatomy modules that delve into all areas of human anatomy, with a particular focus on the 'why' of Yin which was really interesting. Both Taryn and Yann have built a strong online program whereby you can learn at your own pace – this was great for me as yoga is my passion and not (yet) my full time career! It really gives you a good understanding of the practice of Yin Yoga. There was online support where needed and the interface was really easy to navigate. Thank you Loka Yoga School!
– Josephine Lynch (United Kingdom)
The most in depth, self-paced Breathwork Training available online!
A truly transformational experience as you are empowered with knowledge on embracing and controlling your breath – everything you have is right under your nose…you just need to know how to use it!
– Breathing Fundamentals
– Advanced anatomy on the breath
– Videos demonstrating how to perform every technique
– Full length guided practices
– Including Pranayama, Circular Breathing, Holotopric Breathwork and Rebirthing
Our courses and teachers are professional Breathwork Facilitators and also accredited with the international body of Yoga Alliance. Log 20 hours YACEP.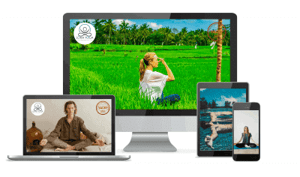 Loka Yoga School's Yin Yoga training includes extremely thorough description – both on a theoretical and practical level – with comprehensive explanations, from very knowledgeable experts. I loved the quizzes throughout, the in-depth poses and the beautiful sounds in the background of the practice classes were a bonus too! I am glad that I dedicated myself to the course. I gained useful knowledge and really enjoyed the experience and journey.
– Andrea Szilagyi (France)
Comprehensive Meditation Training. Join us and learn how to control your mind, control your emotions, control your life. Discover this amazing Meditation Buffet, as we take you on a journey to experience all meditation techniques with an introduction, explanation and guidance of each style!
– History of meditation and 25 techniques
– Guided meditation practices
– Meditation Scripts
– Videos, presentations and lectures!
– Including over 25 techniques, guided videos, audio meditations, lectures, presentations and modules to assist you every step of the way.
Our courses and teachers are accredited with the international body of Yoga Alliance. Log 10 hours YACEP.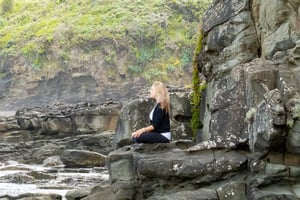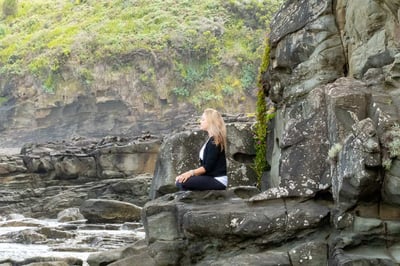 Thank you for such a wonderful Yin Yoga teacher training course. The lessons were enjoyable, informative and easy to understand. I loved the Yin classes and explanation of all the different poses. The breakdown of the anatomy made it easier to understand and the quizzes helped to bring it all together. I'd highly recommend any yogis to complete this course to further their yoga awareness, understanding and knowledge. Thank you.
– Camille Josiane Frizzell (England)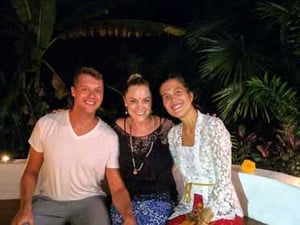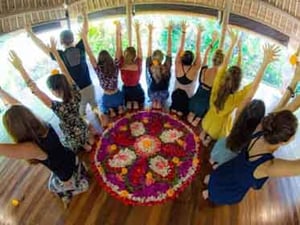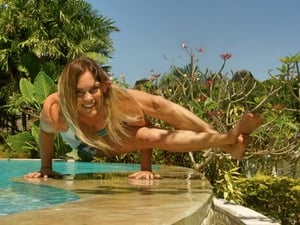 Why join Loka Yoga for your next teacher training course?
Our team of expert instructors have had the honor of training students from all over the world. Our love, passion, dedication and devotion to yoga has shaped our program to be an authentic yoga teacher training, rooted in ancient Indian history.
With a curriculum formulated to elevate your understanding of yoga, expand your spiritual knowledge, and maximize your teaching potential, you are sure to graduate from our program feeling confident in your ability to share the joy of yoga with others.
Our lead yoga teachers are comprised of a highly educated, diverse team with many years of teaching experience. We also immerse our students in the vibrant local culture of Bali by offering guided tours and excursions. ​
​
One of the best things about training with us at Loka Yoga School is the exposure to all aspects of the yogic lifestyle, as well as various yoga styles.
In our teachings we go beyond knowledge borrowed from books. We explore the deep meaning of the practice, focusing not only on the physicality of the practice, but also on it's effect on the mind and spirit.

For us Yoga is a science for creating inner union and inner wellbeing. While we focus mostly on the traditions of Hatha, Vinyasa and Yin, we also incorporate Astanga, Iyengar yoga, Power yoga, Sivananda yoga, AcroYoga, and Partner yoga classes.

We understand that peoples' bodies are different and will benefit from different practices; some a more active vinyasa, while for others the slower, meditative Hatha style will be better for their mind and body. We want to prepare you to teach in the style which will best serve you in the future.

At the end of this yoga teacher training, you will receive the internationally certified Loka Yoga School and Yoga Alliance certificate from our accredited and reputable Bali yoga school. This means you will become a part of the alumni of students who we are proud to provide references for, should you choose to interview for a teaching position anywhere in the world.

Our students are regarded highly as we are a fully legal, established school with a top-ranking curriculum exceeding the minimum requirements.

The freedom and openness of our program will allow you to experiment with asanas from different yoga traditions, choosing to follow whichever you please, or perhaps even creating your own style!

There is no other place quite like Bali to study yoga, and there is no other yoga school quite like Loka Yoga!
When and where is the next
​Yoga Teacher Training Course ?
Our Yoga teacher training courses are conducted in our stunning venue by the famous surf beach in Canggu, Bali.
This luscious location offers an abundance of pristine coastline, nature, cafes, shops & boutiques and the divine spirituality of the Balinese culture.
200-hour YTT
2023 Course Dates:
September 11 – October 7 – 1 spot left!
2024 Course Dates:
1 – 27 April
July 1 – 27
August 5 – 31
October 14 – November 9
2025 Course Dates:
31 March – 26 April
June 2 – 28
August 4 – 30
November 3 – 29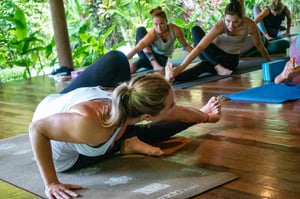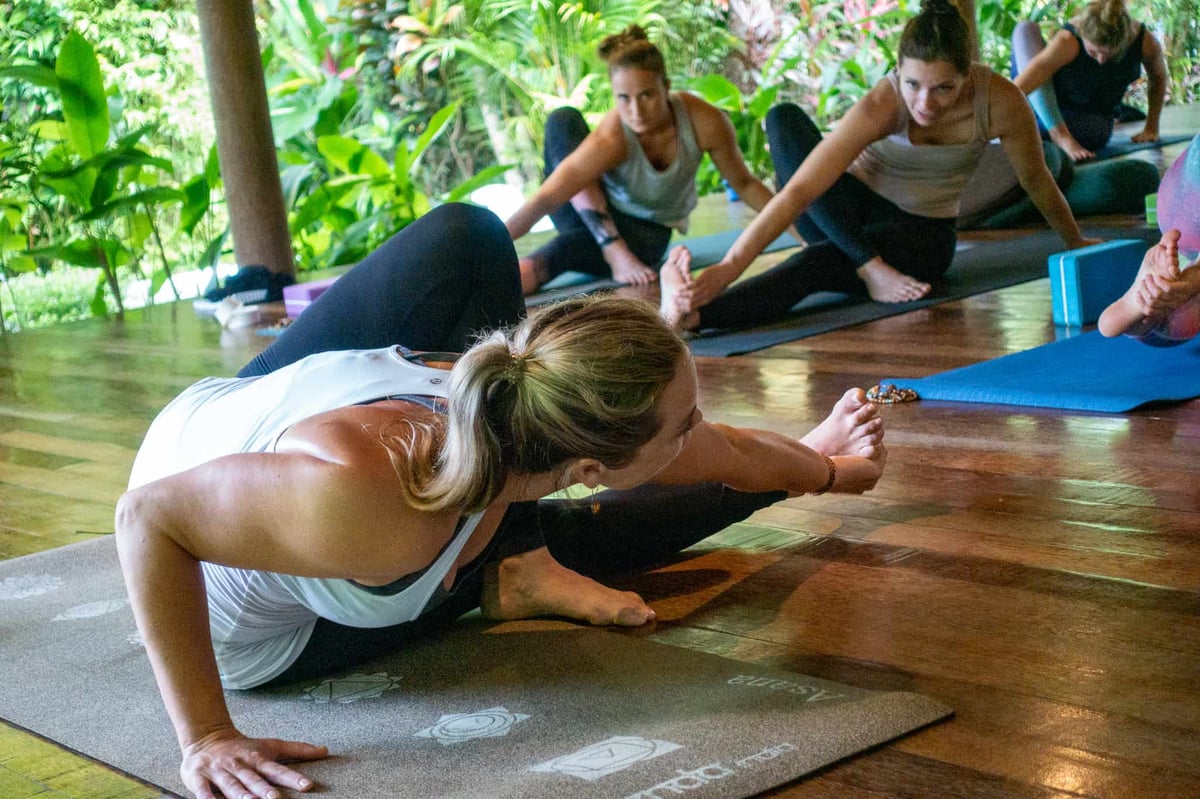 You are welcome to register in advance via our 'Student Application Form' – please ensure you provide full details.
Online self-paced Yin YTT
Entire 50 hour training available ONLINE NOW!

Online self-paced Breathwork Training
Entire 20 hour training available ONLINE NOW!

Online self-paced Meditation YTT
Entire 10 hour training available ONLINE NOW!
Online Children & Teens YTT
Entire 80 hour training available ONLINE NOW!
Online Philosophy Training
Entire 200 hour course available ONLINE NOW!
English Course for Yoga Teachers
Entire course available ONLINE NOW!
What do we do during our Yoga
Teacher Training course?
Asana
Teach you techniques to cleanse your body with traditional yogic practices and nutrition
Answer all those questions that have accumulated while practicing on your mat
Increase your physical strength and flexibility through asana
Improving your postural alignment and technique in each pose – the foundation of safety in yoga
Reset your habits and learn the most effective and safe way to practice and teach
Learn how different bodies adopt these asanas and see all the variations of each pose
Pranayama
Breath awareness: the REAL yoga!
Refresh your body and mind to increase your physical, mental and spiritual health
Develop a relationship with your breath, the root of everything
By the end of this program, you will have a deep connection with you breath that will be the base of your practice
Learning key techniques to begin the journey of the breath
Tools, techniques, anatomy and philosophy that will stay with you for life
Pranayama is the heart beat of the practice
Meditation
Help you to develop awareness of your body and mind
Improve your concentration and deepen your meditation practice
Calm the fluctuations of the mind; the greatest benefit of the practice of yoga
Learn various meditation techniques and find the style that reasonates with you
Providing you with the confidence to teach meditation to others
Daily meditation is apart of the course and schedule
Understand the philosophy and science behind meditation to become more connected and spired
Yoga Philosophy & History
We will take you back to where it all began, so you can fully understand the practice
Practicing a deeper and more connected relationship with yoga, both on and off the mat
Learn about the different Hindu deitiesthat show up in the asana and mantras
Increase your confidence for teaching others
The information and answers within the knowledge and Yoga Philosophy are transformative
The Art of Teaching
Finding the voice of a teacher
Providing you with the tips and tools required to stand in front of a class and teach yoga, meditation and pranayama
Effective language, alignment cues, pace, projection and quality instruction
Mentoring and guidance to teach your own 30-minute and 60-minute class to put the teachings in practice
Provide inspiration for you to become a better yoga teacher
Anatomy
Guiding you through the vital parts of the human body to take your practice to the next level
Simple, fun and enjoyable presentations on the 11 systems in the human body
Guidance and teachings from a professional nurse who can answer all your questions (and tell a few stories!)
Providing you with the knowledge and tools to understand the benefits, contra-indications and risk areas of each pose
The Art of Sequencing
Intelligent, creative and informed sequencing is a focus in our training
Breaking down the basics of how to effectively sequence a class and guide an experience on the mat
Create a safe, supportive environment for you to explore your heart and mind
Learning how to build on a peak pose or a theme
Emphasis on understanding the importance of linking postures to brig you to a place where a peak expressions can be explored in a safe and integrated way
Modifications, variations and adjustments to help bring your whole class into a successful experience​
Assist you in your desire to uncover your true self
What will you gain from our course?
A new perspective and worldview
The knowledge to teach various styles of yoga to a variety of populations
A body nourished with healthy food
The knowledge of how to maintain your health through natural methods
The confidence to share the joy of yoga with others
The discipline to conduct yourself in a manner that is consistent with the Yamas and Niyamas
An internationally recognized Yoga Teacher Certification
A priceless experience and a lifetime of memories!
Yoga Teacher Training in Bali is like none other in the world. Participating in a yoga course with Loka Yoga, presents the opportunity for you to study yoga abroad in a welcoming environment where you can grow spiritually, mentally, and physically.
Our affordable yoga teacher training provides Yoga Alliance certification, inspirational lectures, a comfortable living space, nutritious meals, and much more.
We pride ourselves on offering residential yoga courses that permit the student to focus 100% on their yoga training. In our yoga school, we are able to offer 200-hour yoga teacher training, as well as yoga retreats all over the world.
Loka Yoga is amongst the best yoga schools in Bali, known for offering an authentic, integrated hatha yoga training certified by Yoga Alliance. We also explore aspects of vinyasa flow yoga, ashtanga yoga, yin yoga and yogic retreats.
Our Yoga Teacher training courses include:
Accommodation at our exclusive venue
Daily breakfast
Special welcome gift pack
Course material
All course activities, workshops and classes
Optional additional activities outside of the course (location dependant)
Daily meditation, pranayama and mantra chanting classes
Daily 2-hour morning asana practice: hatha/ vinyasa, restorative/ yin, power yoga, Yin & Yang, Yoga Nidra
DAILY SCHEDULE
What a day during the 200-hr YTT program will look like…

· 06:30 Daily yoga practice
(including meditation, pranayama and asana)
· 08:30 Buffet style breakfast
· 09:30 Yoga Anatomy
· 11:00 Yoga Asana Posture Lab workshop
· 12:30 Free time
· 14:30 Alignment workshop
(building confidence in your own personal practice and teaching)
· 16:00 Yoga Philosophy
· 18:00 Free time

Sunday: Day off
Our 200-hr yoga teacher training is run for a duration of 4 weeks, allowing for time to absorb the program and have a few days off between for activities on this beautiful island.

All of our staff are based in Bali to allow for sufficient rest between courses and trainings, so that our teachers are fresh to begin the next course.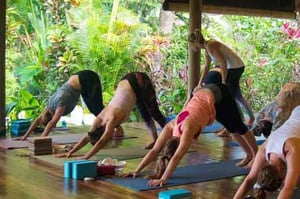 Yoga Teacher Training
Certified 200-Hour Yoga Teacher Training
Loka Yoga School offers professionally certified 200-hour yoga teacher training. We have had the honour of training yoga devotees from all corners of the globe.
As a student at Loka Yoga, not only will you learn the art of teaching yoga asana, but you will also gain a comprehensive understanding of the philosophy, lifestyle and techniques of yoga.
Our internationally accredited yoga teacher training program will provide you with the credentials necessary to teach in your home country and all over the world.
Our high quality program is open to anyone interested in studying yoga, from those just beginning to seasoned practitioners. If you are looking to gain a deeper understanding of the tradition of yoga and have an interest to share this beautiful practice with others, then you are a perfect fit for our program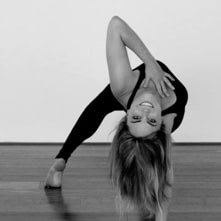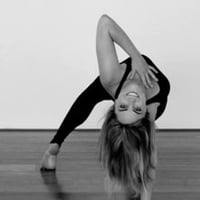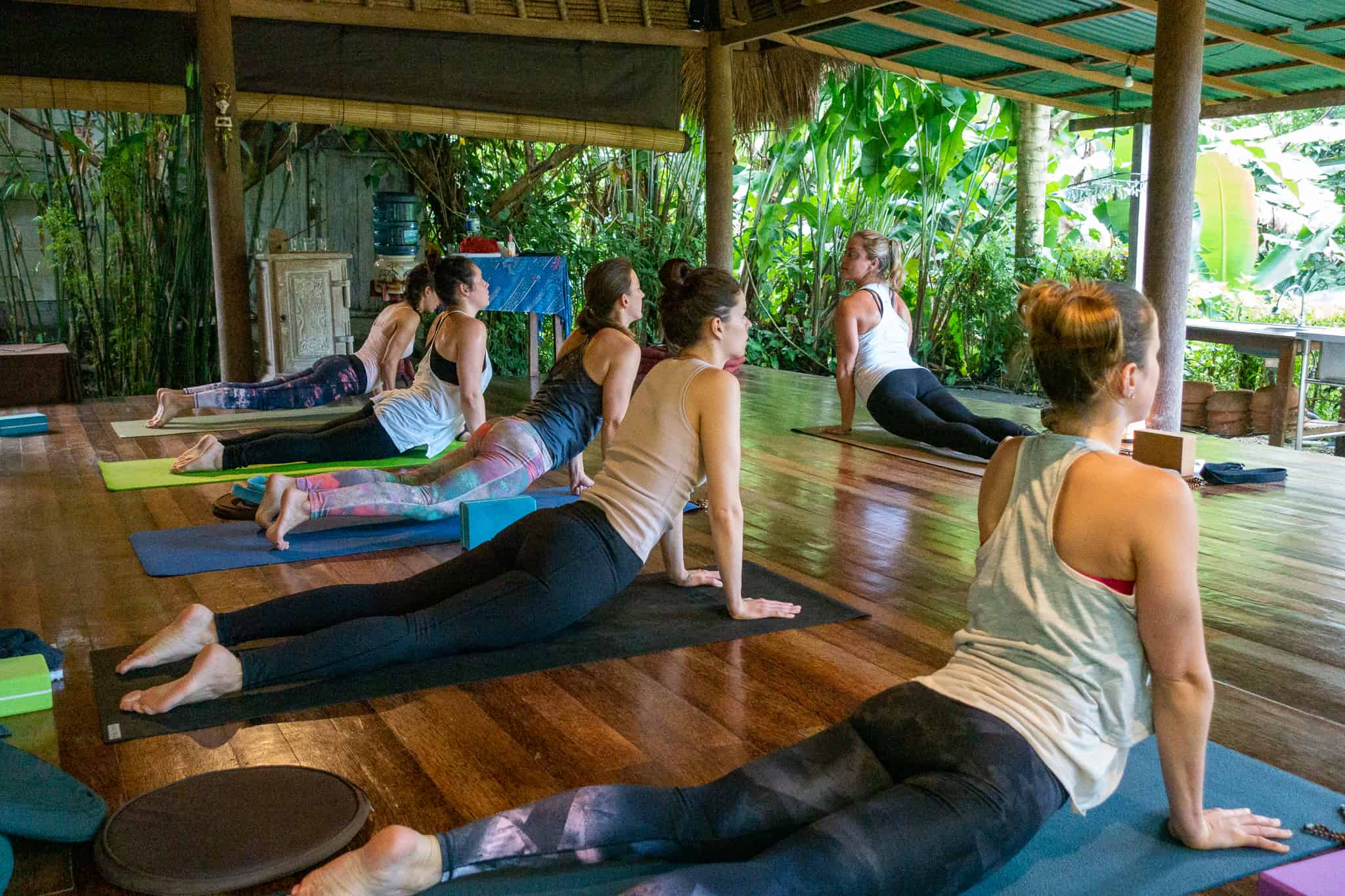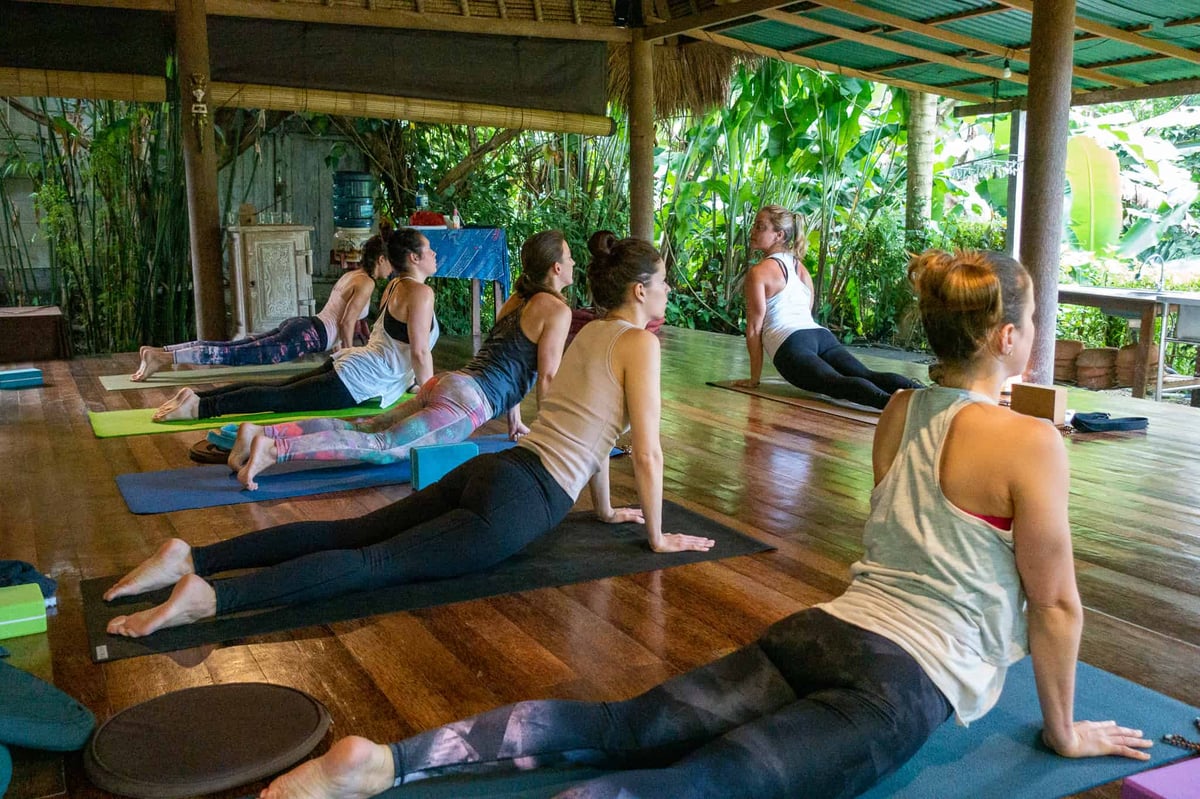 Evaluation & Certification
Assessments will be based on practical evaluation of a 30-minute and 60-minute practicum.
Student conduct will be a part of the assessment criterion.
Evaluation or certification will be carried out only for those students who have attended all classes within the 200 hour program.
Yoga Alliance Certifications in Bali – RYT 200
The certified yoga teacher training courses offered by Loka Yoga School include the 200 hour hatha vinyasa yoga teacher training program. Whether you have knowledge of this ancient practice or you are just a beginner, here at Loka Yoga School you will be able to develop your understanding of yoga to such an extent that you will in turn be able to teach yoga professionally. Following successful completion of the program, our graduates can join Yoga Alliance as a registered yoga teacher (RYT 200) as per their qualification.
Yoga Teacher Training – Code of Conduct
The Loka Yoga School Teacher Training program is rooted in the ancient wisdom of yoga. We make the greatest effort to uphold a code of conduct dictated by the heart and request our students to do the same.
Maharishi Patanjali, the originator of the Yoga Sutras, described certain modes of behaviour supportive of the spiritual practice. Your time with us should be guided by the following values: Respect (to teacher and students), Non-violence (physical, mental and emotional), Honesty, Self-Responsibility, Compassion, dedication to the practice.
In order to successfully complete our course and be certified as a 200hr yoga teacher with Loka Yoga School, you must participate in all classes. In the event of serious injury or illness and with medical advice, absence may be assessed accordingly. This is a decision made by the lead teacher. Please be prepared to immerse yourself in the studies and embark on the ultimate adventure of a lifetime!
Terms & Conditions. Refund Policy for International Pre-Registered Teacher Training YTT 200
Thank you for considering Loka Yoga School's teacher trainings. All applicants are advised to carefully consider the time and resources required for the course before forwarding the application for the teacher training course. Upon registering for a yoga teacher training course or workshop, payment is due within 48 hours to secure your place.
Here is our refund policy:
– The deposit submitted with the application is not refundable.
– If you cancel your participation 60 days or more prior to the training start date, you will receive an 80% refund of any payments made.
– In the event a refund is agreed to be issued, payment will be made following the scheduled commencement date of the course.
– In the unlikely event that Loka Yoga School cancels a training, you will receive a full refund of any payments made.
– No refunds are given for cancelations made less than 60 days prior to the course start date.
– If a participant is asked to leave the training due to any reason, no refunds will be given.
– Loka Yoga School will not refund or give credit for any missed sessions within a training or workshop.
– Loka Yoga School are not responsible for any missed classes whether it be health related due to sickness or accidents.
– Cancellation requests must be submitted in writing, by email, from the student registered to attend the course.
We hope this policy provides you with clarity regarding our refund process. If you have any questions or concerns, please do not hesitate to contact us.
Deposit for Teacher Training Programs and Courses
Deposit is non-refundable and a minimum deposit will be required to secure your spot. Once your deposit is made, we will contact you regarding enrollment for the course. Accommodation, food, flights and transportation are not included in the course tuition.
Cancellation of the course
In case of a cancellation performed by Loka Yoga School, without opportunity of a reschedule, due to any unavoidable circumstances, tuition fees or booking amount will be refunded to the student. Alternatively, in the event of rescheduled dates, the student will be able to register for a future scheduled training. It does not apply to cancellations done due to misconduct or unlawful activity performed by a student during a course.

We hold all rights to refuse or cancel admission without explanation in case of a serious misconduct, violation of the Yamas or Niyamas, code of conduct, or unlawful activity by any student on or off the premises of the course location.