MID YEAR SALE!!!
Enter coupon code to receive a further $200 discount off any online training bundle including 2 or more courses! Hurry, offer ends soon!!
Enter coupon code:
MIDYEARSUPERSPECIAL
Experts in comprehensive
Yoga Teacher Training | Breathwork | Meditation
200 hour Yoga Teacher Training |
Kids Yoga | Yin Yoga | Meditation | Philosophy | Yoga Mechanics | Breathwork
"Where science meets spirituality"
Discover. Evolve.
Bali's most transformational and affordable Yoga Teacher Training

Thousands of people can't be wrong – join the Loka Yoga School Community and see what all the fuss is about!
Offering both online and in-person trainings and courses with the world's leading expert teachers!

Internationally certified courses taking you on a journey of transformation and setting you up for success.
Advanced Yoga Mechanics Course
now available self-paced, online
Take a dive into the depths of Yoga and discover the physical benefits of this ancient practice.
Join one of the world's top experts now to experience this transformational journey
Loka Yoga School
​Trainings & Courses
"Human beings are surprising;
We live as if we are never going to die.
Then we die, having never really lived."

LIVE YOUR DREAM!
Join us in Bali or online for this transformational
journey and once in a
lifetime experience.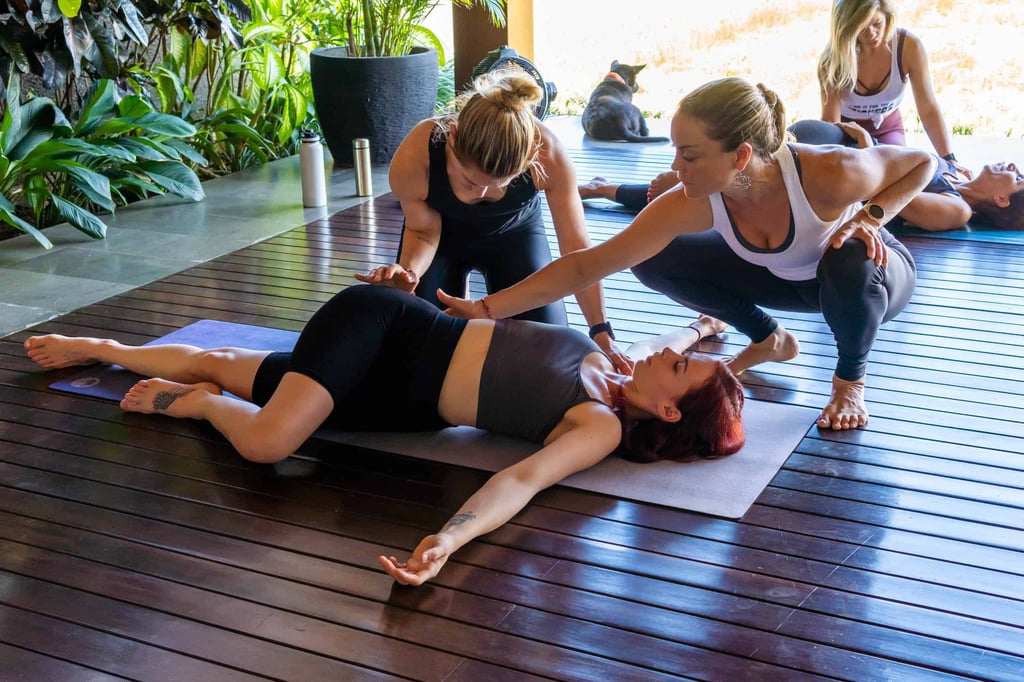 Loka Yoga offers comprehensive residential and online International 200 hour yoga teacher training, 50-hour Yin Yoga teacher training, 20-hour Breathwork training, 10-hour Meditation teacher training, Yoga Biomechanics course, Children & Teens Yoga teacher training, Yoga Philosophy, an English course for yoga teachers, Ecstatic Dance and advanced trainings.
You have a unique opportunity to study and practice yoga in a setting that differentiates itself by offering not only yogic practices but also by providing the correct understanding, history, traditions, context and meaning of yogic science, asana, anatomy, physiology and philosophy. We have a strong focus on combining the ancient knowledge of the East with the latest understandings and research coming out of the West.​
Our team is made up of practitioners completely committed to our fields of expertise. By dedicating our lives to our self practice and development, we have gained the ability to aid others to take their next step on their journey. Every training is designed to have a completely interactive experience, giving our students the opportunity to not only study the 'map' of yogic, meditation or breathwork teachings, but also explore the 'territory' internally through deep practices that will be closely facilitated. The course has been created in this way to ensure the graduates will be teaching from a place of true experiential wisdom, rather than borrowed knowledge from books.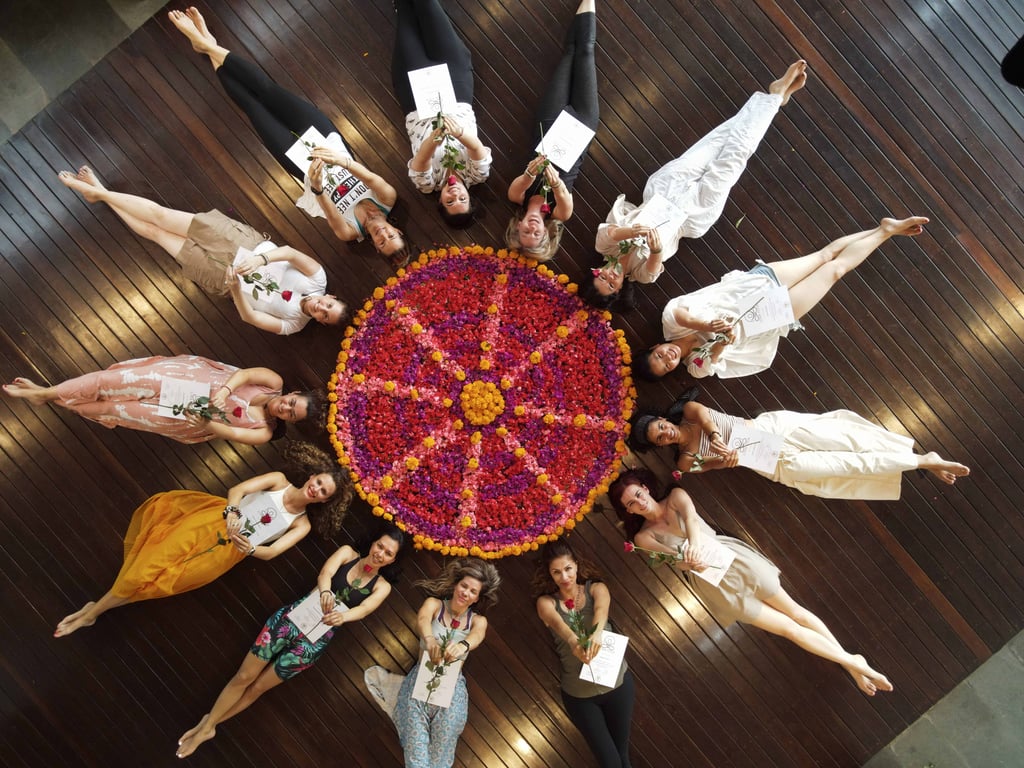 You'll learn how to:
Become a professional yoga teacher
(learning how to teach a powerful and effective class to suit various ages and capabilities)

Avoid the common mistakes many yoga teachers make
(stand out from the crowd and don't fall in the trap that turns students away!)

Find your voice
(lead a class with a strong presence, grace and compassion)

Learn the depths of Yoga
(we explore the timeline and trace back over 7000 years of this beautiful ancient tradition)

Cultivate a strong meditation and pranayama practice
(we teach you various techniques, so you can explore and determine what suits YOU!)

Perfect your posture
(we focus on your postural alignment and technique in the poses, allowing you to improve your personal practice)

Discuss Yoga Philosophy
(consider the philosophies and knowledge handed down for thousands of years)

Explore Yoga Anatomy
(Appreciate your human body as we teach you about the bones, muscles, ligaments, tendons, fascia and more in an easy-to-understand way relevant to Yoga)

Create a memorable sequence
(to guide your students on a powerful experience!)

Master the art of teaching yoga
(gain the knowledge and techniques to embrace all aspects of teaching)

Heal from the inside out
(Turn your focus inwards and utilise key tools of yoga to heal your body and mind)

Boost your whole self
(increase your energy levels, nourish and strengthen your physical body)

Decrease physical, mental and emotional stress and tension
(improving your health and wellbeing)

Share your passion and experiences
(Educate and teach others in yoga, meditation and pranayama)

Teach yoga anywhere in the world!
(the world is your oyster with our international certification accrediting YOU to teach anywhere!)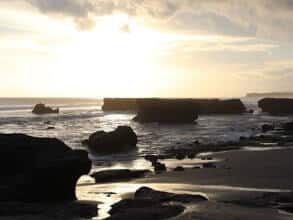 WHERE SCIENCE MEET SPIRITUALITY
As Western practitioners we combine the incident knowledge of the East with the latest understandings and research coming out of the west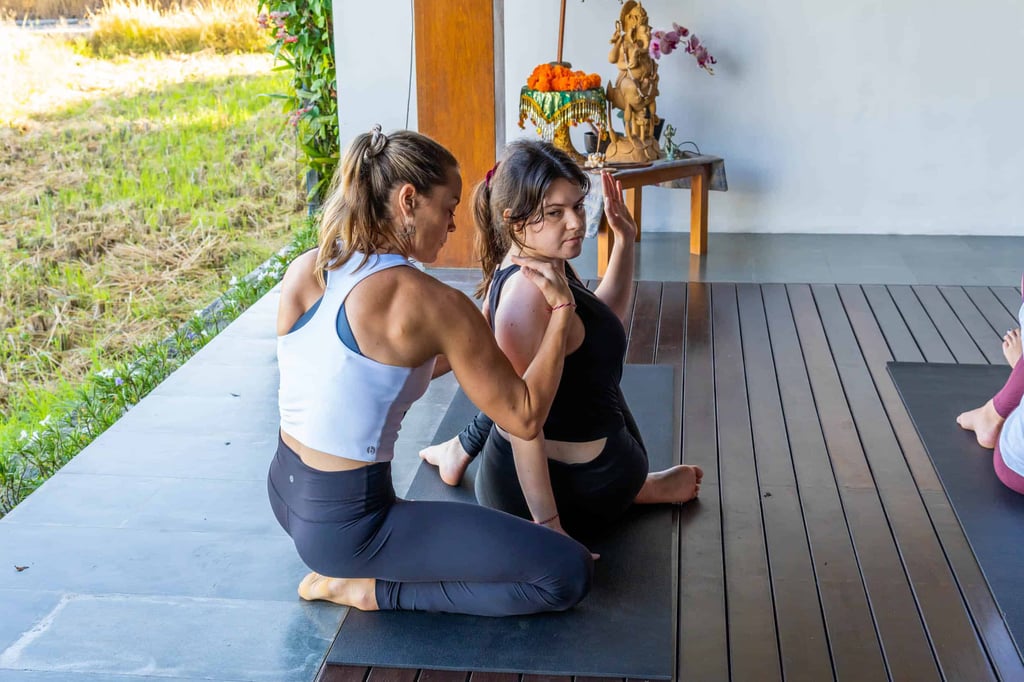 Our training is designed as an interactive experience. You will live and breath yoga, So the teachings become a part of your being.
Our team is made up of expert practitioners. By dedicating their lives to their self practice, they have gained the ability to aid others in their journey.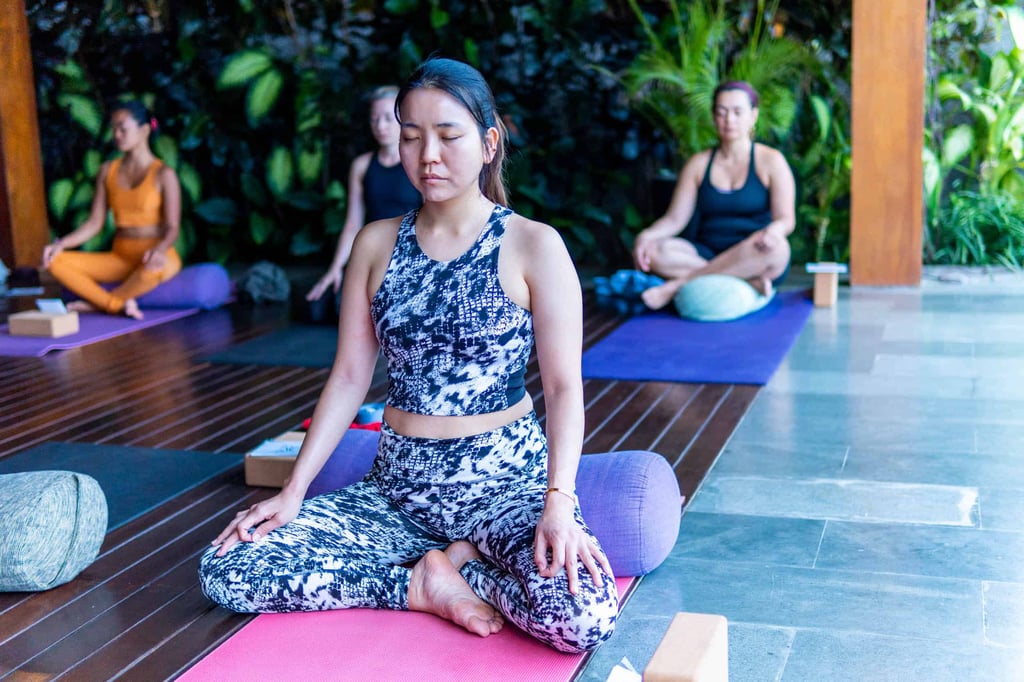 My heart goes out to the teachers Taryn, Yann and Sharada who make a dream team and I am beyond grateful to have come all the way from Costa Rica to Bali for their teachings. Thank you for teaching me so much and supporting me in my personal growth. This yoga teacher training is put together with love and intention in a way I could never have imagined. It is a journey of the self, through the self, to the self.
– Anne S (Denmark)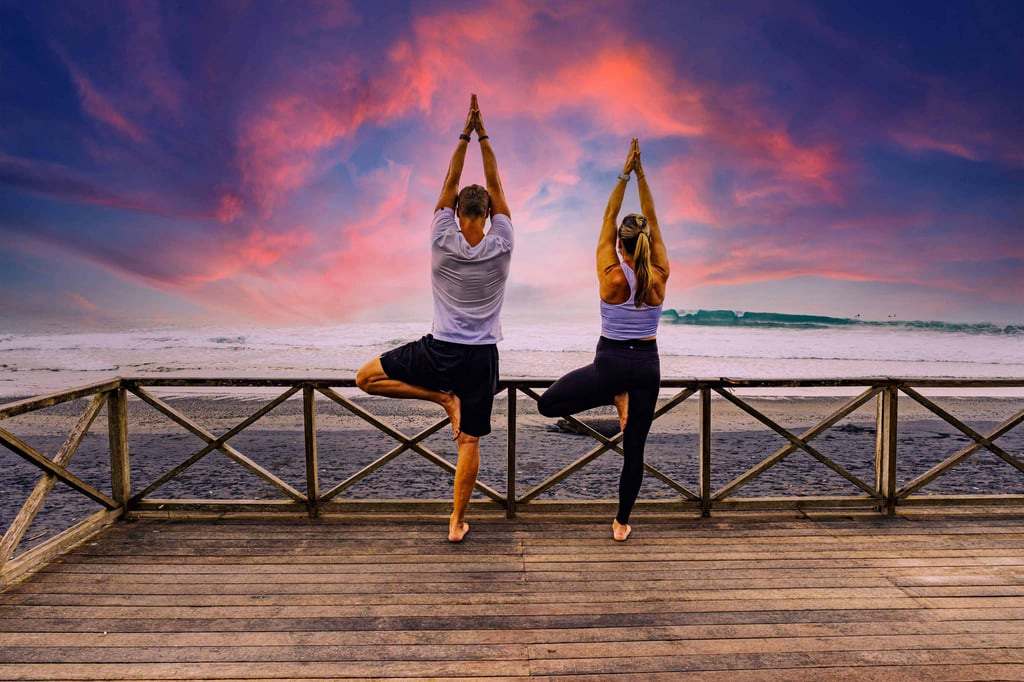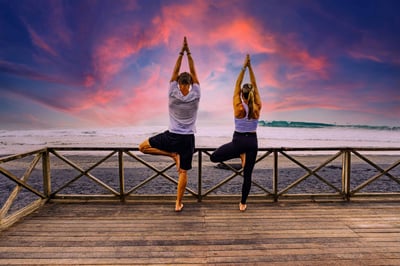 When and where is the next ​Yoga Teacher Training Course?
Our Yoga teacher training courses are held in our stunning venue by the famous surf beach in Canggu, Bali. This luscious location offers an abundance of pristine coastline, nature, cafes, shops & boutiques and the divine spirituality of the Balinese culture. You will enjoy the full Bali experience!
Online Teacher Trainings and Courses
Online self-paced Yin Yoga Teacher Training
Entire 50 hour training available ONLINE NOW!

Online self-paced Children & Teens Yoga & Mindfulness Teacher Training
Entire 80 hour training available ONLINE NOW!
Online self-paced Yoga Philosophy Training
Over 240 video classes available ONLINE NOW!

Online self-paced Breathwork Training
Entire 20 hour training available ONLINE NOW!

Online self-paced Meditation Training
Entire 10 hour training available ONLINE NOW!
Online self-paced English Course for Yoga Teachers
Entire course available ONLINE NOW!
Online self-paced Yoga Mechanics Course
Entire course available ONLINE NOW!
Online self-paced Ecstatic Dance Teacher Training
COMING SOON! JOIN OUR NEWSLETTER FOR UPDATES!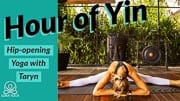 Are you ready to teach yoga?
Time is of the essence to get your Vinyasa on or dive Yin deep and share the healing benefits and qualities of yoga with others! Join us now and score our entire teacher training packages at less than half price!
Understanding and knowledge of learning about yourself, the human body, the spirituality and philosophy of the practice and the ability to create a truly transformational experience in your yoga class can literally be the difference between a successful career as a yoga teacher and a dream that never becomes a reality.
All experienced yoga teachers continue to focus on their education, self-study and grow!
More than ever, various industries and businesses are calling out to yoga teachers to assist with lowering stress levels, tension, improving mental health and providing an opportunity to health, wellbeing and wellness activities in the workplace. It's not too late to make a HUGE difference.
Let's get started! We feel truly honoured and privileged to be a part of your journey.
Namaste with love,
Taryn & Yann
Loka Yoga School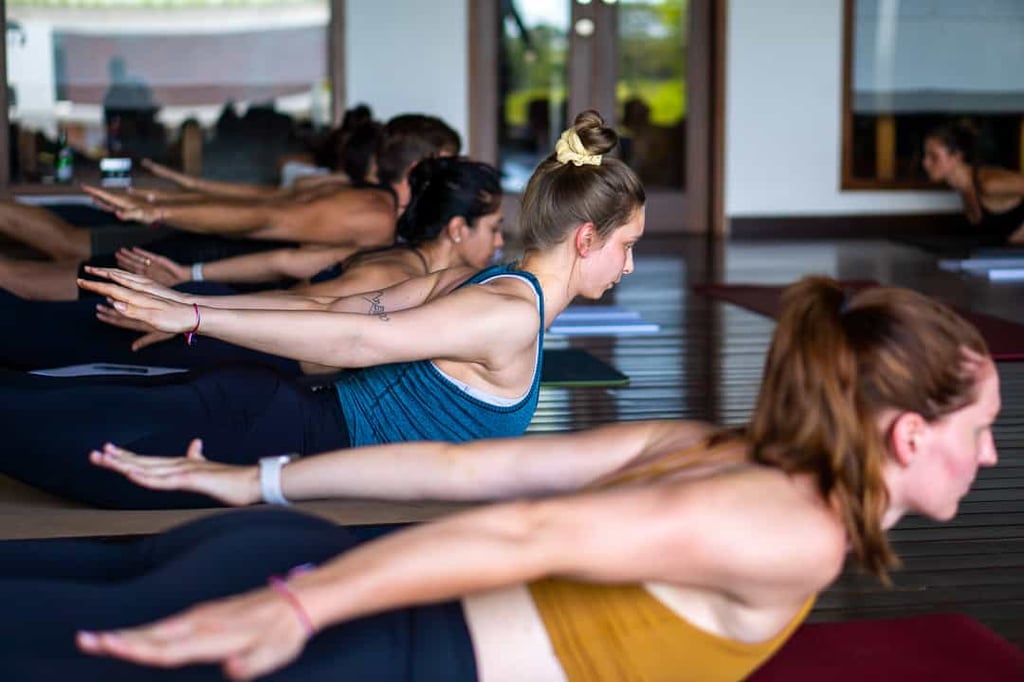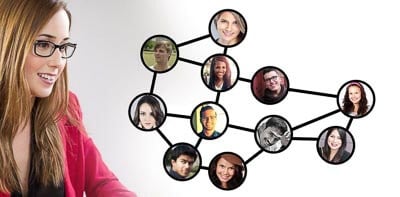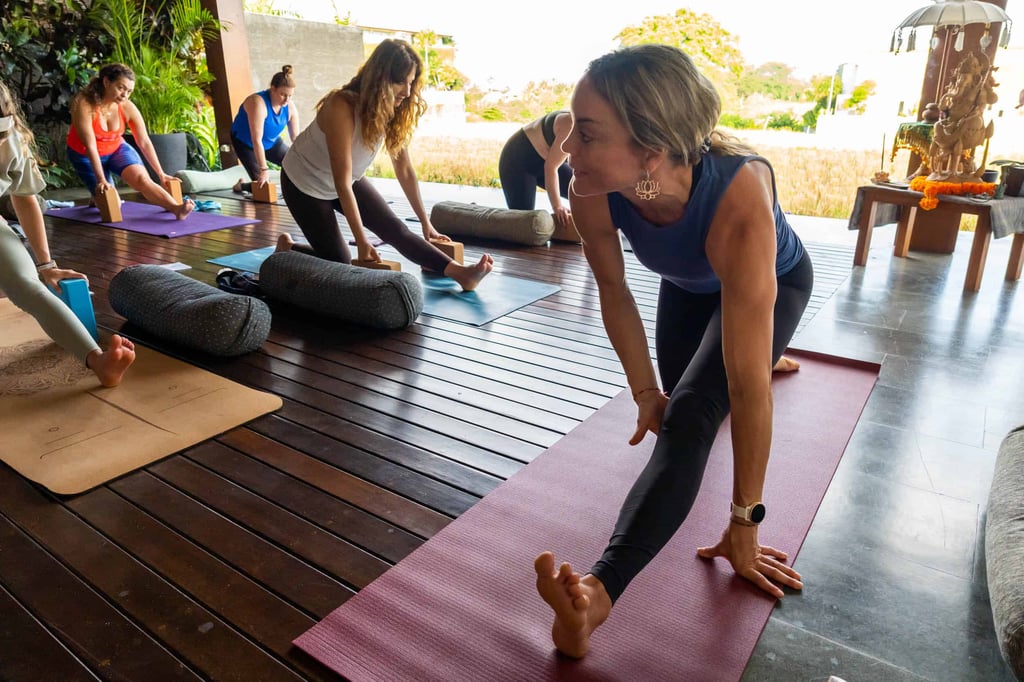 AS SEEN ON