Yoga Teacher Training
200 hour Internationally Certified Course
A fusion of ancient spiritual knowledge with modern science and biomechanics. Advance your skills of this ancient yoga practice and wisdom through a deep 'retreat style' Yoga Teacher training program that will let you dive deep into yourself and into the ancient lore of yoga.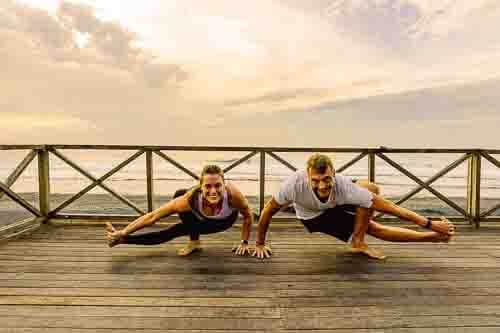 Why choose Loka Yoga for your
teacher training journey:
✔

One of Bali's most trusted, legal and accredited yoga schools


✔

Guided by expert E-RYT teachers, each with 12 – 30 years professional experience, who actually live and practice what they teach


✔

All classes and workshops are guided by one of our expert professional teachers in their specialised fields with over 10,000 professional hours experience each


✔

Maximum group size of 16 students – allowing full focus & attention to each individual. All teachers are true experts, we do not have interns or new teachers guiding any classes in our trainings


✔

Internationally certified with Yoga Alliance


✔

Comprehensive syllabus including in-depth teaching toolkit and advanced studies on philosophy, anatomy, asana and biomechanics


✔

AMAZING location in the heart of Canggu at an exclusive venue right by the beach


✔

BONUS! Yin Yoga, Kundalini, Yoga Mechanics, Kids Yoga and Ecstatic Dance classes!


✔

Nutritious and nourishing breakfast served daily


✔

Time and opportunities to surf or explore beautiful Bali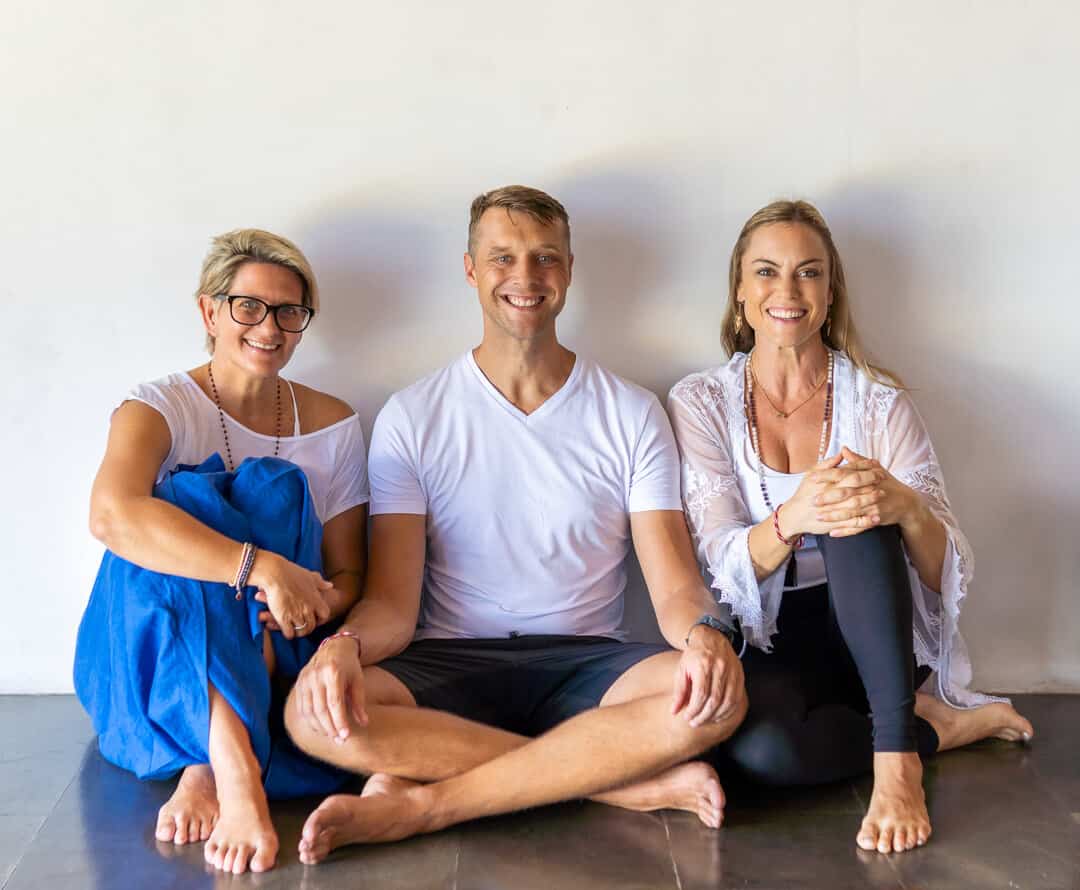 Join us in 2024 or 2025!
International Yoga Alliance accredited, licensed and legal yoga teacher training school in Bali.
Experienced at our divine venue by the beach in Canggu.
Available 2023 Course Dates:
All 200hr YTT dates this year are now fully booked. If you wish to join the waiting list, please complete our online Application Form so we can add you to the waiting list and notify you in the case of a cancellation.
2024 Course Dates:
April 1 – 27 – 2 spots left!!
July 1 – 27
October 14 – November 9
2025 Course Dates:
31 March – 26 April
2 – 28 June
4 – 30 August
3 – 29 November
Please be advised that in the interest of comfort and safety for our students, we do not operate between
December – March due to the extreme weather conditions during the tropical monsoon season, experiencing high humidity and torrential rain in Bali.
This course is perfect for anyone keen to explore the depths of Yoga.
Receive advanced teachings from expert leaders and learn more about this ancient tradition. Be prepared to dive deep into the philosophy, history of yoga, understanding the human body and find your voice to share your love of yoga with others!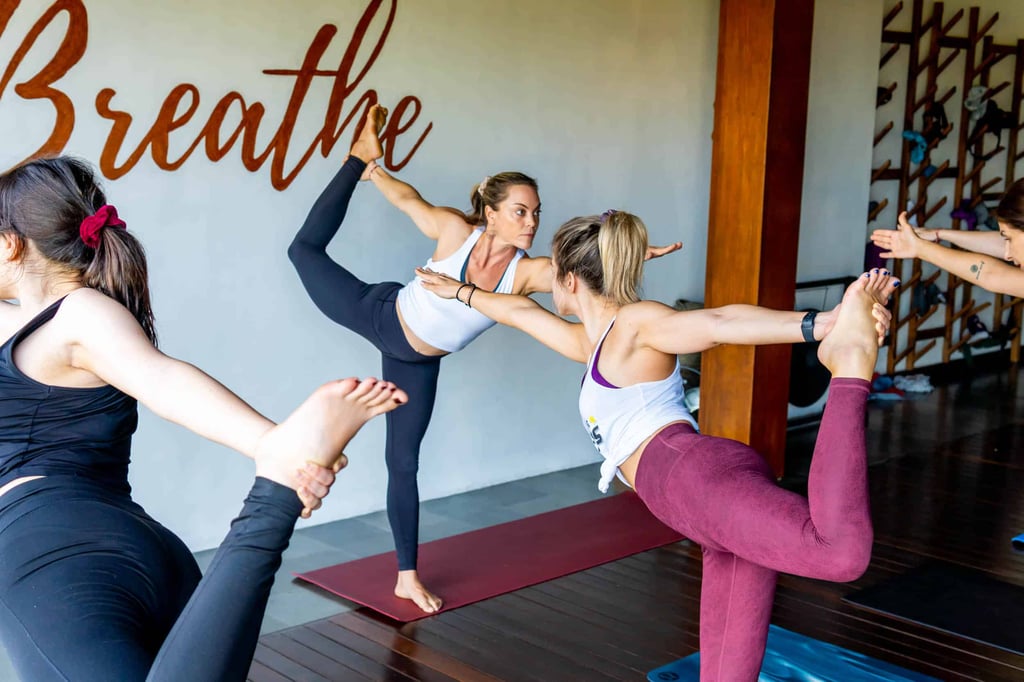 "Where Science meets Spirituality"
You have a unique opportunity to study and practice yoga in a setting that differentiates itself by offering not only yogic practices but also by providing the correct understanding, traditions, context and meaning of yogic science, asana and philosophy.
We have a strong focus on combining the ancient knowledge of the East with the latest understandings and research coming out of the West.
Our team is made up of practitioners completely committed to our fields of expertise. By dedicating our lives to our self practice and development, we have gained the ability to aid others take their next step on their journey.
The training is designed to have a completely interactive experience, giving our students the opportunity to not only study the "map" of yogic teachings, but also explore the 'territory' internally through deep practices that will be closely facilitated. The course has been created in this way to ensure the graduates will be teaching from a place of true experiential wisdom, rather than borrowed knowledge from books.
"Human beings are surprising;
We live as if we are never going to die.
Then we die, having never really lived."
– The Dalai Lama

LIVE YOUR DREAM!
Join us in Bali for this transformational
journey and once in a
lifetime experience.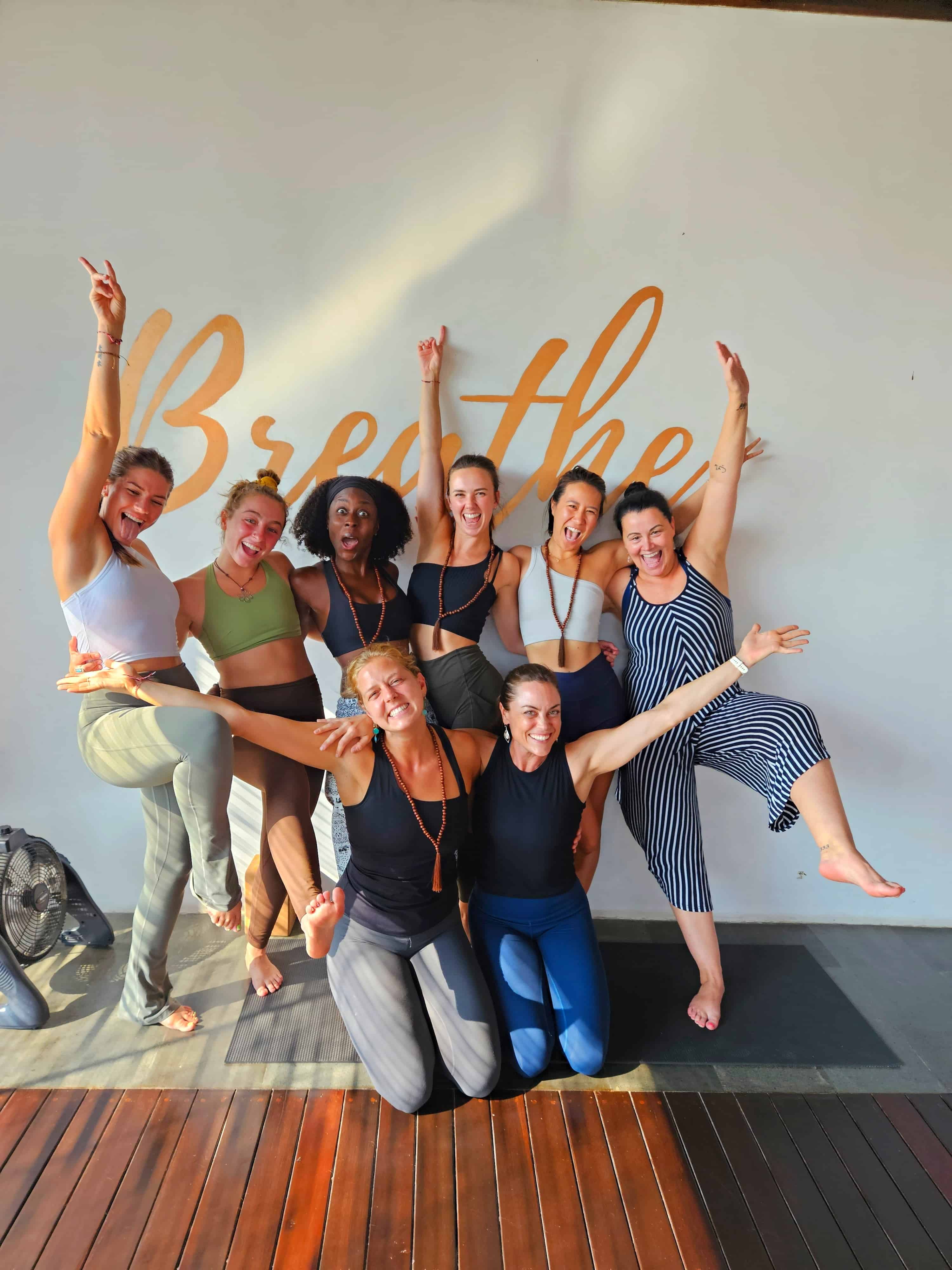 200 hour International Yoga teacher training
Become a yoga teacher in paradise
An internationally certified Hatha Vinyasa Yoga teacher training course, setting you up for success as a yoga teacher. Our Bali Yoga Teacher Training courses offer the best that Bali has to offer: amazing beaches, the tastiest food, beautiful accommodation in our exclusive resort by the beach in Canggu, spectacular surf spots and the vacation of a lifetime. Joining together with a deep 'retreat style' 200 hour Yoga Teacher training program that will let you dive deep into yourself and into the ancient lore of yoga. Our Bali courses are structured in such a way that you can attend the course fully, while having the time to explore Canggu, the beaches, the food and all the other amazing things Bali has to offer.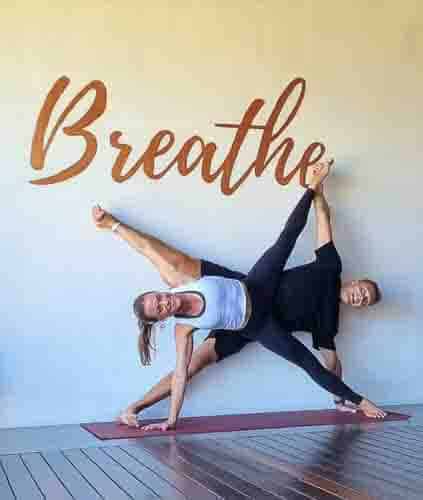 A few words from two of our graduates…
Signing up for this yoga teacher training is one of the best decisions I have ever made in my life. I learnt, I grew and I changed for the better. Taryn, Yann and all the other teachers at Loka Yoga School were so much more than just teachers, they honestly and genuinely care for each of their students.
The classes, workshops and activities made the trip an amazing physical and spiritual ideal combination. Regardless of whether or not I choose to build a career in yoga now, the personal benefits and knowledge I have received is outstanding and I feel prepared to teach if I choose to. I highly recommend doing this course and I sincerely thank the Loka Yoga School team from the bottom of my heart for this life-changing experience.
Again, thanks a lot for the time! It was a pleasure.
– Theresa Nowicki-Waidelich (Germany)
Loka Yoga School arrived in my life just as it was supposed to and throughout the entire month I had daily overwhelming reminders that this was exactly where I needed to be. The owner and lead teacher, Taryn, pours her soul into her teacher trainings and her genuine love, presence, and passion for yoga is undeniable. She is an incredibly compassionate woman and truly practices what she preaches, on and off the mat. Every single morning with Taryn feels like a personal therapy session as she guides you through your asana practice. Yann was the best fitted piece of the puzzle for Loka Yoga School. His career as a nurse took him around the world, gifting him with plenty of knowledge and diverse experience and his information on different physical conditions is priceless. His lessons in anatomy have the perfect balance of education and entertainment to keep everyone engaged. Time stands still during Yoga Philosophy. The teacher is a deep and powerful human being, whose vulnerability speaks straight to your heart and allows you to relate to her remarkable life experiences. With her sweet nature and light-hearted humour, she has this seemingly effortless ability to take you on a journey as she delivers simple yet profound insights that are emotional, thought-provoking, and mind-blowing.
– Cindy Gallagher (Canada)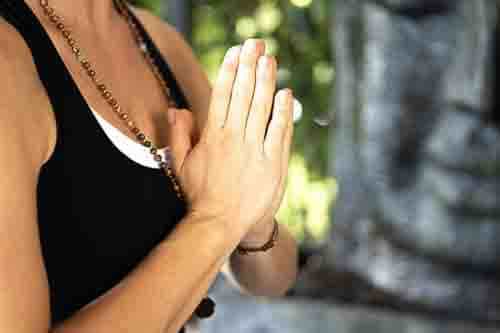 The journey shared by a few of our students…
The Bali Experience…
What do we do during our Yoga Teacher Training?
You will learn;
How to increase your physical strength and flexibility through asana
Fundamentals of Meditation
Fundamentals of Pranayama Breathwork
Fundamentals of Yoga Philosophy
Fundamentals of Yoga Anatomy
Refresh your body and mind to increase your physical, mental and spiritual health
Help you to develop awareness of your body and mind
Expand your knowledge of Anatomy so you can truly help yourself and others in the physical practice
Increase your confidence for teaching others
Provide inspiration for your to become a better yoga teacher
Teach you techniques to cleanse your body with traditional yogic practices and nutrition
Elevate your energy and motivation
Create a safe, supportive environment for you to explore your heart and mind
Improve your concentration and deepen your meditation practice
We will assist you in your desire to uncover your true self
What will you gain from our course?​
A new perspective and worldview
The knowledge to teach various styles of yoga to a variety of populations
A body nourished with healthy food
The knowledge of how to maintain your health through natural methods
The confidence to share the joy of yoga with others
The discipline to conduct yourself in a manner that is consistent with the Yamas and Niyamas
An internationally certified and recognised Yoga Teacher Certification
A priceless experience and a lifetime of memories!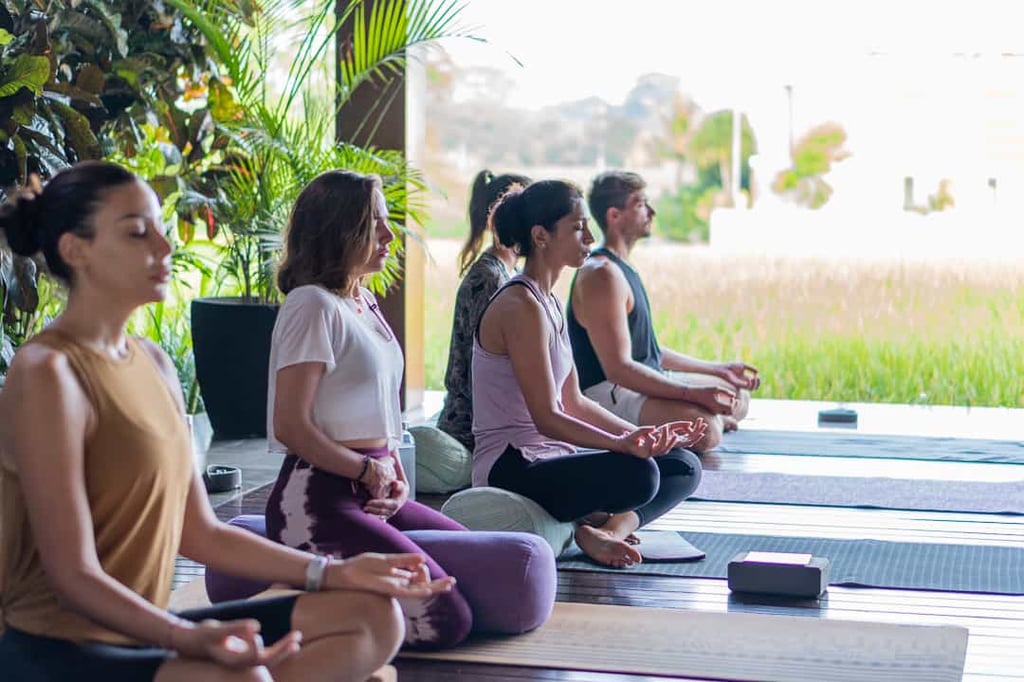 Yoga Teacher Training in Bali is like none other in the world. Participating in a yoga course in Bali presents the opportunity for you to study yoga abroad in a welcoming environment where you can grow spiritually, mentally, and physically. Our affordable yoga teacher training provides Yoga Alliance certification, inspirational lectures, a comfortable living space, nutritious meals, and much more. We pride ourselves on offering residential yoga courses that permit the student to focus 100% on their yoga training. In our yoga school in Bali, we are able to offer 200 hour yoga teacher training, Yin Yoga teacher training and 100-hour Refresher teacher training courses. Loka Yoga School is amongst the best yoga schools in Bali for hatha yoga training, Yoga Alliance teacher training, vinyasa flow yoga teacher training, ashtanga yoga teacher training, and yoga retreats. We are fully legal and licensed with a team of professional expert teachers who LIVE and BREATHE yoga and have over 50,000 hours combined experience teaching!
Prerequisites — We advise you to have at least 1 year experience of a personal yoga practice (in-person at a studio or online) prior to completing the 200 hour Yoga Teacher Training.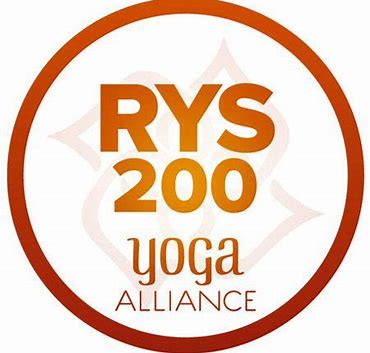 Our 200 Hour Intensive Yoga Teacher Training is Yoga Alliance certified.
Successful graduates will receive a certificate at the final graduation ceremony.
CURRICULUM
Functional Anatomy & Physiology
Yoga Mechanics
The Principles of Teaching Yoga
Philosophy, History & Mythology
Spirituality & The Journey Within
Breathwork & Pranayama
Meditation
Advanced asana
Intelligent Sequencing
Adjustments & Corrections
Alignment
Yoga for Kids & Teens
Ecstatic Dance
The Bandhas
Mantras & Mudras
Finding your voice as a teacher
Powerful Leadership
The Art of Teaching
Business of Yoga "Setting you up for Success"
SAMPLE SCHEDULE
06:20 Complete Yoga Practice: Meditation, Mantra, Mudras, Pranayama Breathwork and Asana

08:30 Breakfast included

09:30 Yoga Anatomy workshop

11:00 Yoga Asana Posture Lab workshop

12:30 Lunch break & free time

14:30 Yoga Philosophy

16:00 Alignment, methodology & teaching workshop – building confidence in your own personal practice and teaching

18:00 Dinner break, evening activities or free time

*Students receive every Sunday off, as well as pockets of time throughout the day and schedule to explore, visit the town area and boutique shops, have time to study and space to breathe and just be. We structure the courses this way so that you will be able to relax and immerse yourself fully into the training and focus on your studies without any other worries or concerns.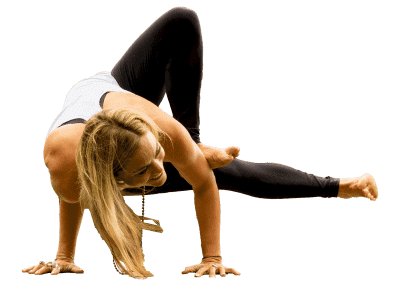 BOOK YOUR SPOT NOW & SAVE!
There are a seemingly infinite number of ways to relax the mind, body and spirit on Bali. For many, merely stepping foot on the island is enough to lower stress levels.
In the paradise that is Bali, the body and heart open easily, the mind relaxes and our meditation becomes more profound.
For more information on yoga teacher trainings and more, click here to check out our blog!
The Yoga Teacher Training (YTT) package includes:
Yoga Alliance 200 hour International teacher training certificate


Daily 2-hour morning asana practice:
hatha/ vinyasa, restorative/ yin, power yoga, kirtan kriya,
Yin & Yang, Kundalini, Yoga Nidra


Daily meditation, pranayama
and mantra chanting classes​


Organic nourishing breakfast each day (Monday – Saturday)


Comprehensive Training Manual and FREE lifetime access to online content


Course materials


All course activities, workshops and classes


Various additional activities outside of the course
2 practicums; you will sequence and teach a complete class to your peers and receive valuable feedback to immediately have the confidence to teach yoga in the real world!


OPTION:
Luxury 5-star accommodation at our exclusive yoga retreat center by the beach in Canggu.

INVESTMENT

YTT Package (exc accommodation): USD $3099
(early bird price until 1 November 2023)

YTT Package including accommodation: USD $3999
(early bird price until 1 November 2023)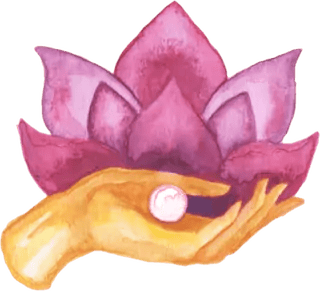 ---
The Venue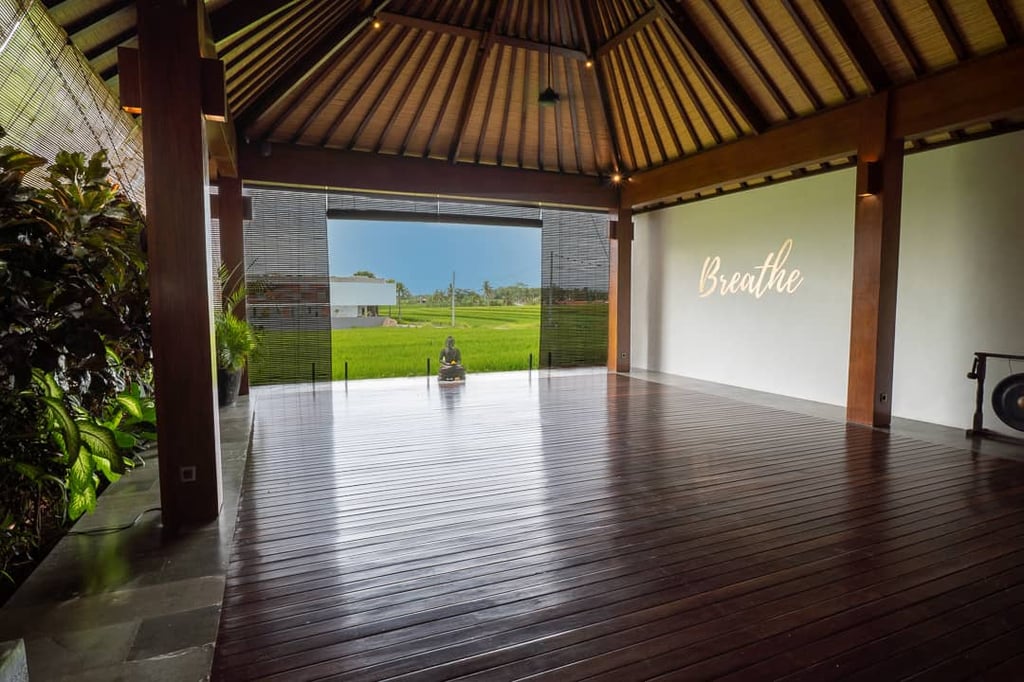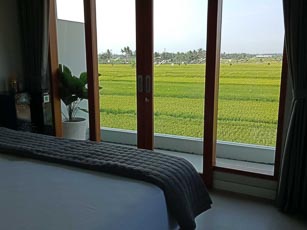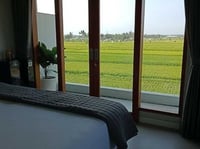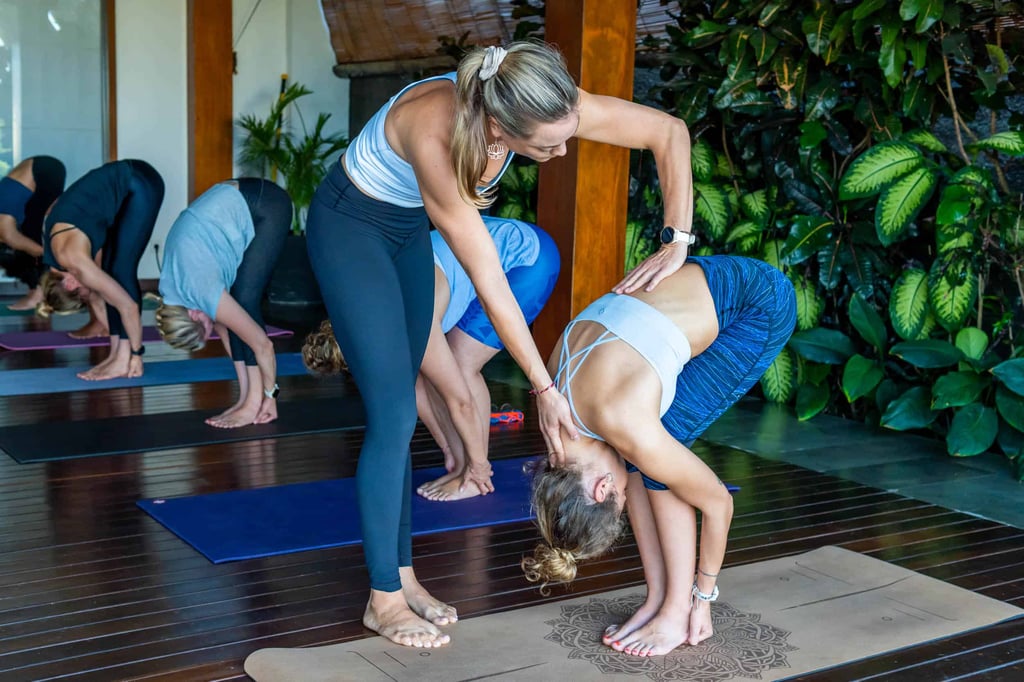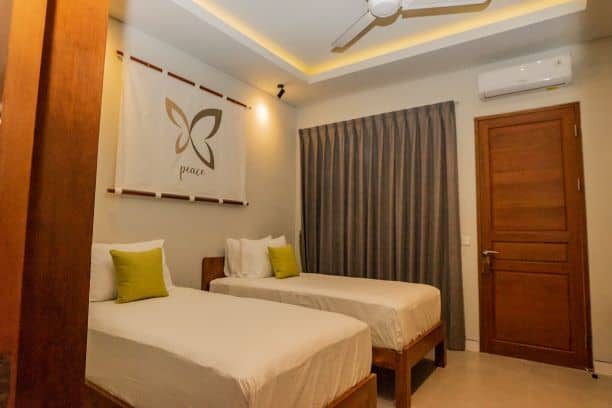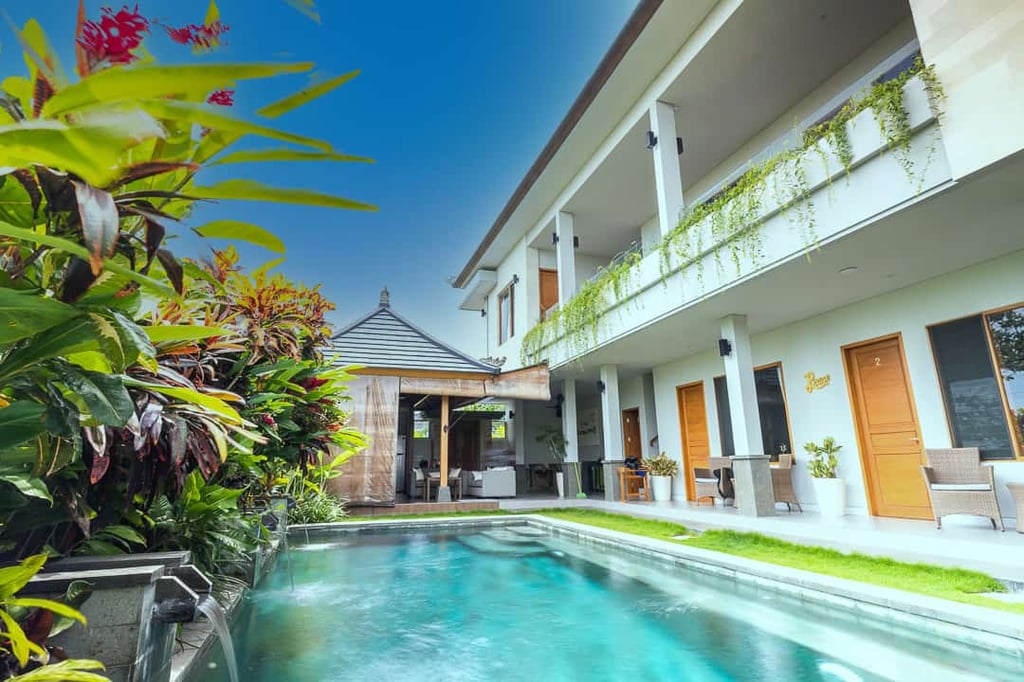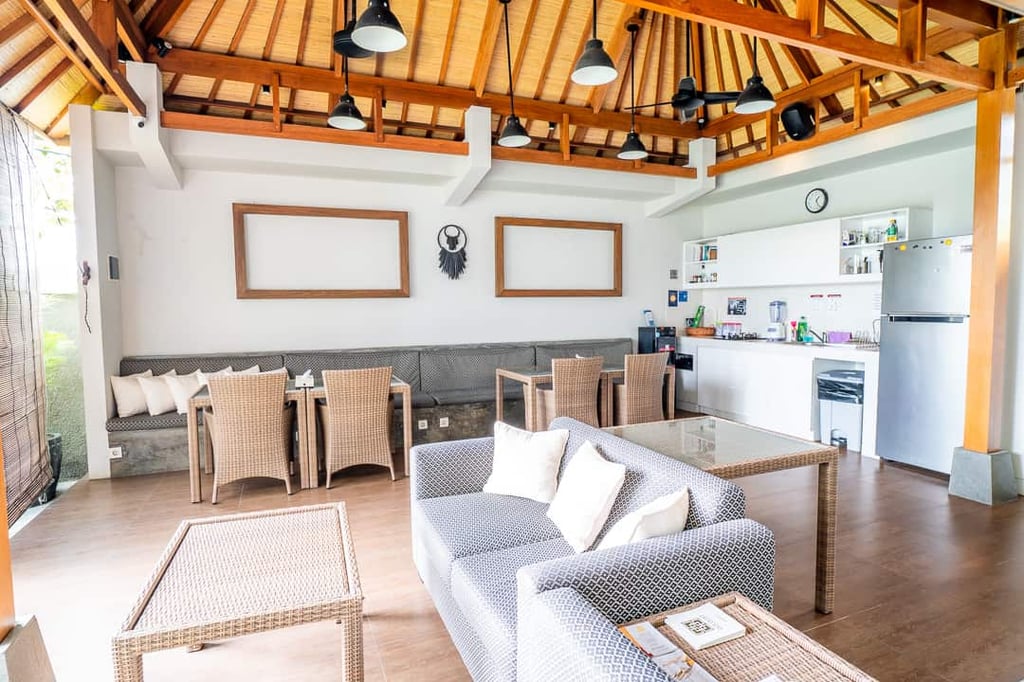 Our venue is an elegant seven bedroom retreat with villa-style accommodation harmoniously placed within extensive landscaped gardens right by the famous beach in Canggu. Accommodation is offered on a 'first in, first serve' basis. Surrounded by emerald green rice paddies in a quiet and peaceful location, this is the ultimate hideaway to kick back and relax. Canggu still maintains the true essence of Bali… un-spoilt vistas, the natural beauty of its ancient temples and the friendly local inhabitants not to forget the best surfing spot from the West Coast on Echo Beach, located just down the road.
On site, enjoy the beautiful swimming pool, garden areas, exquisite yoga shala and gazebo with the most incredible views and blissful areas for meditation. We will have the venue to ourselves to allow a safe space to dive deeper into self-knowledge. A fully stocked kitchen with cooking facilities, microwave, kettle, stove, toaster, refrigerator, cookware and dinnerware is available for student use at all times.
​
The breakfast meals will cater to your dietary requirements and will all be prepared by our qualified leading head chefs (specialising in the finest quality vegan cuisine) and are highly nutritious. We have spent a lot of time designing a meal program that will give you everything you need to nourish and nurture your body and soul, to start each day with energy and vitality!
Dive deeper into your yoga practice as you enhance your skills and recharge in a supportive environment. Enjoy the food, tranquility, town and beaches in Canggu.
Join us on our next 200 hour yoga teacher training course in Bali, Indonesia. Take time to enjoy the nature and surf of this paradise as you journey into your practice and the study of yoga.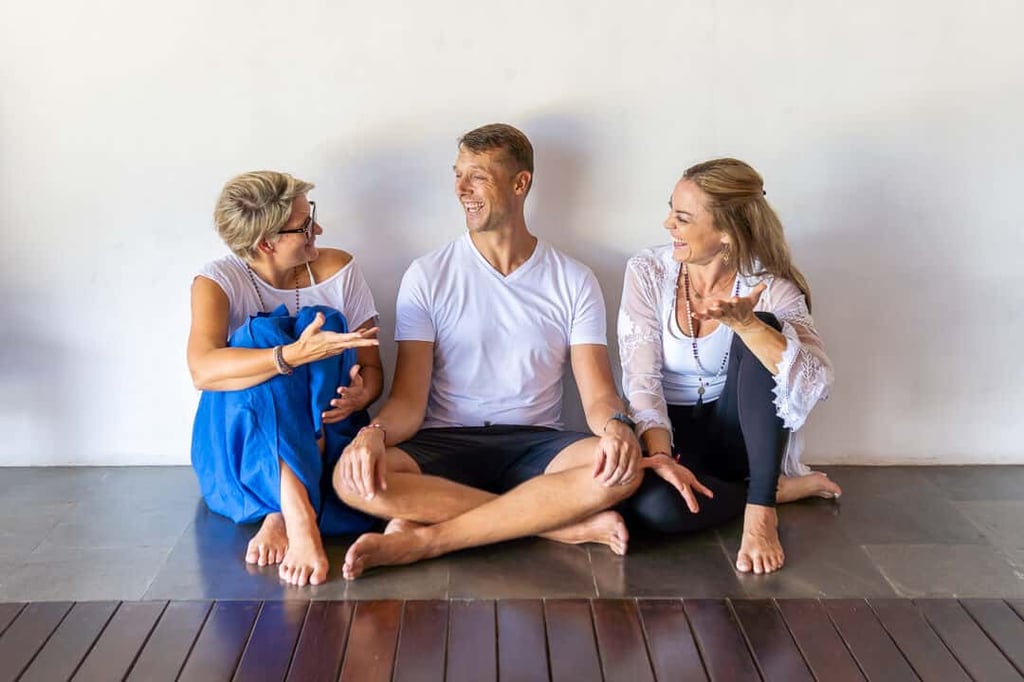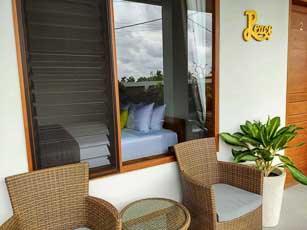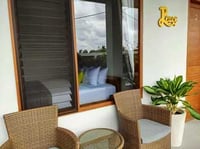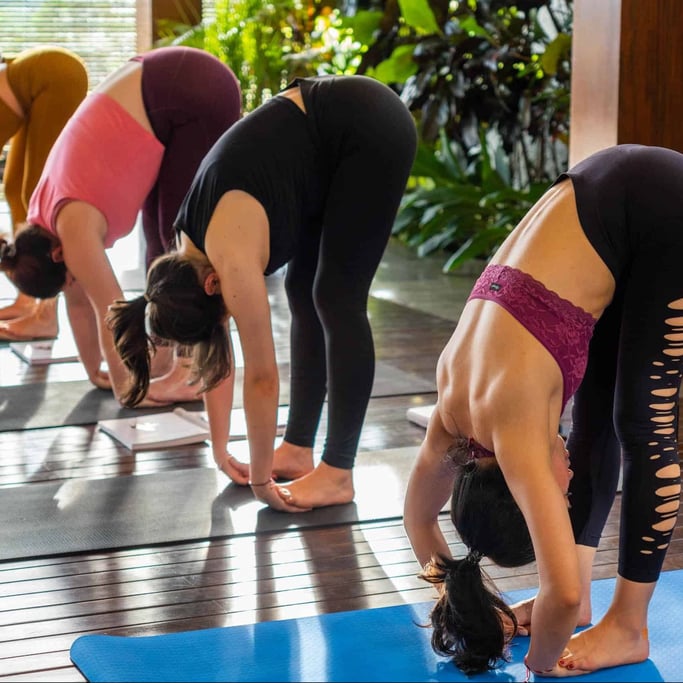 Frequently Asked Questions
Will I be qualified to teach yoga following this 200 hour training?

Yes you absolutely! Loka Yoga School is internationally certified and accredited with Yoga Alliance and we have a 5-star rating too, so you are reassured that the curriculum we teach you is effective and beneficial in setting you up for success as a yoga teacher.
Is any of this training conducted online?

No. The entire 200 hour yoga teacher training is facilitated by an expert teacher, in person, through workshops, classes, presentations and lecture-style format. This allows you plenty of opportunity to ask questions, have your needs and requirements met and build your confidence. Any online trainings and continued education we offer will be in addition to the 200 hours in person.
Do I receive a course manual?

Yes you do! You may choose if you would like a printed manual or an online version, and you will also have access to the teacher training material after the training, via our professional learning management system.
Is 200 hours enough to teach yoga?

According to international Yoga Alliance, 200 hours of training is considered the minimum training required to start teaching. After completing a 200 hour YTT, you may register with Yoga Alliance. This is referred to as 'RYT-200', meaning 'Registered Yoga Teacher 200 hours'. Local or national yoga bodies may have different requirements.
Can I teach yoga without a 200 hour Yoga Teacher Training qualification?

Legally, you do not need a 200-Hour Yoga Teacher Training certificate to teach yoga. Most yoga studios, fitness centers, gyms, and insurance companies require their instructors to have a 200 hour certificate as a minimum, to either teach or be insured.
I would like to join the 200 hour YTT to deepen my knowledge and enhance my personal practice. I do not intend on teaching yoga. Is this okay?

Yes absolutely! Many students join the training as an opportunity to immerse themselves in the discipline and yogic lifestyle for 4 weeks. It is a wonderful immersion into yoga, breathwork, meditation, mantra chanting, anatomy, physiology, philosophy, knowledge and Tantra.
Some students also opt out of completing the final practicum teaching assessment and this is also fine if you do not want the certificate. Following the course, there are absolutely no expectations from us and you do not need to teach after if you don't want to.
When are the breaks each day?

We take a 1 hour break for breakfast, which is provided onsite for all students. There is a 2 hour lunch break and we conclude by 6pm each day to allow plenty of time to enjoy some free time, relax, dine out or order in for dinner (we are surrounded by an abundance of amazing cafes and restaurants and meals are as cheap as $5 here in Canggu!) You can also download the app 'Go Jek' and have your food delivered right to your doorstep at the venue for around US $1 delivery!
I have completed your Yin Yoga, Breathwork and Meditation trainings. Do these hours count towards my 200 hour certificate?

No they do not. Loka Yoga School offers many online trainings which are certified with Yoga Alliance as Continued Education. This means that, once you are a member of Yoga Alliance (or another association), you may log your training hours. However, the 200 hour Yoga Teacher Trainings we host in person in Bali are comprehensive and guide you through the relevant anatomy, physiology, philosophy, teaching skills, knowledge and practicums required to develop your awareness and understanding and prepare you to teach confidently and successfully to all ages and capabilities. It is a broad awareness of Yoga as a whole; our online trainings zone in on each topic respectively. Graduates and students of Loka Yoga School receive exclusive discounts off our online trainings, to support their continued education, yoga toolkit and teaching success!
Why is yoga teacher training so expensive?

The teachers at Loka Yoga School are experts, with every teacher having more than 10 years experience each in their specialised field. All 200 hours are carefully scheduled and planned in person with a teacher, so you are never left alone to figure things out for yourself – you are carefully guided along the way to ensure absolute understanding, absorption of the information and guaranteed to be ready to teach by the time you graduate from the training! We are internationally certified and accredited with Yoga Alliance, ensuring an in-depth study of yoga philosophy, anatomy and physiology, meditation, breathwork, teaching methodologies, the art of teaching and most of the yoga poses. We host our training at an absolutely beautiful venue, surrounded by nature and right by the beach, boasting views of the Balinese rice fields and 5-star accommodation. We never 'cut corners' and take pride in offering the best teachings and venue in Bali! Comfort and enjoyment is guaranteed at Loka Yoga School.
What is the best age to complete a yoga teacher training?

Whilst there is no age limit, we personally recommend completing a yoga teacher training sometime between the ages of 18 – 80 for maximum participation, understanding and enjoyment. We have had students join us in their teenage years, and others join us in their 60's…when your heart feels called to take this step in your journey, we warmly welcome you with open arms!
I can't do a handstand/ headstand/ touch my toes… can I still do a 200 hour YTT?

YES YOU CAN! Not only will you learn how to work with your limitations to improve your flexibility, strength or confidence in every pose, you will understand why these signals your body is sending you is actually a good thing! Our injuries or physical restrictions are often our greatest teacher; we learn more about our bodies, ourselves and they teach us patience.
Do we get time off and an opportunity to explore Bali?

Absolutely. We schedule one full day off each week, as well as pockets of time throughout the course to allow students an opportunity to relax, absorb the information, explore Bali and chill on the beach. We also organise excursions to popular sites such as the water temple, sound healing pyramids, tiered rice paddie fields, Indonesian spices, tea & coffee plantation, kirtan circles and other places of interest to our students. We also offer surprise bonus featured classes throughout the course with world-class teachers, musicians and performers.
My partner wishes to stay with me, however is not attending the training. Is this okay?

YES! Whilst we only allow students onsite at our exclusive venue during the training, you can book the YTT Package and arrange your own accommodation nearby. Upon receiving your deposit, we will send you suggestions of nearby accommodation options too!
I am a beginner to yoga, with less than 6 months experience. Can I complete the 200 hour Yoga Teacher Training?

The 200 hour Yoga Teacher Training at Loka Yoga School is an extremely deep immersion into yoga and the yogic lifestyle. It is not a beginner's course, but an internationally certified, comprehensive teacher training. Students are expected to know the basic poses and have a minimum of 1-2 years experience prior to embarking on this journey.
Student Reviews & Testimonials
Absolutely LOVED my experience at Loka Yoga School for my 200 hour Yoga Teacher Training- Taryn, Yann and Alka are all incredible people and amazing teachers who truly want all of their yogis to succeed. A small class size means you get really personalized attention, alignment guidance and assists in basically every pose at some point over the course of 4 weeks. I cannot recommend this experience enough…definitely the best option in Bali, if not the world!
– Meagan Hamblin (USA)

Words can't possibly describe how amazing this past four weeks with Loka Yoga School have been! I just finished my 200 hours YTT with Loka Yoga School and I am beyond grateful that I have found this school for my journey. The way Taryn and Yann run the school is unbelievable. They put so much love and passion into every single class and every single detail, that this place and the whole group quickly felt like a home and a family. The program was perfectly structured and organized – starting from the communication beforehand, the beautiful yoga shala in a great location in Pererenan / Canggu, the courses and workshops, the food, staff as well as all the little surprises and gifts in between. Taryn, Yann and all the other beautiful teachers really care for their students and give so much more than "just" a 200 hour Yoga Teacher Training. The exceptional training does not only prepare you to be an incredible yoga teacher, but also the best version of yourself. For me, it has been a journey that brought me closer to myself and taught me lessons for life. The past four weeks have definitely been one of the best things I've ever done. Highly, highly recommend!
– Katrin Lerm (German)

Choosing Loka Yoga school was best decision I made in my entire life. I completed my 200 YTT in September 2023. I can't speak highly enough about Taryn and Yann. They put their heart, sweat and soul in making sure we had the best experience. They over delivered and they definitely raised the bar and set a standard on what YTT's should be like all over the globe. It's a full intense program, which included yoga mechanics, philosophy, anatomy, teaching methodology and so much more. Alka, Deva, Jeanne and Stella offered their teachings based on their respective fields which took the training to a higher level. If you choose Loka Yoga School, you will get exactly what you paid for, without a doubt. It was money well spent and a big investment in my future. With much love, gratitude and to all the beautiful kind Balinese people and your beautiful country, my heat is full and I'm Ready Now!
Namaste🙏🏾
– Danielle Maximo (American living in Netherlands)

If you are considering taking a certified Yoga Teacher Training course, take it with Loka Yoga School! I have had the absolute best possible experience here. Taryn, the lead yoga teacher trainer and owner of the school, Yann (Anatomy & Physiology teacher) and Alka (Yoga Philosophy teacher) turned out to be absolutely wonderful people and professionals. Loving, authentic, caring and ensuring that all participants have their needs met. And not only when it comes to yoga, but also especially when it comes to personal growth, overcoming fears and breaking patterns and limiting beliefs; they give their all in a very nurturing, organic way, without aiming for certain outcomes. I always felt completely safe, very much in the moment and learned so much more than I had ever expected. I appreciated the maximum group size of 16 persons, quality and focus, whereas many other schools provide to groups of 40 or even more students here in Bali! The venue is well kept and comfortable. Not only is it practical to stay onsite at the venue; the rooms are extremely luxurious and comfortable and they are cleaned daily, the pool is welcome to cool down after yoga practice too 🙂 Breakfasts are healthy, delicious and varied. It is only a five-minute walk to the beach from which you can enjoy Bali's magical sunsets after a hard-working day full of wonderful yoga.
My 200-hour YTT with Loka Yoga School in Bali is, hands down, in my top three favorite learning experiences❤️
– Joan Hoexum (Netherlands)

If you are contemplating whether to do your yoga teacher training, or wondering where to do it, Loka Yoga School will fulfill every expectation and beyond. Having just complete my 200 hours YTT here, I can say from the bottom of my heart that it's the most incredible decision I ever made. I barely have words for the miraculous, deeply healing and invigorating month I've just experienced. Taryn and Yann have created something nothing short of spectacular and I have graduated as a yoga teacher feeling so full of love, gratitude and confidence. The tools you are given have truly broadened my horizons- the wealth of experience between the whole team is truly exceptional. This has been the best month of my life, ever- and I will forever be grateful for how this teacher training has helped my live a better, more fulfilling, rich and peaceful life.
– Katie Lasek (UK)

There are not enough words or ways to describe how impactful and amazing this training was for me. I am eternally grateful to Taryn, she has changed my life forever. She is incredibly knowledgeable on everything yoga – all the asanas, the Sanskrit and many yoga linages. She is beyond experienced in yoga and the training shows for it. It just blew me away how much we learned, it went way past my expectations. Not only did Taryn set us up for success with asana/ teaching practice, she is just so caring, empathetic, wise and she is everything you need her to be for your transformational experience. This was not just a training for me, it changed me and my life for the better. She gave me the confidence that I was looking for and needed to purse teaching. I needed this experience, deeply. I cannot recommend this school enough. I'm so happy the universe led me to Loka Yoga School and Taryn & Yann, I couldn't image going anywhere else (I am literally currently crying as a write this testimonial). It's hard to tell online what you will be getting but Taryn is the most genuine and integral person I have ever met in my life. There are no shortcuts, cutting corners or anything missing. I got way way more of this training than what I paid for and I would do it all over again and again. Not only was Taryn amazing, so were the other teachers; Yann, Alka, Stella and Deva. They were AMAZING in every way, I just loved learning from them every single day. I also made such good friends and connections with the other people there. Mainly because Taryn and Yann created such a beautiful environment where everyone felt loved, cared for, and seen. I'm so sad it's over, I would go back in a heartbeat if I could. But eternally grateful I went.
THANK YOU TARYN & EVERYONE AT LOKA YOGA SCHOOL!💛💛💛
– Erin Moriarty (USA)

I cannot recommend Loka Yoga School enough, for anyone wanting to complete a 200 hour yoga teacher training. This training will not only qualify you as a yoga teacher, but it will enrich your life in a way you didn't know it could be enriched. From the start, Taryn and Yann welcome you in with love and acceptance and it just takes off from there. The spiritual teachings, the anatomy teachings and the yoga, all come together to be learning as it should be; safe, fun, informative and useful. The shala in Bali will not only be a place that you learn to teach yoga, it will be a place to grow and develop in a safe, Accepting, encouraging environment. The location is great, the breakfasts were amazing and everything about this experience was life changing for myself and my fellow yogis. I have made 16 new friends who I see as family members and they are the best most amazing people from all over the world and we faced every single challenging moment together. Do not doubt for a second that this school is worth every penny and more! Do not hesitate, book today and never look back!! Namaste 🙏🏼
– Sally Railley (Scotland)

I came to Loka Yoga School wanting to deepen and accelerate my yoga practice and yet I left with so much more. Yes, I graduated with my 200hr YTT certificate which will allow me to teach anywhere in the world should I choose to, but more importantly, Loka Yoga provided a safe space for me to connect with myself and others more deeply. We were given the opportunity to practice teaching many times and received incredibly valuable feedback from our teachers and fellow yogi peers to help set us up for success and build our confidence. There was not a single boring day and you could tell the amount of passion, thought, care and love that Taryn has put into shaping the curriculum. Not only am I convinced that this is the best YTT program in Bali (possibly the world) due to the breadth and depth of topics that Taryn, Yann and Alka covered, they also held space for us to ask questions and encouraged us to probe more deeply. Even though my original intention with the YTT wasn't to teach, the passion and energy I received has made me want to share my learnings with others – the foundations of how to live a happy, fulfilled and purposeful life through yoga and the yogi mind which will serve me on and off the mat for years to come. Lastly, and most importantly, they created an environment that was unbelievably safe, nurturing and filled with love. This fostered an incredible bond between me and my batch mates and I feel like I've walked away from this YTT not only physically and mentally stronger, but also with a new family. Thank you, thank you, thank you.
– Connie Cheung (Candian, living in Hong Kong)

Loka Yoga School is by far one of the most comprehensive, professional and committed yoga schools out there. The dedication professionalism and integrity of this program has set the bar to unbelievable limits. The manual with history, philosophy, Sanskrit, asanas, all levels of yoga is a complete compilation of this program. Taryn, the lead teacher, Yann, the anatomy teacher, and Alka, the philosophy teacher, go far beyond the basics needed for Yoga Alliance, and the additional material taught is a delightful surprise. This program teaches you to dig down deep into your integrity, both physically and mentally it challenges your emotional character and changes your life in the most profound outcome. The positive energy, love, connection and support offered by the teachers blows the roof off what your high expectations are coming into this program. I recommend this school to anyone wishing to heal, learn yoga, strengthen your mind, body or spirit. It will change your life.
I can't say enough positive things to ever do justice to the gifts I have received by this program.
Thank you Taryn, Yann and the whole Loka Yoga team.
– Sherry Lee Martinez (USA)

What an amazing experience this was! A whole month of my life dedicated to yoga, spirituality and anatomy. I learned so much from each of the teachers at Loka yoga. Each teacher was so knowledgeable in their field. Taryn the owner is a such a beautiful soul and was so relatable. Truly life changing and forever grateful for the sisterhood that was built during my time here in Bali. I am already planning to take the continued education courses provided. If you are on the fence at all, take the leap of faith and just do it. I promise you won't regret it.
– Brittni Lutz (USA)

I have had the most incredible month of my life at this amazing place, Loka Yoga School. I am so extremely grateful for everything that Taryn, Yann and the other teachers have done for me. If I had the option, I would give this school 10 stars over and over again ❤️
– Yulia Kirillova (Russia)

What an incredible journey! Immersed in profound knowledge, guided by caring instructors, and a meticulously designed 4-week experience at Loka Yoga School. Deep gratitude to Taryn, Yann, and the team for this transformative opportunity. Feeling fortunate to be part of this YTT adventure!
– Ji Young Lee (Australian)

Truly an amazing experience. Not only was the asana, anatomy and philosophy knowledge abundant, the amount of care and thought that went into every second of this 4 weeks training was evident throughout. Taryn, Yann and their team have created an absolutely beautiful space to not just become a yoga teacher, but to become a better person. My love and gratitude to this school cannot be expressed in words. I am forever grateful. The classes are of highest quality, the schedule was full but manageable, and the surprises were endless! I feel so lucky to have been apart of Loka Yoga school.
All my love to you guys!
– Kelsey Meeks (America)

I completed the 200hr YTT and honestly could not recommend this school more! Such well rounded teaching from a physical, spiritual and emotional point of view. Taryn and Yann are beautiful humans and teachers and I've met friends for life in the other students!
– Siobhan Harris (English living in Australia)

There are not enough words to articulate the beauty and magic of Loka Yoga School. It's not just the location, which is exactly as advertised, but more it's the quality of the teaching, the heart and soul that's put into every activity, every asana workshop, every meditation, pranayama, breathwork and asana practice. Taryn, Yann, and Alka are the real deal and if you're on the fence about coming to Loka Yoga School, I highly recommend you to just do it. You'll be thanking yourself later. It was easily one of the best decisions I have made in my life and I know I will reap the benefits from their teachings for the rest of my life!
– Megan Margherio (USA)

The school, the program and all the instructors are just amazing at Loka Yoga School. They really went above and beyond throughout the entire teacher training experience. I feel I walked away with all the tools needed to start this new journey/chapter in my life. Taryn, the lead teacher, is just amazing! Good hearted and very knowledgeable! I simply could not have asked for a better yoga school to study at!
– Edward (Netherlands)

I decided to attend Loka Yoga School because I was desperate for a change in my life. I was battling depression anxiety and a substance use disorder. I knew that the only way to get out of that state of mind and point in my life was I had to go inwards. I had to work on myself internally, come to terms with traumatic experiences and face a lot of things I had been avoiding. I knew Taryn and her guidance wouldn't be able to just 'fix' me, I knew it was going to take a lot of hard work solely from myself. I came into the process with an open heart and an open mind, ready to change. Within the first 24 hours of being there I had a very open and honest conversation with Taryn. It really felt like the 'kick off' to my journey. After our first day, emotions were already running high for me. I don't think Taryn realized the significance of this conversation, but it was at that point I knew without a doubt that this woman wanted nothing but to help me heal and grow closer to myself. She listened to me and truly heard me, like no one ever has before. She is truly such a beautiful, powerful individual who has the ability to make you feel seen, heard, supported and empowered all at once. I knew she'd be holding my hand along the entire journey.
From the asana, to anatomy, to philosophy I learned so much about myself and yoga as a practice. For me, yoga has always been about connecting the mind, body and soul. Through breathwork, anatomy break downs, posture workshops, public speaking seminars, I was able to learn from every single aspect of yoga. I have so much respect for Taryn, Yann and Alka because they truly embody what a yoga school should be. Their main goal is to guide you to the best version of yourself and in the process they help you to become the best yoga instructor possible. They dive into the history of yoga and offer such insightful perspectives that not only apply to yoga, but life in general. They are true yogis who practice what they preach and genuinely care about helping others reach this level of peace. They prepare you for teaching in every way possible and are super supportive in the process.
I was surrounded by like-minded individuals for an entire month and that was something I had only ever dreamed about. Being this passionate about my spirituality, physical and mental health is not extremely common. So meeting and becoming best friends with like-minded people from all over the world was an experience within itself. I was receiving more support from people I had known less than a month, than people I had known my entire life. And not just "I'm here if you need anything" support…it was real, raw, genuine empathy, care and support. We were all so different but I loved it that way. Diversity is important in any scenario but especially when it comes to transforming, healing work. I learned so much and was inspired by each and every one of them.
I came into this process really lost, overly stimulated, anxious, self critical, judgmental… I was actually incapable of being nice to myself at the time. Within the first week I became very conscious of my inner dialogue, the way I spoke to myself, the way I let my mind spiral out of control. By the fourth week my inner dialogue was entirely different, I genuinely felt like an entirely different person. Now I am back home and the magic hasn't faded, if anything it is even more prominent. I hardly recognize the girl who came through those doors and it still kind of blows my mind how far I have come. I found a sense of peace I never knew I was capable of having. When I'm overstimulated I focus on my breath, when I'm anxious I focus on the breath. The tools and techniques I learned have stuck with me and I've been able to apply them to my life here at home. Loka Yoga School gave me control of my thoughts, emotions, impulses, my LIFE. I feel like I am finally in the driver seat of my life, after years and years of sitting passenger. The ability to love myself has given me the ability to love others a little deeper and kinder. I don't lose my peace at the drop of a coin, I don't get so anxious that I become immobile. I'm free of all of that, I am in control. And I am HAPPY. Happy with no prerequisites. I'm able to just simply be happy and enjoy my life.
Loka Yoga School permanently changed me for the better and saved me from a really really dark place that I've been stuck in for nearly 8 years. They've given me the tools, support and strength to ensure me I never have to go back to that place. And if for any reason I do I have 17 new best friends who will be happy to be there for me. I am forever grateful for this program, these people and this practice. I've been overflowing with gratitude from the moment I met the until now.
– Anna Abu Sal (USA)

It's difficult to put into words how incredible my experience was with Loka Yoga School, completing my 200 hour Yoga Teacher Training. I signed up for the course to learn more about yoga and to deepen my own personal practice but I left with more than I could ever have imagined. All expectations were well and truly exceeded!
The way Taryn and Yann have designed the course is exceptional. Before completing the course I never thought I'd have the confidence and ability to teach a 60 minute class but you really are prepared for it. Taryn, Yann, Alka and the other teachers are all so knowledgeable and passionate about what they teach. Yann's anatomy classes were always so well-informed but he delivers them in such a fun way. Taryn's workshops were just amazing and I loved practicing different styles of yoga each morning from hatha, vinyasa, power and especially yin yoga!
Taryn and Yann have poured so much love and passion into Loka Yoga School and have created something so special. From day one they created such a safe, loving and accepting space for us all which allowed us to connect on a deeper level and become a yoga family. I am so grateful for the experience and it truly is life changing; it's helped me with personal healing, transformed the way I see life and also myself in such a positive way. I couldn't recommend it enough!
– Rianna Farrow (UK)

My experience with Loka Yoga School has been truly AMAZING! I first joined their yoga retreat in North Bali in April 2023, which is where I got to know Taryn and Alka well and I became so inspired by the love, dedication and commitment to what they do. So, I decided to join their 200-Hour Yoga Teacher Training in July (knowing that there's nowhere else I'd rather go, or anyone else I'd trust more for this experience). I have complete trust in Taryn and all Loka Yoga School teachers; with their knowledge, experience, professionalism and their kind and loving hearts. Taryn's way of teaching was really awesome. She has also supported me through the challenges I faced physically, mentally and emotionally and I came out feeling stronger and so proud of myself. Yann has in-depth knowledge in Anatomy. He made the class very interesting and he also made it possible for me (a non-native English speaker) to understand. Alka's philosophy classes were something I looked forward to everyday. I have learned so much and, above all, I had a really wonderful time and I got to meet some beautiful friends from around the world.
Thank you so much Taryn, Yann, Alka, and all Loka Yoga School teachers! It was an experience I will always cherish.
– Achita Singhaseni (Thailand)

I don't quite have all the words to describe the amazing month I have just had at Loka Yoga school. The course has exceeded my expectations in every way – this is so much more than a 4 week yoga course. Yes, you will learn asanas but you will gain so much physically, spiritually and emotionally. Taryn and Yann's commitment, warm nature and values shine through in everything they do.
The yoga element and the posture labs were highly detailed, passionately and expertly delivered. I now feel confident and equipped to teach yoga in a variety of ways. The yoga philosophy component of the course was truly magic. Alka delivered teachings on ancient yoga philosophy and made it relevant and recognisable for a modern day audience. She guides you to do the inner work, which is necessary if you truly want to grow. Yann's anatomy lessons were thorough, well delivered and structured. I now know so much more about the human anatomy – which is going to aid me so much when planning lessons and understanding physical limitations that different bodies have. The body is so wonderful and I am so happy this was such a big part of the course.
This experience will forever be in my heart. It has allowed me to grow and live in true alignment with my purpose.
So much gratitude for Loka Yoga School; Taryn, Yann, Alka, Stella, Deva, Jeanne and all the incredible yogis that I shared this last month with.
– Rachel King (UK)

The 200 hour YTT at Loka Yoga School has completely exceeded my expectations. As someone who's already previously started a YTT but decided to stop halfway through because advertisement and reality didn't go together, I can honestly say that it is absolutely not the case here. All classes, workshop and lectures are informative, immersive and also provide laughter. Taryn and Yann have created an absolute gem of a yoga school and both of them are in this 100% before, during and after the training. I am currently on my way home and don't really know if I'm sad or happy. Sad, because I had to leave so many beautiful souls behind, happy that it happened and I got to know them all and walk away with memories of this experience forever.
All I can say is if you're reading this and not sure….just book, go to Bali and go with the flow, and you will have an amazing life-changing month!
– Lena Enz (Switzerland)

Loka Yoga School not only prepares you to be a yoga teacher but gives you the tools to incorporate principles of yoga in your own life to improve your mindset and lifestyle. The passionate teachers truly care about your personal and professional wellbeing and success. The program is very well rounded which contributes to learning yoga on and off the mat. I highly recommend Loka Yoga School and will carry the invaluable knowledge I've learned throughout my life.
– Sarah Oberman (USA)

The program for the 200 hour YTT which Loka Yoga School have created is unbelievable. Every piece; from the posture labs, to anatomy classes, to workshops, pranayama, group breakfasts, philosophy classes, tantric exercises, meditation, everything. Taryn and Yann both work so hard to make sure every single student is seen, heard and felt. They have touched my heart so deeply, and I am forever changed from this month. This magical, magical month. The attention they have paid to every little detail, shattering our expectations day in and day out. Their hearts are so large, they took all our sixteen hearts and wove them into one- a bond created only by special humans with a gift. The way they lead by example and live their lives is inspiring and everyday they make me want to be a better person. Thank you for the lessons, the care, the passion and the love.
– Meghan Cassidy (USA)

I had an absolute wonderful experience at Loka Yoga School, completing my 200h YTT! The venue was amazing, the classes were very professional and well structured. I made friends for a lifetime here. I will forever cherish my experience and can't even put into words how full of love my heart is after leaving this training. Just be aware that it's definitely not a retreat…there is a structured scheduled, rules to be followed and requirements to comply with and become certified as a yoga teacher. And you'll be doing a lot of physical and inner work! It's a training, not a vacation. It is a life-changing experience and journey that exceeded my expectations!
– Paula Manthey (Germany)

I mean wow. Where to start. I have had a life changing experience coming to Loka Yoga School, it truly has given my life meaning and purpose. There is no other way I would want to start this beautiful journey. Everything from the onsite accommodation, food, hospitality and classes exceeded my expectations completely! The schedule was so well thought and planned out that I really did get the most out of my stay, if not more . The classes are so enjoyable and the information we received is so worthwhile. I learnt more than just asanas, but about how to live life off of the mat, how to treat the world and people and – most importantly – myself, with love, compassion and many more things, and for this I can only thank Taryn, Yann and Alka. 3 of the most beautiful souls I have ever met. I am so very very grateful that I got the opportunity to meet all of them. I never felt alone once. It was as if I was always surrounded by people that care for me and support me. I will cherish this experience forever!!
– Angelina Christodoulou (Cypriot living in Spain)

The month with the Loka Yoga team was unforgettable and a truly life-changing experience. The whole training is so well constructed and there is very good balance between asana practice, inner work and other beneficial topics like anatomy, yoga mechanics and kids yoga. Taryn is an incredible teacher with invaluable knowledge and she is an amazing loving human being, she takes care of everyone and genuinely wants each student to reach their fullest potential. Yann is an absolute expert in anatomy and supports student's knowledge well on that, not forgetting to make it fun. Alka is such a special kind of teacher in yoga philosophy and kundalini, I learned so much from her teachings and wisdom in life. All other teachers are also very highly qualified professionals with years of experience and their classes gave me a lot of inspiration how to continue with different paths of yoga. The whole team is so loving, supportive and passionate about what they're teaching. As intense the training was, it was also so much fun. I made friends for a lifetime and got priceless tools which I have included into my daily life. As you will learn, yoga is a lifestyle and this is the place to go if you want to learn how to live that. I would recommend this journey even if you were not sure yet if you want to teach. I would say that after this training you will feel inspired and equipped! Regardless you will not only learn how to teach yoga, you will also find tools to become the best version of yourself. Also, the venue is just beautiful and in a perfect spot surrounded by rice fields and next to the beach and close to shops, cafes and restaurants. I am already missing morning practices in our shala with the rice field views (and those breakfasts after that… so yummy!!)
– Jenni Lemetti (Finland)

I am so glad that I attended Loka Yoga School. This experience has been sooo mind blowing, in a very, very good way!! If you want to work on your yoga poses, dive deep into philosophy, anatomy and inner work then you will get the full package here. It is for sure an intense amount of physical work but it is so worth it. By the end of week 3 you will see how your physical strength has improved and your mental health too. Taryn, Yann and Alka were all sooo amazing. The support they provide goes above and beyond expectations. I have made my life long family at Loka Yoga School and am so excited to teach yoga with others now.
– Estabraq Allami (USA)

What a memorable, heart opening experience. You come for the postures but you leave with so, so much more. Taryn and the rest of the team are so passionate about what they do and build an atmosphere for an absolutely life-changing month. The facilities are beautiful, the classes are educational, and the people you meet are incredible. If you're thinking about doing your yoga teacher training – DO IT. You won't regret it one bit, it was an absolute privilege to spend a month at this place and learn under these wonderful humans. I feel completely prepared and ready to begin teaching in LA immediately after this YTT!
– Kristen Carmela Keppler (LA, USA)

If you are reading this and are still unsure whether and at which school you should book a yoga teacher training, be sure to just book it straight away with Loka Yoga! You will absolutely not regret it. I did a lot of research beforehand and I'm so glad I chose Loka Yoga School, they offer so much more than all other schools in Bali. Taryn, Yann and Alka pour their hearts and souls into the training. There was never a moment where I felt uncomfortable or out of place. We were one family, everyone helped everyone. Everyone gave everyone space when needed. I was worried about the language barrier because English is not my first language but it was definitely not a problem and Taryn supported us so much. On the contrary, I was able to learn so much! Also I was unsure if my yoga training was "advanced" enough; I was worried for nothing. If you take the step and look for YTT, you are ready. As a German I'd like to emphasize the very structured daily routine and the clear communication and thorough guidance and punctuality 🙂 There were no misunderstandings and uncertainties at any time. Thank you Loka Yoga School for an unforgettable and life changing time. Besides of being a yoga teacher now, I was able to meet the most beautiful souls from all over the world. What a gift.
– Romina Kuehl (Germany)

I really loved the 200-hour yoga teacher training with Loka Yoga School. I highly recommend it. Honestly, if you are reading this and you are not sure whether to come, do it – it will be an experience that will change your life! During these 200 hours it is impossible for you not to question the way you live and to start thinking about how you want to live the rest of your life. For me it was a very challenging experience because English is not my first language, also physically because it involves many hours of yoga and emotionally because on this journey they take you to the depths of your being to bring out your best version, for which was challenging but in the best way pushed me to be a better version of myself (much more than I expected before I arrived!). The teachers, to say the least, are incredible! Taryn, Yann and Alka put their hearts and souls to nurture, teach and serve all students. And the connection that was formed with my fellow yogis is on another level; they are a new family for me. I thank Loka Yoga School for this amazing experience that gave me so much more than what I was looking for when I signed up to become a yoga teacher.
– Javiera Figueroa (Chile)

What Taryn and Yann have created at Loka Yoga School is nothing short of exceptional. From the first communication I had with Taryn, I breathed a huge sigh of relief because I knew I had chosen the right place to do my yoga teacher training. Taryn's communication was friendly, authentic, thorough and prompt. I was a little anxious to be travelling so far from home on my own, but Taryn's reassuring words put me at ease. She has a wonderful gift of giving you all the information you need, exactly when you need it! Taryn is a beautiful, deep, kind (and fun!) soul who genuinely loves and respects what she does. At every stage she exceeded my expectations.
It's hard to put the 4 week experience into words but 'life-changing' and 'soul-enriching' come to mind. Taryn, Yann and all the teachers at Loka Yoga School have poured so much love, care, wisdom and experience into their 200hr yoga teacher training programme. It was wonderful to learn from such passionate, dedicated and knowledgeable teachers.
What I loved about Loka Yoga was the small class size (maximum 16 students) so you get plenty of one-on-one time and as a group we formed such a close connection which will last way beyond the 4 weeks we spent together. I also loved the mix of classes and the in-depth knowledge that each teacher brought. I particularly enjoyed Taryn's morning classes and Alka's philosophy classes. The yoga shala is absolutely stunning and the on-site accommodation was stylish, comfortable and clean.
You go to Loka Yoga School to train to be a yoga teacher but you come back with so much more. It's challenging at times but the best things are, aren't they? I will forever be grateful to Taryn and Yann and everyone at Loka Yoga for this incredible experience. Thank you.
– Beatrice Grist (United Kingdom)

Loka Yoga School exceeded my expectations. I signed up to attend this YTT for the breadth of knowledge and expertise each teacher seemed to have, which rang true, but the game changer was the genuine passion and care demonstrated and felt on a daily basis. It's the difference between someone who knows their stuff and those who truly live it. They were present, detail-oriented, supportive, and flexible with the needs/desires of the class yet firm on delivering the highest quality experience. Beyond the classes, the training brought a time for personal development and healing alongside the ability to connect with like-minded individuals from all over the world. There was a perfect balance of depth in sharing and space to digest everything at your own pace. Whether you prefer alone time in your room, a walk to the beach, or a scooter ride to one of the delicious cafes…Loka Yoga School's accommodation and location hit the mark! And to keep it real, at times it was not easy; the body, mind and soul are all being exercised on deeper levels if you are 100% in, which can be quite tiring, but you get out of it what you put into it. It was obvious from the very beginning that Loka Yoga School offers more than a yoga teaching certification; it offers a better you, more deeply connected within, as well as with friends (now family) from all over the world.
– Kaitlin Ward (USA)

Loka Yoga has been an incredible experience and truly life changing! I had already completed a 200 hour Yoga Teacher Training in India (focus on Ashtanga). I believe yoga is a continuous journey of learning and growing and this is exactly what Taryn and Yann have created. The 200hr YTT course at Loka Yoga School dives deep into the yogic tradition but we are also guided on a personal journey. This inner work helped me to become not only a more confident and knowledgeable teacher, but also a more empowered woman. The love, dedication and wisdom they put into the course and the energy they bring each day has been truly inspiring and I am so, so happy that my path led me to take this course.
– Nicola Lobsang (United Kingdom)

I've lived my best life at Loka Yoga School for the past month. The space Taryn and Yann held for growth, fun, love and learning was so deeply nourishing and filled with care and love. When I came to Loka Yoga, I had a deep anxiety for holding a class and to teach yoga. Through the safe space that the training held, we were given the means to learn and grow. Now I truly feel that I really am ready to put myself out there as a yoga teacher, and to share the knowledge taught and handed down to me. Simply safe and beautiful. My expectations really were exceeded.
– Gabriella Holmström (Sweden)

I cannot find the right words to describe the incredible, amazing journey me and my fellow yogis had in Loka Yoga School, Bali. From the very first day, Taryn and Yann set the vibe of kindness, acceptance the difference, appreciation the healing space some of us may need it, in a caring, respectful manner. Morning yoga sessions were always different, challenging, preparing us to build strength, stamina and flexibility with variety of meditation and breathing techniques. Following by enjoyable presentation and anatomy discussions, skilfully guided by Yann. And Alka's yoga philosophy classes brought us to dipper knowledge and enable us to rediscover ourselves. The curriculum of the course was intense, but excellently, thoughtfully scheduled by Taryn. The completion of the training was a life changing experience for me, physical and spiritual transformation, and I would be grateful for the rest of my life to the brilliant, highly professional team of Loka Yoga School and my fellow yogis for that journey. The venue- Bali Harmony Retreat was excellent-hospitality, facilities and food delivered on a superb level. If someone is wondering where to do their Yoga Teachers Training I would say go with Loka Yoga School and you will never regret it. The level of support that you will have is beyond any expectations. It is one in a life experience. Thank you all from the bottom of my heart. I will love you forever. You are my family now.
– Ruska Pavlova (Bulgaria, living in UK)

I loved my time at Loka Yoga School. The experience taught me so much about yoga but also so much about myself. The structured days were perfect for me. We would wake up every morning and have a beautiful meditation, breathwork and asana practice. The breathwork training went above and beyond what is required for the 200hr YTT. I thoroughly enjoyed all the different methods we learned, so many of them were helpful for anxiety and helping to find balance. A lot of the time I was learning without even realizing I was learning. Taryn is so engaging and the venue itself lends to peace and serenity. After the morning practice we all gathered in the kitchen area for an amazing prepared breakfast full of local fruits and tasty vegetarian offerings. We were able to spend time together but Taryn made it clear the first day that if we needed time alone, that was ok too. On different days different people would step off to have alone time but at no time did anyone ever take offense to that. It always felt like such a safe and nurturing environment. The structure facilitated growth and learning in such an amazing way. Yann made learning anatomy and physiology and anatomy fun and engaging. We were all so sad when we were finished with his hours, he has a wealth of knowledge and he loves to share that knowledge with others. I would go back to Loka Yoga over and over again. It was one of the best choices I have made thus far in my whole life. Their heart and soul went into creating this program and that's exactly what you get. A heartwarming program that puts you back in touch with your soul. Thank you so much for an amazing experience. All my love.
– Alannah Alfieri (USA)

Everyone at Loka Yoga School is truly inspirational, loving and kind. The course is structured to perfection and I learnt not only about yoga postures but also meditation, breathing techniques, philosophy, anatomy and a lot more. Taryn and the team are all so knowledgeable and helpful, they go above and beyond to ensure everyone is heard and taken care of. I would recommend Loka Yoga School to anyone looking to take their yoga practice to the next level and also find themselves and discover what they truly want from life and also heal their soul. I will keep this experience in my heart forever and I'm so grateful to have had the privilege to meet Taryn and Yann and all the wonderful yogis in the October training.
With lots of love and warm wishes from the bottom of my heart!
– Petya Spencer (Bulgaria, living in UK)

I attended Loka Yoga school in October 2022. This was a truly a life changing experience. The knowledge, energy, pure love and dedication that is carefully put into this can be truly felt. Lead teacher and business owner Taryn has many years of experience and extensive knowledge. The intake of students is a maximum of 16. Taryn has a skilled team of teachers who work alongside. For me, the experience was so much more than just physical yoga; it has helped me on a personal healing process. The curriculum allowed the whole group to bond right from the start and we grew really close, it was so lovely to see everyone develop and grow during the teacher training. Felt like more of a family environment. Be prepared to work hard, commit yourself and reap the rewards!
– Neil Hardiman (United Kingdom)

For me the experience was absolutely amazing. It was challenging, emotional, beautiful, intense and extremely rewarding. On top of it I am 100% comfortable as a yoga teacher and teaching professionally! I am very confident in teaching yoga now and I think the Loka Yoga School curriculum and practicums really helped me to get over that first fear of leading a class. I am also very secure in my knowledge that Taryn passed on.
Practicing giving cues and having them outlined was super helpful, Taryn provides great guidelines. I loved the fact we got to experience different styles of yoga, especially yin yoga, and the guest teachers were such a gift, knowledgeable embodied yogis.
The venue is beautiful, so peaceful and has a feeling of a home. The schedule seemed pretty packed but once I was in it, there was no other place I'd rather be. It was such a beautiful atmosphere and a safe place to be yourself. If you are looking to do yoga teacher training in a safe, comfortable, clean, lovely and westernized environment, Loka Yoga School and Canggu in Bali is perfect. Nothing is lacking and the food is too good here with an abundance of options.
Taryn and Yann are completely dedicated to help make great yoga teachers and are very supportive through the whole journey while still keeping things fun and lighthearted, which in full honesty, was often very much needed. For me it was not just a yoga teacher training but an emotional journey as well.
Regardless of whether or not I choose to build a career in yoga now, the personal benefits I have received from this experience is totally worth every single penny. The teacher training brought to me immense personal growth and a deeper understanding of myself. Now after having returned to my everyday life back in Europe, I can feel a big difference in myself after this experience. I am happy and at peace, the noise of the western world doesn't shake me up so much anymore. Things just flow easier and I feel like I can still be a real yogi no matter what surrounds me. I am forever grateful for everything I received at Loka Yoga School and oh, I received so many beautiful things that I will always cherish.
From the bottom of my heart, dear Taryn, thank you for creating Loka Yoga School!
– Aníta Ösp Gunnlaugsdóttir (Icelandic, living in Hungary)

I participated in the August 2022 Yoga Teacher Training with Loka Yoga School and it was one of the best experiences of my life. From the booking process through to the end, the care and dedication shown by Taryn and Yann is above and beyond. The quality of education we received was simply first class. Taryn has such a wealth of experience and knowledge of yoga teaching and is such a caring and helpful teacher. She was so willing to answer any questions and went above and beyond to make sure all our needs were met. Yann has superb knowledge of Anatomy and Physiology which he delivered through the course, and helped facilitate other aspects of the training and was extremely helpful. All other teaches for Philosophy, Yoga Mechanics, Kids Yoga and the workshops were incredibe. The space where the training is held is also a fantastic venue, with extremely comfortable luxury rooms, a nice swimming pool, the beautiful shala, and all the services and comforts you could need. The owner of the property is very helpful. The catered breakfast everyday is also amazing. Loka Yoga School is very fairly priced compared to other schools and what they offer and it really is such good value. From what I've heard from others about other schools in Bali, Loka Yoga School delivers a very high standard of service in comparison and I couldn't be happier. Overall, Loka Yoga School is an incredible school and I would recommend anyone to come here. You will have an amazing experience.
– Daniel Lodewyke (Australia)

My experience at Loka Yoga School was one of the best of my life. Taryn and Yann are some of the most genuine, kind and caring people you could ever meet. Both of them consistently went above and beyond to make sure each and every person had the best experience we could. On top of that, Taryn is an extremely talented and knowledgeable yoga teacher and I ALWAYS felt safe and supported in her workshops and classes. Yann has a huge amount of medical experience and it was truly an honour to learn anatomy with someone who has first hand experience. Both Taryn and Yann and all the other teachers brought a beautiful, genuine and vibrant energy to every single class, workshop and activity. They have poured their hearts and souls into this teacher training which is reflected in the extremely intelligent timeline and the world-class quality of all teachers that shared their knowledge with us. At Loka Yoga, we had the opportunity to teach both a 30-minute and 60-minute class and receive feedback from teachers and students – this is the only school I found that offers this amount of teaching! I feel it is absolutely essential and beneficial if you wish to feel confident as a teacher when your course comes to a close.
My time at Loka Yoga School was so much more than a teacher training. I personally had the opportunity for deep and powerful self reflection and healing (which was fully supported and nurtured) and the connections I made with my fellow yogis are some of the most beautiful friendships I've built throughout my life. To be surrounded by like-minded people who are experiencing the same challenges and joys builds something special.
During my time at Loka Yoga, I stayed onsite at their venue. The quality of the retreat is out of this world. The room was luxurious, extremely clean (and was cleaned daily), and very comfortable. The staff at the venue made sure we were well looked after and also provided laundry services which made life easy.
I can't recommend the Loka Yoga School more highly. It was one of the best months of my life so far. I absolutely feel confident and competent in my ability to teach yoga, meditation and pranayama thanks to Taryn, Yann and the Loka Yoga School.
Take the leap, and I promise that you'll thank yourself for it!
– Liam Johnson (Australia)

I was in the 200hr Yoga Teacher Training at Loka Yoga School in August 2022 and it was such a beautiful experience! The love and passion the owners and teachers put in to every single class is just incredible. Taryn & Yann are two amazing human beings with big open hearts. They do have a lot of knowledge and experience combined with love, passion, heartfulness and an open mind. I felt very supported and secure throughout the experience and definitely ready to teach right after the training as well. Thank you for this amazing time and all of your efforts!
– Laura Donven (Luxembourg)

I had considered yoga teacher training for a long time prior to booking in at Loka Yoga School. From making the booking and my first initial contact with Taryn, I was confident that this was where I was meant to go. During the months leading up to training, I felt both excited and nervous. I opted to stay onsite (which I highly recommend) and was greeted with friendly and welcoming faces on my arrival. All staff were lovely and I very quickly found myself feeling at home with my fellow yogis.
I appreciated mauna (the silence from 9pm until breakfast), and this was a great reminder of the special and sacred moments of the day pre-sunrise. The timetable was structured in a way that I felt ensured I was ready for what was to come. It was a safe space for us to explore our own practice as well as find our own unique voices as teachers. The training really encourages this and was evident during the practicums. I appreciated the uniqueness of everyone's classes and how they expressed what yoga meant to them through their teaching. I really enjoyed the introductions to yoga mechanics, kids yoga, ecstatic dance and Kundalini as well. Another inspiring reminder that yoga has so many pathways and is a journey which is unique to everyone who pursues it.
"I believe everyone is perfect rather than 'noone is perfect".
So simple, but powerful. This was shared by Taryn and has been one of my favourite take aways. A great reminder in times of self doubt or uncertainty.
In my experience, the yoga teacher training has been so much more than learning to teach. It has been a physical, mental, emotional and spiritual journey. It has been been challenging, illuminating and infinitely rewarding. I have no doubt this is the beginning of an incredible journey in the world of yoga. I am eternally grateful to not only had the opportunity to learn from incredible teachers, but also the time to spend building friendships with amazing, like minded souls who inspired me everyday. It was so special that our love for yoga brought us all together from all over the world to share this experience.
Thank you to everyone at Loka Yoga School for creating this beautiful space.
– Nicola Gale (Scotland)

My experience in Loka Yoga School has been incredible. From the beginning, Taryn and Yann treated us like family, trusting on us, always with a smile and always there for anything you need. I grew physically and mentally. I could summarize the course as a transition in your life where you definitely manage to change yourself in a positive way. The knowledge in terms of theory is also amazing, all the teachers are really excellent. And you DEFINITELY get everything you need to become a yoga teacher. The practice in the morning is one of my most favorite parts of the day; it helped start my day right and I love the challenges in the practice and amount I learnt. Not to mention the amazing gluten free vegan breakfast we enjoyed afterwards!!
I highly recommend doing this course either for a professional path or as a style of life.
– Marina Sanchez Prims (Spain)

Taryn, Yann, and the entire staff at Loka Yoga School are some of the most thoughtful people I have ever met and the most thorough teachers I have had the pleasure to learn from. The curriculum has been meticulously designed to set students up for teaching success as soon as they leave Bali, and they have beautifully weaved in opportunities for deep reflection, human connection, and lots of laughs along the way! Since we had the opportunity to teach multiple yoga classes before graduation, I was able to grow my confidence as a teacher by refining my skills in designing sequences, articulating cues, and giving adjustments.
A phenomenal experience I would recommend to anyone looking to attend a teacher training program 🙂
– Tommy McDonald (USA)

I've always loved yoga and for the past few years the thought had constantly crossed my mind to take this love and passion further by signing up for a YTT, but life so happened that while I researched and reached out to many different schools to enquire about their YTT courses, I never felt 100% sure about signing up with them. My intuition told me to hold off and it's a good thing I did because last year someone I know and trust highly recommended Loka Yoga School to me for my 200hr YTT.
My experience with Loka Yoga has been life changing – I cannot express this enough. My whole experience with them, from the moment I received an email reply to my inquiry about the course, to even life after graduating, Taryn and Yann have been so loving, supportive, professional and efficient. The course structure is so well thought out and planned, I cannot believe how much I learned during it. I loved the extra workshops and guest speakers who gave us such beautiful insights and experiences. All of these things helped us grow as both yoga teachers and personal development (emotionally, physically, spiritually and mentally). I'll definitely carry what I've learned from my YTT through life and am so grateful for the experience and the beautiful souls I've met along the way.
Thank you Taryn, Yann and the Loka Yoga School team, from the bottom of my heart.
– Ingrid Ngiau (Australia)

I was fortunate to join Loka Yoga School as part of the 200hr Yoga teacher training in August 2022. Taryn and Yann (owners/ directors) go above and beyond to support each and every student in their development.
All requirements of the curriculum, expectations, attendance, what to pack are clearly communicated in writing prior to your arrival, and much additional helpful information including suggestions on drivers, visa planning, restaurants, spas, sightseeing, healers, the schedule, etc are also given.
The classes are small enough for everyone to be supported while a strong bond is formed by all.
The content of the classes is exceptional! All teachers are experienced & deeply knowledgeable in their area of expertise, as well as being kind, inclusive and committed.
I highly recommend Loka Yoga School if you want to take the next step in achieving your goals. It's been a life changing experience for me.
– Nadine Thorburn (Australia)

If you are even just thinking about it, just do it. My life will never be the same again. Loka Yoga School honestly exceeded my expectations, like nothing else. I gained so much from this experience, offerings that they do not even advertise, and that is probably the best part of it all! Words can't even begin to describe this experience. These last 4 weeks have been the most incredible, groundbreaking, thought provoking and life changing time of my life. I never knew it until I came, but this was exactly what I needed, and where I needed to be. This is not a regular yoga school, nor is it a regular experience.
Loka Yoga School is owned and led by Taryn Weggelaar, and her partner and the Anatomy teacher, Yann Cadic, also supports her and the students as well. Together with 4 other expert teachers, they provide more knowledge than ever needed to teach and so much support. They are constantly supporting everyone and show all the time how much they want you to teach, to love teaching and to share the knowledge of yoga with everyone. I have not only developed my physical practice, but I have changed into a person who I enjoy being around, and cherish my time so much more now. This was an emotional journey for me as it was so much more than just Yoga, the philosophy, the anatomy, the postures, this school taught me about myself, and how to appreciate life so much more.
I didn't realise how much I needed this experience in my life. I didn't realise that yoga was something I wanted to pursue. With the teachers giving their hearts and souls into this place, with all their time, effort, energy and knowledge, that is why I want to be a yoga teacher now. They have really and truly changed my life. Their light and love for yoga, for teaching and for all of their students shines so brightly, making me feel so safe and so happy in their presence. I don't think any yoga school would have made me love yoga, but also myself, half as much as these guys have, and I will be forever grateful.
The team of teachers at Loka Yoga School have the most extensive knowledge, they really really know their stuff and want us all to succeed, enjoy the practice and their bodies, do well and love yoga. They will never let you down. Their passion and love for yoga is evident throughout the course, they give so so so much of their energy, time, effort to give us the best experience. I really truly can say that no other yoga school would be as amazing as this one. I have developed myself and my practice so much over the last 4 weeks. I would not have done this without Taryn and Yann. They shared so much love throughout and this is evident in EVERYTHING that they do. They create the most magical experience and it's all for your benefit. Even if you do not want to be a yoga teacher and you want to develop your own practice, do it. It is a completely life changing experience and you should 100% do it. You need this school, you need their support and you need their guidance. Trust me; this is the best thing you will ever do!
I only hope they can know how much I love them and their amazing efforts; I'm so proud of myself and I wouldn't have been able to do it without them. Thank you for the most life changing experience. Loka Yoga School and the beautiful teachers will be forever in my heart!
– Jennifer John (United Kingdom)

Where do I begin?! I can't recommend Loka Yoga School enough to anyone who is thinking, or not even yet thinking, to do their YTT. I truely believe that this is a magnificent course that everyone should experience in their life time. The amount of value, magic and profound moments packed into 4 weeks is truely something unforgettable. I know that even if I forget specific knowledge, the feelings I have gained will stay with me forever and they will be something I can tap into whenever I need. The amount of thought and effort gone in to make this course was it is, is truely above and beyond. From the little gift on arrival, to the final practice filled with asanas and music from all the students practicums, to the countless thoughtful gestures between undoubtedly just filled every students heart, before the course, during the course and after the course.
My heart is truly truly filled. Thank you for all your effort and time. Thank u for sharing all that you know with the world, it was such a beautiful experience to be apart of 🤍💗💓
– Kiera Manning (Australia)

Taryn is the reason that I was able to dive deep into my yoga practice and my personal growth. It still overwhelms me how present, compassionate, spiritual and aware she and the whole team at Loka Yoga School is. Everyone gives their everything for this journey, there is so much effort in every detail of the course. I actually already felt cared about before the teacher training even startsed: all the information provided and the transparency in the emails before to help prepare the students, the welcome letter, the welcome package and presents and to know that there is always somebody who truly cares about the wellbeing of the group and you. It's amazing.
This teacher training is so much more than finding the right alignment. I am blown away by the knowledge, experience, emotions and the huge investments in the group by Taryn, Yann and the other teachers have. Taryn's own composition of every lesson and workshop, her effort in every detail, her awareness, the time and energy she gave every moment of every day are just unbelievable. Her way of teaching is on another level and she built a real connection with every individual in the whole group. Yann's explanations in anatomy are so visual, near and diverse that everyone could feel his passion and experience all the time. Stella's Yoga Mechanics changed the way I see my body and gave me a deeper understanding for movement. The philosophy classes are full of stories, history and additional information, internal reflection and they are a pleasure to hear. Jeanne's different view of yoga in the Kids Yoga Workshop expanded my horizon in many ways. The Tantra exercises and additional classes, workshops and surprises were amazing. I'm so grateful for every lesson, for every moment – I didn't know that I needed this so much. The Loka Yoga School yoga teacher training transformed my body and my relationship to it, my yoga practice, my knowledge and mind. I feel like they all planted a seed in me that wants to grow now.
– Claudia Gromann (Germany)

It is hard to put into words what this experience has meant for me. I knew from the reviews I saw online, that there was something very special happening at Loka Yoga School. Little did I know just how deep this month would take us, and I'm so glad I took the leap!
I came to Bali thinking I would learn a physical practice – postures, sequencing, mechanics – along with the philosophy of yoga to back it up. I learned that yoga is so much more than that, while also traversing on a journey within myself with 15 other beautiful yogis. Taryn and Yann have planned this course to a 'T'; teaching the Yoga Alliance requirements but also adding layers upon layers of yogic practices so that we can be fully immersed and equipped with tools to take out into the world. No stone is left unturned! (But you have to join to see for yourself!) They create a safe space for sharing, vulnerability and fun in every moment that will make anyone feel at home early in week 1. Each teacher you encounter during Loka Yoga's course is stellar; bringing professionalism, knowledge, and so much passion to their curriculum. I left each lesson feeling so inspired to spread the same light in the world. To put it simply, Loka Yoga FAR exceeded my expectations! Yes I am leaving with a teaching certificate, but also lifelong friends, newfound love and understanding for myself, and memories that will last a lifetime. I can't wipe the smile off of my face, and want to share this joy with everyone – join Loka Yoga School for your 200 hr YTT! Your heart and mind will thank you.
– Hilary Goetz (USA)

Signing up for this yoga teacher training program is the best decision in my life so far. I decided to go because I wanted to leave Jakarta and I've always wanted to live in Bali. It seemed right to do/learn yoga in Bali, and I wanted to pursue a career teaching yoga. I explored the various options for the yoga teacher training, and I chose Loka Yoga because it was located by the beach in Canggu. I only came for the knowledge, skills, and certificate. I didn't come to make friends or build any relationships, I'm not a social person, I have very few friends and never enjoy being around people. I also had trust issues and after transferring my money, I was worried that this was a scam. I kept stalking Loka Yoga School and Taryn Weggelaar's social media and information from Google to make sure they were real. I started to plan and determined I would just go to the school to study yoga, then I would go home and teach/work. …but it wasn't at all what I thought it would be and totally different from my expectations; it was so much better! I didn't know I would end up getting the best and most beautiful experience in my life!
I only expected to learn yoga, and by yoga I mean asanas, vinyasa, all those movements and cool poses. I didn't expect to learn yoga philosophy, yoga anatomy, yoga mechanics, let alone yoga for kids! But wow!! All those amazing lessons! All those amazing classes! I got so much more than I expected! It was so, so much fun! Even the daily yoga practice which I already expected to be great, was way above my expectations! I swear I never enjoyed any yoga class before and I thought yoga was boring. But Taryn and the team at Loka Yoga School really makes it super fun! I enjoyed every second of it, even the other styles we experienced including Bikram yoga!
But it was even more than that. It was even more than the fun yoga, anatomy class, and other extra classes. It was so much deeper than that.
I easily connected on a deeper level with everyone in my group, who were complete strangers before. I was a complete beginner compared to the others too. I couldn't do any pose and felt like the weakest in the group. But here, I really learnt how to stop comparing myself with others. I learnt to love and appreciate myself, to understand that everyone is different, unique, and special, including myself. I learnt to love myself. Before, I didn't even realize that I didn't practice ahimsa (non-violence) to myself. I don't hate my physical appearance and I know I have many talents I'm proud of, so I thought I loved myself. But I always believed I was a bad person. I saw myself as a selfish narcissist who only cared about myself. During my teacher training, people kept telling me beautiful things about my personality and I started to love myself. I didn't know I needed that.
In a month, I was healed mentally, physically, and spiritually.
Loka Yoga School must be the best yoga school; definitely in Indonesia and possibly the world! I can't imagine a better place! It completely exceeded every expectation that I had. Exceeding people's expectations was such a huge goal, but it was achieved in less than a week, and it kept going for the next 3 weeks. I hope the Loka team keep doing this and exceeding people's expectations. Keep doing the beautiful things you've all done. I'm so proud to be a part of Loka Yoga School. Thank you.
– Astari Pahlevi (Indonesia)

It's hard to put my experience at Loka Yoga School into words, but one word would be 'extraordinary'. From pre-booking and pre-departure, to the first day of the course Taryn was there to answer any questions. Once the course started she and Yann exceeded expectations on a daily basis. This is so much more than a teacher training – we learnt, grew, and changed for the better. Taryn and Yann were so much more than teachers, they are friends and genuinely care for and love each of their students, you can clearly see it from their faces and support! No matter where you are in your life, or what headspace you're in, no matter how "good" or "bad" you might believe your practice to be, I would 10000% say to take the jump, and book into a training. You will not second guess it!
– Lily Stewart (USA)

If you are like me, you will check all the reviews on every platform of the yoga school's around and you will realise that Loka Yoga School has only excellent reviews. I promised myself to do a review at the end to confirm that all they were saying was true, and I have to say that Loka Yoga School truly exceeded all of my expectations!
The course is perfectly created to make you feel comfortable and safe to go deep in your practice. There are no perfect words to describe the Loka Yoga journey. All of the classes, workshops, and activities make your trip an amazing physical and spiritually ideal combination. Also, because there are smaller groups of only 16 people, it is so personalised and you never feel like 'another number'. They operate with love and give so much to us all of the time, they do not ever operate like a greedy business.
Taryn, Yann and all the community are lovely teachers and guides in your journey. They will take care of you in all detail levels, allow you an opportunity to challenge yourself in a beautiful, safe space.
I highly recommend anyone of any age to take this course if you wish to dive deep into the yogic journey or have a desire to become a complete yoga teacher and be confident that you will have everything that you need to spread this fantastic gift.
– Catalina Escrig Padaza (Chile)

I attended Loka Yoga School for my 200 hour YTT in July, and I am still on a high from the amazing experience I had. Taryn has created a thorough course which is both informative and fun. Taryn and Yann are so knowledgeable at what they do. They share all they know with you, to ensure you have the skills, knowldege and confidence to teach yoga, and to continue learning your own practice. Their passion is infectious, and I have come away so much more in love and passionate with the practice of yoga. Both Taryn and Yann are very warm and welcoming, and create a safe a supportive space, allowing each of us to develop on our own personal journeys. Taryn goes above and beyond to ensure your experience is truly one of a kind. There was lots of personal touches and gifts throughout the course too. I would recommend this course to anyone wanting to teach yoga, deepen their practice in a beautiful location with fantastic teachers, whilst creating memories and bonds with new friends. Thank you!
– Angela Kehoe (United Kingdom)

I attended the 200 hour Teacher Training at Loka Yoga school in April 2022, and it was such an amazing experience! The course was very well organized and covered so many interesting topics in the workshops, anatomy, and philosophy classes. We had a variety of yoga workshops from several teachers, all of them inspiring and from different backgrounds. My favourite part of the YTT was Taryn's asana workshops and daily morning classes. We studied so many poses in depth and looked at different variations and options for different body types. I also loved Sharada's philosophy classes (she is very deep!) and Stella's mobility workshops (this was so fun).
The course introduced me to different types of yoga which I would have never tried, and it has helped me to be more open and accepting (to yoga, and also to life!). During the 4 weeks I felt so comfortable at Loka Yoga School, disconnected from the rest of the world. I gained so much knowledge, experience and confidence from the YTT, and I've never felt so connected to yoga! Thank you Taryn and Yann.
When I got back home I felt so ready and prepared to teach – AND I AM NOW TEACHING (and confidently too!) thanks to you all!
– Hannah Kucera (Czech Republic)

Where to begin?!? Loka Yoga School is designed and weaves together with intention and deep, deep love.
The knowledge of Taryn, Yann, Shārāda, Stella, Deva and Jeanne is deep and skillful but entirely backed by a deep love and appreciation for what they do. It is impossible to not be impacted for the better in a space that is safe, honest and trustworthy. I will never be the same after doing this yoga teacher training, and this is the sweetest gift. The accommodation and space held during this time was perfect, the food provided and cafes around the area were delicious and accessible. I wouldn't change a single thing. If there is a piece of you wondering and curious, believe in that thought and jump into an amazing and excitingly real adventure.
– Sydni Loudermilk (USA)

I completed my 200 hour YTT with Loka Yoga School at their venue in Canguu in April 2022. It was led by amazing, very experienced and professional teachers. Well rounded and qualified to instruct in traditional Hatha, vinyasa, mantra, powerful pranayama, meditation and philosophy. I truly feel that I am extremely fortunate to have had the opportunity to study with such profound teachers. It was far better than I could have imagined or hoped!
As a bonus, we were also introduced to yoga mechanics, kids yoga and ecstatic dance, and their workshops were an eye opener.
Taryn, our lead yoga teacher and owner/ founder of Loka Yoga School was very patient and thorough. Her knowledge and experience were clearly visible throughout the training. Her encouragement and attention to details had a great impact on learning the proper poses and how to cue into them the right way. This was 4 amazing weeks of extensive learning, love and fun. We started our journey with a traditional Balinese blessing ceremony that was magical, and also closed our training with a traditional Shiva ceremony then sunset on the beach!
My whole journey was beautiful, from being in the gorgeous Bali, studying with Loka Yoga School and meeting fantastic individuals.
I highly recommend Loka Yoga School to anyone who is looking to experience the true and authentic yoga experience and leave with a bunch of memories and experience that would open the right door into the yoga career world.
Thank you Taryn, Yann and the entire team at Loka Yoga School.
– Najla Al Yazdi (Abu Dhabi)

WOW ! A life-changing experience. I came for a yoga teacher training and certification but I received so much more than that!!
The 4 weeks with the Loka Yoga team was amazing. The quality of the training is just beyond expectations. Everything is so perfectly organized. The teachers are the best; Taryn has selected the best teachers in the Bali yoga community for sure!
The food for breakfast, the daily practice, the workshops, the evening activities, the atmosphere, the venue, the sharing circles, everything is just amazing. I highly recommend Loka Yoga School for anyone interested in Yoga Teacher Training but also for a beautiful human experience in paradise.
– Candice Molard Magnenet (France)

Wow! My cup is overflowing with gratitude, with knowledge, with wisdom and with love.
This will be a long post, grab yourself a cuppa, get comfortable and read my heartfelt testimonial, and thereafter sign up!!
I signed up with Loka Yoga School in early Jan 2020, and was set to travel miles across the globe to beautiful Bali in March of 2020. However, with the global situation, travel was restricted, socials were restricted and all I could do was be patient. But, the fruits of patience paid off. Amidst the pandemic, Loka offered online courses, it just happened to be the perfect timing for me. I was battling with Fibromyalgia, a neuro-muscular chronic illness which slowly affects the nerves, causes invisible bruising around the body, inflammation, anxiety, brain fog, and sometimes can leave you immobile. I still am, but now I have the tools to help me cope. Yin yoga, meditation and breath work, were some of the tools I practiced for my mental, emotional and physical wellbeing. And when Loka Yoga School offered them online, of course I was going to sign up! My intention is to share these tools that have helped me, and given me new meaning to life and its challenges, in the hope they might help anyone going through similar challenges.
Yoga for me is the work you do for your overall wellbeing. 15 strangers from around the world would meet in the Island of the Gods with the the most amazing, authentic, knowledgeable, and passionate teachers; Taryn, Yann, Sharada, Stella, Jeanne and Deva.
Fast forward to the opening ceremony. Arrived at the location not expecting a retreat accommodation, with the kindest host, Peter and his assistant Ketut. A venue with a beautiful pool and rooms set to reveal either the sun rise/set overlooking rice fields, and the sound of the ocean waves in the background.
The Shala.. inviting was the aura of incense, the most captivating room decorated with Marigolds a mandala in the centre, a sculpted Buddha water feature, and endless fields of rice.
And then a circle of strangers.. the teachers who introduced themselves and a happy priest who conducted the opening ceremony. An experience I will leave for you to witness. We started each day in silence with the rising of the sun, a meditation practice, pranayama, mantras and vinyasa.
Followed by a breakfast fit for a king! On this note, I'd like to give extra "brownie points" to my considerate teachers for organising gluten-free options and my discovery to banana bread.
Soon after brekkie, we had anatomy with Yann, who made science fun and interesting. He shares knowledge of the human body and mind and integrates it into the yoga asanas informatively.
The rest of the day we study asanas, with an emphasis on alignment, adjustment and teaching methodology with the talented Taryn, the main, lead teacher. A true testament to hard work, discipline and determination. You can just see her energy light up when she teaches. She shares her personal journey, and I'm in awe of what she has accomplished so far in life. She has found her passion and you can witness it in all that she has to offer.
Week 2, we get into the spiritual side of yoga with the history and philosophy offered by Sharada who's fluent in Sanskrit. And who introduced us to Madu Hugs! The teachers were open to discussion and welcomed curiosity which led to sharing the extra bit of knowledge. They practice by example. They create a safe space for constructive feedback.
Apart from Yoga Nidra some evenings and Yin on the weekend, there was always an additional "unexpected" surprise workshop, to name a few; Ecstatic Dance, drum workshops, Yoga Mechanics and Yoga for Kids (I met my sister from Africa, the beautiful Jeanne)
A delicious excursion to the Aquatonic Thalasso Therapy Spa which is a journey through a labyrinth in water!
Sharing circles with support systems where you will offload emotional baggage, and reflect on life, laughters and tears, moments shared, surviving the intensity, and acceptance. Tissues are always on hand 🙂
What I can say from my experience is the training was extensive, the teachers competent and helpful. You will be challenged to settle into the role of the yoga teacher from day one. You will be leading a class on week 2! Yes, you will be surprised with yourself and walk out a smiling Internationally Certified YOGA TEACHER! You will get attached to majority of the yogis who are on the journey with you. A whole new family gained. Birthdays were celebrated. Never a shortage of sweaty hugs. The not expected "Angel Walk".
Loka Yoga School planned a day for the group to witness and attend a Shiva fire ceremony at the beach. Here, we let go of the burdens, the past, the pain, practicing forgiveness. We walked away light hearted and feeling like the "tallest person in the room". A union of like minded people who've created a bond and memories for a lifetime. We bid farewell after creating a mandala as a group.
To conclude, I am grateful to Loka Yoga School, Taryn and the other teachers, the fellow yogis, the accommodation and the chefs. And the most adorable fur baby, Night, who shared her love throughout, supported us with her unconditional love and kept us entertained.
– Shahyda Mahomed (Malawi, Africa)

Loka Yoga School was my life changing experience! It isn't just about the physical part of yoga, it is so much more. I was able to get to know who I really am. Everything I learned during the 4 weeks I can teach my students now. I love what I became and what I am doing and cannot be thankful enough to Taryn and Yann and all the other teachers at Loka Yoga School. I still look back at this time as the most amazing, beautiful and important time in my life! I am forever happy for the decision I took to do a Yoga Teacher Training and for all the beautiful souls I met who became true friends.
– Michelle Wagner (Germany)

I completed my 200-hour Yoga Teacher Training with Loka Yoga School in Canggu in May, 2019. Before arriving, I felt an instant bond with Taryn, the owner and lead teacher of the training. Her warm, enthusiastic nature put me at ease, as she goes above and beyond to accommodate the needs of all her students.
The Loka Yoga School crew; Taryn, Yann and all other teachers, are all knowledgeable and highly skilled in their fields. The quality of learning material is outstanding, and delivered in a style that's easy to absorb and fun. Our wonderful teachers generously shared parts of their own Yoga journeys, which helped me – and my fellow students – on ours.
On completion of the Teacher Training we were one, big happy family. That truly is an amazing feeling, and the friendships are lasting. Taryn is an amazing Yoga teacher and mentor whose guidance is unconditional and ongoing.
The Loka Yoga team pour their hearts and souls into delivering exceptional Yoga Teacher Training, allowing their students to shine as Yoga teachers and as individuals. I felt ready to teach Yoga when I stepped off the plane, back in my hometown. The training and my whole experience was life-changing. I'm truly grateful to have found Loka Yoga School. I miss you guys already!!
– Melita Eisenberg (Australia)

When I chose Loka Yoga to be the school I will take my 200 hours YTT, I had already set high expectations! Because not only did I already know Taryn's skills as a yoga teacher from attending her retreat, but I also chose to do it in my most favorite spot in the world; Canggu! Little did I know just how intense and deep the course was going to be and how amazing our philosophy teacher Sharada and our anatomy teacher Yann would be as well as Taryn, the asana teacher. My 30 days with those three, and of course my fellow yogis, were the most intense and beautiful journey I have had in my life. I've learned not only about asanas and the human body but also I've learnt the many various ways yoga can be be implemented in our routine and the whole process has changed me completely. I am so glad I went through such a transformational experience and especially with all the emotional support I needed.
Thank you so much Taryn, Sharada and Yann! I am looking forward to seeing you all again in Bali soon!
– Carina Martinez (Brazil)

The month at Loka Yoga in Canggu was in one word: AMAZING!The program was build in a way that made teaching a full yoga class very natural. Taryn takes the whole group step by step through all facets of teaching, using guidelines and personal experiences. Her morning practices are a lovely start of every day and she somehow always knows what kind of class the group needs. Her build-ups to the peak poses are spot on and her themes are absolutely beautiful!
The anatomy classes by Yann are very interesting and good to follow. He makes easy connections with yoga and the presentation materials make the classes dynamical.
And last but not least, Sharada is a true goddess! The way she teaches the sometimes difficult yoga philosophy is very inspiring. Her knowledge is remarkable and she has a quality to make it universal and usable in day-to-day life.
The location was wonderful and the food was delicious!
Thank you Taryn, Sharada and Yann for the amazing month! I feel so much wiser and ready to teach my own classes. I definitely hope our paths will cross again, but I'll be back in Bali, that's for sure!
– Sander Boef (Netherlands)

This yoga teacher training is an amazing experience and so much more than just learning how to teach yoga. With the combination of studying asanas, the anatomy of the body and philosophy you get a well-chosen and perfectly structured program that prepares you to embrace the yoga lifestyle.
Morning yoga classes with Taryn as well as the workshops and lectures were so much fun. She has a really smart way to make you do even the difficult postures before you even know it! The program is perfectly structured so that you easily get ready for teaching your first classes during the training. Taryn brings so much love and passion into her teaching and you can tell she just lives for the yoga!
Yann is definitely an expert at his subject and made all the anatomy stuff interesting and fun. In the end it all fits together and makes total sense. Sharada is amazing. I could have listened to her for hours. Her words are sacred such as everything in this world. Thanks to her I got a lot more self awareness and had huge insights. Her lectures were really deep and classes got quite emotional from time to time. I worked through a lot of internal issues I'd been holding on to.
The venue was a little out of town so that you could easily relax and stay in the 'yoga bubble' (away from the hustle and bustle of the real world) but it was easy to still go out there if we wished to. I found it very helpful not to be in the middle of the busy town. The school took really good care of us so that I had everything I needed at the venue.
Taryn created such a safe space and I felt comfortable with the group from the very first moment. It is a time where you can just be yourself. No judgement at all. I am super grateful for this journey with these amazing teachers and can highly recommend the program to everyone who loves yoga. Even if you wish to dive deeper into yoga just for yourself as I did, you will probably walk out of it with the desire to teach and share the knowledge and the love.
Let's all make this world a better place by spreading the yoga!
– Jessica Steppe (Germany)

After searching for the "perfect" YTT course for years, but never finding the right one, Loka Yoga arrived in my life just as it was supposed to. I realized this from the initial correspondence I had with Taryn, and throughout the entire month I had daily overwhelming reminders that this was exactly where I needed to be.
Taryn pours her soul into her teacher trainings and her genuine love, presence, and passion for yoga is undeniable. She is an incredibly compassionate woman and truly practices what she preaches, on and off the mat. Every single morning with Taryn feels like a personal therapy session as she guides you through your asana practice. She passes on her knowledge and experience generously and with a humble grace that is sometimes lost in the world these days. She holds a space that is safe and non-judgemental, and encourages everyone to be the unique individuals we are. This creates an environment that is not only conducive to students becoming confident instructors, but also experiencing deep personal growth.
Time stands still while Sharada speaks. She is a deep and powerful human being, whose vulnerability speaks straight to your heart and allows you to relate to her remarkable life experiences. With her sweet nature and light-hearted humour, she has this seemingly effortless ability to take you on a journey as she delivers simple yet profound insights that are emotional, thought-provoking, and mind-blowing. I found myself hanging off her every word during each philosophy lesson, and never wanted her to stop speaking. She has this incredible way of inviting you to change your entire perspective without pressure; just by simply showing you a different way.
Yann was the best fitted piece of the puzzle for Loka Yoga. His career as a nurse took him around the world, gifting him with plenty of knowledge and diverse experience and his information on different physical conditions is priceless. His lessons in anatomy have the perfect balance of education and entertainment to keep everyone engaged. He walks you through every single "small part" of the physical body, and in the end the bigger picture is much more clear, allowing you to integrate the information into your yoga practice and teaching. His smiley face and relaxed disposition seems to rub off on everyone in his presence, as you can really be yourself around him.
I feel like my life has changed, because it has been. I walked away with a certificate which says I can safely guide others through asana practice, but I left with much larger and important gifts. While I recognize that it is our own inner work, willingness, and presence that allows us to grow in life, it was through the teachings of Taryn, Sharada, and Yann that I had one of the biggest breakthroughs of my life. This training with Loka Yoga has been a necessary and vital component in my healing process and I cannot express enough my gratitude and love for everyone. It was deep, emotional, and beautiful. Thank you all.
– Cindy Gallant (Canada)

My heart goes out to the teachers Taryn, Sharada and Yann. Thank you for teaching me so much and supporting me in my personal growth. This yoga teacher training is put together with love and intention in a way I could never have imagined.
Taryn is one of the best yoga teachers I have ever met and I have worked with many as I am a yoga retreat chef. Her program is supportive from day one and I felt held all the way through the training including practicums and life outside the training. She opens her heart to everyone around her with presence and compassion.
Sharada is a woman from another world. Her philosophy teachings went straight to my heart and I admire and adore her. She is a precious addition to any training and her knowledge is without comparison. She taught me that just because i am happy does not mean the day was perfect but that I looked beyond its imperfections. Thank you.
Yann took us through extensive anatomy classes. He is a divine masculine and space holder and such an important part of a month of ups and downs where feelings and realisations get revealed.
All together the three of them make a dream team and I am beyond grateful to have come all the way from Costa Rica to Bali for their teachings. I have nothing but love and admiration for them all.This yoga teacher training is a journey of the self, through the self, to the self.
– Anne Skjoeth (Denmark)

I took my 200 hour Yoga teacher training with Loka Yoga School in May 2019.
Having taught yoga before, I came to Loka Yoga hoping to refresh my teaching skills, own self yoga practice and learn some anatomy. I received SO MUCH MORE, which I am incredibly grateful for!
From my very first email correspondence with Taryn, I knew I was in good hands. Her true nature lived up to her warm, welcoming and encouraging emails when we finally met in person. I was made to feel so welcome and comfortable from the start of the training. For me the teacher training was the perfect combination of Asana, Anatomy and Philosophy. Taryn is so passionate about all aspects of Yoga, and teaches from her heart. She imparts her in-depth knowledge and wisdom in a comprehensible, precise and loving manner. I just felt excited every moment I learnt something (which was often). I am still excited and the learning continues!! Taryn is an amazing and compassionate Yoga teacher. She breaks down key concepts of Yoga in a manner the student teacher can easily understand, remember, and mindfully pass on as a future teacher. This last point was crucial for me. The alignment workshops are invaluable, as we broke down each posture and learnt how to protect the body from injury. More than anything, I understand and believe in the teachings I now pass on. There's a big difference between learning by rote, and learning to understand, embrace and share. The latter is what I gained from Taryn's training. Taryn, you are a vibrant, beautiful soul with so much positive energy, I thank you from the bottom of my heart for sharing your expertise with me.
Yann teaches the anatomy component of the training.
His knowledge and teaching methodology is second to none. Rather than learning in a drab environment, Yann's course is fascinating, relatable and fun! I have read about Yoga anatomy and watched online tutorials, but nothing has given me the understanding of human anatomy as Yann's lessons did. I loved the classes and can now understand and explain to students, what is going on with their bodies in various Yoga postures. Thank you so much Yann!!
Sharada is our extraordinary Philosophy teacher.
I feel absolutely blessed to have met and learnt philosophy from this beautiful woman. With such a wealth of knowledge, Sharada is gentle and compassionate in her teaching. She has unlimited patience and a warm, strong presence. She has a special way of making you feel comfortable about big issues. Sharada's yoga philosophy teachings are a life-changer. We meditated, chanted and learnt Sanskrit (all three, usually out of my comfort zone but not on this training). We got to know ourselves – each other, and the world in a different light. The experience was so rich, learning from Sharada, who is dedicated to living her own life according to her studies and values. Sharada, thank you from the bottom of my heart.
– Melita Eisenberg (Australia)

I found Loka Yoga by coincidence. However, the whole way through the one month, 200 hour yoga teacher training, I felt that everything was absolutely meant to be. Taryn is one of the most dedicated and passionate souls I have ever met. Alongside with the other fantastic teachers Yann (Anatomy and First Aid) and Sharada (Philosophy and Yoga Knowledge). I started the whole project as an insecure but curious student and ended it as a confident yet more curious teacher. I am forever grateful for the experience and Loka Yoga gets all of my recommendations whether you are looking for classes, retreats or their transformational teacher trainings!
– Julie Bjorn (Denmark)

This Yoga teacher training fulfilled my expectations totally. It covered all aspects which I was seeking: having a wonderful comfortable place in Bali where you can focus on yourself, yoga lessons where my body has been challenged in a good and healthy way and learning more about the philosophy of yoga. The training let me grow to such a yogi that I feel comfortable to teach and also having the desire to share my light of yoga now. The philosophy and anatomy part have been taught in a very nice and easy atmosphere and the knowledge was so valuable beside the physical aspects. Sharada and Yann managed also to include the individual needs and question into their lessons and they have been a great partner for physical and mental health during the journey. A big thank you goes also to the group. This is something you just can not influence and lucky me the group dynamics gave me the possibility to gain so much from my fellow yogis!
In summary, it is such a comtfortable, relaxed and safe way to being prepared for the next level: Sharing my yoga love as a teacher!
– Tina Kreuz (Germany)

Joining Loka Yoga's YTT is the best gift I have ever given myself. I did not have many expectations when signing up as I was aware the quality of YTT's varies greatly. But from the very moment I arrived I realized this would be a time that would change my life. Taryn is without a doubt the best yoga teacher I have ever had and she is incredibly generous sharing everything she knows and her passion for yoga. I did not expect to feel so prepared and enthusiastic about teaching after only 4 weeks.
The teachings from Sharada are the most meaningful and valuable lessons to live a happy life. I learned so much about myself and this gift of knowledge I have received will without a doubt transform my life.
The space created for all of us to come together was so safe and full of love and I think we part ways knowing we have a wonderful yoga family that will support our future growth.
I cannot thank Taryn, Yann and Sharada enough for the wonderful time we had and for the transformation I am already seeing in my life.
– Marie Jensen (Denmark)

Loka Yoga has transformed my relationship with yoga -providing me with not only an outlet to escape everyday stresses of life through my new well developed practice but also an entire new yogi family and community. I am forever grateful for the experience provided to me by my teachers and my fellow yogis.
Thank you 💓
-Cassandra Williams (USA)

Before I signed up somewhat last-minute for this 200 RYS, I found myself in so many different places and levels in life. It had become difficult to integrate and coordinate all aspects. I originally decided on this course as I was familiar with Taryn's trainings and was interested in her holistic approach.
It was not only the studying of yoga in this holistic way; I was also able to get in touch with a different, deeper version of myself. These 4 weeks were definitely intense, but the training basis was well-founded, well-demonstrated and well-explained. The basis for an integrated yoga learning approach was applied through Taryn in the areas of yoga itself, along with her knowledgeable team in anatomy (Yann) and Vedic spirituality (Sharada).
My expectations here were not only fulfilled – I was able to reach new limits and learn new techniques – but surpassed in that Taryn and her team helped me to achieve what was never part of the grand planning. Which goes to show you – you don't choose the training, the training chooses you!
-Lisa Abrahams (USA)

Before I signed up for my yoga teacher training, I spent months researching for the perfect school for me. In the end I decided to complete my training with Loka Yoga School because it seemed very professional and with a high quality standard. Also, Taryn personally gave me a very good feeling since she answered all my questions in advance very thoroughly and caringly. I can now say that I made the right decision and that my expectations regarding the YTT were even exceeded!!
I honestly could not have imagined a better teacher for the asana training than Taryn!
She has so many years of experience which show in the high quality of her teaching but also in the passion which she radiates for yoga and her students. Before I started my YTT I didn't have the intention to actually teach, but only to improve my own practice. But Taryn made me love and enjoy teaching so much and she really sets you up for success to become a secure, confident and knowledgeable yoga teacher. She equips you with everything that it takes to become a teacher right after you graduate the YTT. Also, she was always there for us personally when we needed her, which I very much appreciate.
The anatomy lessons were the perfect theoretical compliment to the practical asana workshops. We learnt everything we need to know about the major systems of the body (bones, blood, nerves, muscles etc.) to design and conduct a safe yoga lesson and also to understand your students limitations. The teacher, Yann, is a nurse and is therefore very experienced and also made a great effort to not let the classes appear too theoretical, but gave a lot of practical examples and anecdotes. I benefited a lot from the classes and even though it was sometimes difficult for me as a non-native to follow the technical terms, I gained so much important knowledge about the body which gives me a lot of confidence for my teaching.
Before my YTT I did not know much about the philosophical aspects of yoga, so many concepts and terms were new to me. The teacher, Sharada, is a beautiful and very inspirational soul and very knowledgeable in the philosophy of yoga. To me personally the classes could have been a bit more structured, since it would have made it easier for me to understand the big world of yoga philosophy a bit better.
BONUS! First Aid…
I completed last first aid training 10 years ago, so it was very helpful and much needed to refresh this knowledge. It's very practical that it is included in the course because in most cases you would have to present a first aid certificate anyway when you want to work as a yoga teacher. So I appreciate it very much that we were trained in first aid, also because it makes you more confident when you know how to deal with certain situations, even outside a yoga class.
To sum it up, I am so glad that I chose Loka Yoga for my YTT.
I had an amazing time in Bali and I gained so much knowledge, experience and wonderful memories during this time which I don't want to miss. I can recommend this school without any doubt and would always choose it again if I had the choice.
– Frauke Dietrich (Germany)

Thanks again to Taryn, Sharada and Yann for sharing your knowledge and passion.
It was so visible that you guys want to share your love for yoga and in the 4 weeks training, I have found a way to myself while practicing yoga – finding stillness in the moments of meditation and learning more about yoga philosophy and our amazing human body.
I really loved the energising yoga practices every morning and the way Taryn always engages the energy of the group and adjusted her classes accordingly. As yoga teachers, we can truly learn from her and her experience. It was great to learn so much about the correct postural alignment and the benefits of each asana. With the posture and adjustment classes she gave us the opportunity to explore and we learnt a lot about sequencing (explicitly and implicitly).
The experience to prepare and teach a 30 minute and 60 minute yoga class gave me the confidence to start teaching at home. And I'm really thankful for that, because I just joined the YTT for getting to know my body better. Now, I feel that I would like to keep on learning and also share my love for yoga.
Last but not least I met great people, who share values and a common passion and who have become dear to my heart. I know that yoga and some of my fellow yogis will always play an important role in my life. For that I'm really grateful.
– Maarit Schiel (Germany)

My experience at Loka Yoga School far exceeded my own high expectations! I did not realise and I could not possibly have realised how much I would gain from this endeavour. I came into it for my own practice and I did not think I would be ready to stand in front of a class and deliver a well sequenced, thoughtful, beneficial, fun and professional practice…I am so proud to report that I was delightfully wrong!
The Loka Yoga teachers – Taryn, Yann and Shaaradaa – were next level. I have nothing but respect and admiration for each of them. They have 'walked the walk' in their respective fields and that experience, passion and knowledge was laid out for us each session like a delicious, nutritious buffet to gobble up.
I have not sat in an anatomy class since high school, I didn't know my elbow from my ankle, or my colon from my trachea! Piece by piece the puzzle was explained to us in digestible sections by Yann; very in depth and well presented as well as fun! We enjoyed many laughs along the way which is important. At the end of it all I have gained the level of understanding I feel I needed. On a personal level it made me appreciate so much the gift of having these incredibly complicated miraculous tools we call the human body. Essential teachings.
The Philosophy with Sharada was always a highlight of each day for me. She is a beautiful person and amazing teacher. We would sit for a couple of hours each afternoon absorbing the wisdom that would flow from her. Again I was not aware of the depth of the Yoga teachings and Yogic way of life. The 8 limbs of yoga were revealed to us in a relaxed and peaceful manner, we all asked many questions of Sharada and the teachings. She has a knack of explaining things through beautiful relatable stories. I gained so much inner knowledge, peace of mind and growth from these classes and would look forward to them.
The Asanas! The sweaty stuff! Its the main reason I was here originally and again, rapt with the journey and the outcome. Taryn is a rockstar and a true professional. She took us on a two hour journey each morning to start the day. Meditation, pranayama, mantras, the Asanas and Savasana. That's how ya do it! Learning what it takes and what is involved with presenting a well rounded, safe, challenging and enjoyable class to people. In the daily workshops Taryn would break down each Asana using techniques that make the learning stick. Sequencing, cueing, all the little bits and pieces that make you into an effective, confident and professional teacher are covered at length. Taryn delivers it all with passion and patience and a big smile. I never doubted her ability or knowledge for a moment.
I could not recommend this journey with Loka Yoga more highly. I don't think it could of been a better experience for me personally… that's not to say it was without its challenges. We were all encouraged to dig deep physically, mentally and emotionally, which is exactly what I was looking for. I came in feeling pretty low on confidence for various reasons and I've been shot out the other side full with happiness, optimism, calm, enthusiastic with a side helping of gratitude! And on top of this, I have also gained a bunch of new friends that I have a deep bond with for life!
-Casey Gibson (New Zealand)

I usually have high expectations and Loka Yoga surpassed them by far. I would never have imagined that something like this can actually happen.
This month gave me the very valuable experience of that one can feel happy – unjudged, no need to judge, just accept the way things are. This was possible to the extrordinary personalities of Taryn, Shaaradaa and Yann, and the values they encourage to be followed during the training.
In the asana workshops we learnt the most important postures from their base and into the details. Taryn is very knowledgeable, has a lot of patience and sticks to a high pace at the same time, so each one of the students was actually able to teach a complete 1-hour yoga class after 3 weeks!
I believe it's a huge privilege to get greater knowledge about our magical body in the Anatomy classes from a nurse (Yann), because he is able to talk from personal experience. Shaaradaa's Philosophy classes were so incredibly revealing. We learnt about the foundations and principles of Yoga. Shaaradaa managed to translate them into modern language/ lifestyle and provided us with the tools that we can make use of in order to make ourselves happier. When I did not see or dare to see that I want to be a yoga teacher before the training, I now have the courage to say that I WILL.
I can't put my gratitude into words. Thank you for a month I will never forget.
– Rahel Landolt (Switzerland)

When I was looking for a YTT in Bali, I was attracted by Loka Yoga with it's beautiful and authentic appearance immediately.
The first contact with Taryn was very kind, she answered all my questions on very short term, and I felt comfortable right from the start. She always encouraged me, and my first impression was to be proved right during the training. She prepared every workshop and practice with a lot of heart and dedication. She was always aware of our physical and emotional wellbeing, adapted the class to the group's needs and gave us many options for our own practice. I loved the mix of Hatha, Vinyasa and Yin Yoga a lot and the way Taryn combined it with Pranayama and Meditation. She set up a beautiful training so rich in variety and created this space where everyone of us felt safe and supported. I also really loved the fact that it was a small group! Taryn's professional approach, precise teaching and her giving from the heart enabled us all to overcome our insecurities, provided us with the necessary skill set and knowledge and helped us grow to be teachers.
Yann's anatomy classes were just big fun! The lessons were very well prepared, his professional background as a nurse made it always clear and easy to follow. I enjoyed the relaxed and open-minded atmosphere and that we could always ask questions. His classes gave me a broad range of anatomical understanding of the human body and how I can apply this knowledge to teaching and my own yoga practice as well. I also appreciated the opportunity to do the first aid training during the YTT.
Sharada's lessons were so unique and inspiring. She introduced us to the huge world of yoga philosophy, the teachings of the vedic culture and her own spiritual journey and wisdom really showed. I could listen to her for hours and her lectures blended in perfectly with the asana and anatomy workshops. She demonstated how we can implement the ethics and values of yoga in our daily life and inspired me to learn more and dive deeper into yoga philosophy. From breaking ancient sanskrit words down to the inner meaning, chanting beautiful mantras or introducing us to kirtan and the puja ceremony, I loved every single minute spending in her beautuiful company! On the first night, most of us were not even sure to be a teacher. On the last one, every one of us felt well prepared and confident to teach. I think that says it all!
THANK YOU, Taryn, Sharada and Yann for this incredible and intense time with you on the island of the gods and for your guidance and support!
– Lili Gruebel (Germany)

My yoga teacher training with Loka Yoga in one word: life-changing. What a beautiful journey surrounded by people who share my passion and values. I am grateful beyond words. We were sweating, laughing, crying, growing finding stillness, finding ourselves, making deep connections and receiving so much.
Just as yoga is more than some stretching, a teacher training at Loka Yoga certainly is more than just some asana work. Taryn and her team have created a wonderful and comprehensive program.
Taryn is an amazing lead teacher and her passion for what she does is contagious. Morning practice with her was the perfect start into every day. Followed by so many fun classes throughout the day such as posture labs and yoga business, she set us up for being a teacher. I really admire her dedication for passing on her knowledge to her students.
Anatomy classes with Yann made me gain a deep understanding of the miracle of the human body. His classes were filled with both knowledge and fun. He made me realize even more that our bodies are a work of art and perfection. And surely the anatomy knowledge helps understand asanas and the effect of yoga on our physical bodies a lot.
Philosophy classes with Sharada were a highlight of the day. She is such a beautiful soul and inspired me so much. Learning from her, chanting together and doing puja rituals has touched me on such a deep level.
I am truly grateful for the deep friendships I made, my dear fellow yogis, the inspiration and teachings, the new perspectives and insights, the new me.
Lisa Opitz (Germany)

This month was just amazing and it has changed my whole life, I am so grateful.
I found the Anatomy classes very interesting and useful. I've learned a lot of things; we can clearly see that Yann is a professional and that he knows a lot of things and it was fun! I'm so happy to have discovered the whole background of yoga (or a part) throughout the Yoga Philosophy. The incredible knowledge that Sharada has is beautiful and I'm really grateful for her teachings. All the lessons resonated with me and since those I'm trying to be a better yogi every day. Thank you so much. It was just amazing. The teachers at Loka Yoga are so wise.​
The asana workshops were really helpful and I think I've learned the real yoga thanks to you! Even if sometimes I was really tired after the morning practice, it was so useful and I feel comfortable to teach now. So thank you so much.I loved the opportunities Taryn gave us to teach our own classes! The 30 and 60 minute practicums were so helpful and set us up for success and confidence to teach yoga. I'm happy to have discovered that my passion for yoga is to teach it and to learn even more the philosophy.
First Aid was a bonus addition to the course and I am grateful to have learnt the skills and knowledge to save lives in the case of an emergency. What a life changing experience!
– Ilona Dupertuis (Switzerland)

Thank you so much for this amazing experience; I will take so much home from this journey!
The anatomy classes were hard for me at the beginning because of the vocabulary. But after a few days it got easier. Yann is an amazing teacher and always gave so many examples and personal stories, so we could understand everything so much better. I am glad to have a better understanding of the human body now.
The philosophy classes were so inspiring. Shaaradaa is a beautiful woman and I could just sit and listen to her for hours and hours! Even though it can be hard to understand the spiritual side of yoga, she teaches in a simple and understandable way. I really liked that we could share so much of our own lives and work on various aspects of ourselves. And I especially enjoyed the puja chanting circle and the fire ceremony!
Taryn is just awesome! I really look up to her and her teaching is just amazing! She is such a strong woman who always made us feel strong as well. Her emphasis is great and she knows how to adapt the classes and schedule based on how we were feeling that day. I loved her yoga, pranayama and meditation classes and also the posture lab workshops. I feel I received a really good understanding of the asanas and I feel comfortable to cue into and out of the poses. I also loved the adjustments that we learned – they give so much to the students!
I am so grateful for the time we spent together and for all the new friendships that grew.
– Jana Fuchs (Switzerland)

I've had such incredible experiences with Taryn, as my first yoga teacher in Perth, then her amazing yoga teacher training course and then her retreat!
She is so full of life and love and willing to do anything to make sure everyone is happy and having the best experience.
​Loka Yoga was able to give me the opportunity to travel and see North India. I felt safe in every place and every activity we went to. I am so lucky to have taken this journey with the lovely friends in my retreat.
If you want to see India but don't want to go alone then Loka Yoga is the retreat for you.
Perfect is the word that comes up if I look back at the YTT with Loka Yoga. The teachers are complimentary to each other, so I got inspired by wise & passionate teachers. In a great environment I learned about a broad variety of yoga (hatha, vinyasa, tantra yoga, meditation, pranayama, philosophy & anatomy).
Our teachers have beautiful hearts and you will definitely feel that throughout your time with them. The program is an amazing set up to prepare you to feel ready as a yoga teacher and as bonus, it is life changing for your own personal grow as well!!
– Rebecca Ballintijn (Australia)
JULY 2018

Thanks again! Perfect is the word that comes up if I look back at the YTT with Loka Yoga. The teachers are complimentary to each other, so I got inspired by wise & passionate teachers. In a great environment I learned about a broad variety of yoga (hatha, vinyasa, tantra yoga, meditation, pranayama, philosophy & anatomy). Our teachers have beautiful hearts and you will definitely feel that throughout your time with them. The program is an amazing set up to prepare you to feel ready as a yoga teacher and as bonus, it is life changing for your own personal grow as well!!
– Judith van Sundert (The Netherlands)
JULY 2018

My experience with Loka Yoga School has definitely changed my life. They are not only loving, compassionate and thoughtful but also very professional, disciplined and knowledgeable.During my stay, I always had the feeling that our safety and well-being was of utmost importance and that helped create a safe environment to practice and grow – not only as a yoga teacher but also spiritually.
My expectation was to pass my exam and walk out with my certificate…and I left with SO much more!
– Leonardo Kucuk (Denmark)
JULY 2018

I didn't choose this yoga teacher training – this training chose me!
As I arrived to the venue, my watch stopped and retrospectively this was the sign that a new time, a new chapter, a new life is going to begin for me. Because this yoga teacher training was a life changing experience.
I didn't only learn lots about yoga, the history of yoga including Patanjalis Yoga Sutras and anatomy but – and maybe more importantly – lots about myself. What I want from life and what my purpose might be here in this world. I loved every second of the course, even though it was not an easy going journey but rather a challenge – physically, mentally and emotionally. The teachers were the best I could ever imagine to guide me into my yoga teacher journey. They complimented each other just perfectly and delivered the training with so much love and compassion, not to note that they are highly experienced and professional. As they are. Thank you so much!
From my heart to yours- NAMASTE!
– Christina Becht (Germany)
JULY 2018

It's hard for me to put in to words the gratitude I feel towards the energy, enthusiasm and selflessness that both Olav and Taryn showed towards guiding me through this life changing experience.
They went over and above; not only giving me a thorough education and training in Yoga postures, philosophy and anatomy, but supporting me through my inner journey which was an inevitable part of taking the time out from the normal rigors of daily life and immersing myself in this powerful transformational experience.
Through the Yoga philosophy classes and posture labs I have deepened my understanding of Yoga and this has strengthened my connection with myself and given greater meaning and depth to my practise and sharing of yoga.
Taryn inspired me with the energy she brought to each and every day, always putting our needs before her own, she epitomises professionalism as yoga teacher and taught me amazing cueing, alignment and a huge variety of sequences which will last me a life time. I am grateful for the amazing facilitation ideas and for her love of ecstatic dance, she assisted me in overcoming my fear of dancing and opened up a new outlet for my creativity and self-expression.
Olav taught many complex ideas in way that was easy to digest, he has a great sense of humour and does his best to answer any questions that arise no matter how peculiar they might sound. I particularly enjoyed the discussion style learning, splitting off into small groups and reporting back our learnings. I was grateful that he has chosen this path to pass on his wealth of knowledge and experience and enjoyed hearing about his many inspiring life experiences. I was inspired by his authenticity, his humble nature and his dedication to the practise of yoga.
I highly recommend this experience to anyone wanting to deepen their practise of yoga in a safe and supportive environment, to develop yourself as a human being, to make some new friendships and life-long connections and to learn a high level of professionalism and skill should you wish to teach.
– Danny Cartlidge ( New Zealand)
MAY 2018

This 200 Hour Yoga Teacher Training was the best experience of my life! With many options out there I wanted to make sure I found a teacher that really resonated with me. I found myself connected with Taryn and I jumped straight in.
From the moment I arrived, I could feel her genuine care and she creates a loving nurturing environment around you while you learn. I found her enthusiasm and passion to be contagious and her professionalism in her classes and teaching impeccable. For me it was her heart and her approach that impressed me. I learnt so much from her wealth of knowledge through anatomy and asana but also in our morning practice. I am so thrilled I was able to be apart of this course with her. I feel like I have received a solid foundation and I have the confidence to go out there and actually teach. The other teachers complimented Taryn perfectly. I quickly was in awe of them and their journeys. They are incredibly intelligent, spiritual and definitely 'the real deal'.
They are also down to earth and grounded and offers such beautiful support through out the process. The asana classes, pranayama and meditation is life changing. I honestly feel so lucky I was able to learn from these amazing people. What a start to this journey. I walked in thinking I wanted to deepen my practice and may be volunteer at work as a yoga teacher but I left finding a burning passion I never could have imagined. I love sequencing, planning classes and actually thrived delivering the practical exams. I enjoyed every single minute of this training.
Thank you so much! Life changed forever.
– Samantha Dickson (Australia)
MAY 2018

The yoga teacher training course at Loka Yoga School is something that I will never forget. The teachers are both exceptional teachers who, when put together, are a real force to be reckoned with. They share such an impressive and vast wealth of knowledge and expertise in the field of yoga, as well as a deep passion for teaching that was just contagious. As teachers, they were always so encouraging, attentive and dedicated to us as students. Their teaching styles were consistently varied, dynamic and thorough, and they taught the course in a very engaging and effective manner. I found their energy, drive and presence extremely inspiring and, to me, they made the teaching of yoga a true art form, which is something I didn't even know was possible.
This course has really allowed me to grow as a person and I have come away with not only a passion for teaching yoga, but also a new-found confidence within myself as an individual. The other people on the course were honestly the most genuine, kind, warm-hearted people I have ever met in my life and after just a few days, we already felt like family!
I feel very honoured and privileged not only to have gained my qualification from a yoga school as amazing as Loka Yoga, but also to have been taught by teachers as gifted, talented and authentic as Taryn and Olav. This has been a transformational and life-changing journey, and the memories I have come away with are ones which I will treasure forever. Loka Yoga has given me so much confidence and self-belief in my own teaching capabilities and I cannot wait to see where this qualification will take me in the future! I started the course as a girl who had a keen interest in yoga but who felt unsure about the world and what it had to offer; I have come away as a self-assured young woman who has fallen head over heels for teaching yoga, who has gained some wonderful friends for life, and who has been given a taste of what living a life of purpose and passion is truly all about.
– Katie Bennett (United Kingdom)

These guys are the absolute teacher dream team! Their constant dedication to making us the best possible teachers is inspiring and I definitely feel like I was set up to succeed as a new teacher. It was a challenging but rewarding course that went far too quickly. I wish I was still in Bali! I would definitely recommend them to anyone looking to further their knowledge of yoga and philosophy. Thank you so much.
– Erin Bruce (Australia)

When signing up for this yoga TTC I have to admit that I had high expectations based on what it promised on their website. I was open and ready for a life-changing experience without knowing though, what that would really involve. What I got from this TTC, however, exceeded every expectation I could have possibly had and, indeed, changed my life. This journey is different and these 4 weeks are only the beginning. Taryn and Olav are two incredibly inspiring humans and the best teachers on the planet. They are an amazing team and complement each other perfectly offering a very broad and wide spectrum of different styles and ideas to get inspired by and for you to find your owns.
One of the most beautiful things on this course was the wonderful and safe space they created for us, in which I felt loved and accepted the way I am and could fully embrace my own true self without any judgement. They put so much love and effort into this, which made me feel so endlessly grateful for every single day with them. If you asked me what I would change about the TTC, my answer would be: nothing! Absolutely nothing! Everything was perfect exactly the way it was. And if there had been something you felt could have been improved, Taryn and Olav were always there for us and they made sure that you had the time of your life.
– Petra Florian (Austria)

I participated in the 200 hour YTT lead by Taryn and Olav at Loka Yoga School and the experience was nothing short of life changing.
The schedule we followed was clear, concise and well-organized. We covered not only asana, but the philosophy, anatomy, and business side of yoga as well. Because of this 200 hour YTT I've been able to dive deeper into the world of yoga and learned so much about myself in the process. My experience overall was profound and I look forward to practicing with them again.
Taryn and Olav are both very knowledgeable about their craft and are always willing to answer any questions you may have. They truly are setting up their students for success on and off the mat.
– Vanessa Le (USA)

In July 2018 I joined the 200 hour yoga teacher training course with Taryn and Olav.
My main aim with doing the course was to deepen my own practice and understanding of yoga, and not necessarily to become a yoga teacher.
I thought the course was very well put together and thoughtfully prepared by Taryn and Olav. Both Taryn and Olav have heaps of experience in practicing and teaching yoga. But experience really doesn't count for much if you're not able to convey this to your students. This is where I feel so lucky to have chosen this specific course over the others that were on offer. I thought the teaching team were exceptional in the way they were able to share their knowledge and experience but most of all the way they were able to ignite a flame of passion for yoga within me and all my fellow students. It really is thanks to their enthusiasm, encouragement and sensitivity that they were able to guide us on our personal path to self discovery.
The course curriculum was very good and I felt that we were given a very thorough introduction to the history, philosophy and practice of yoga, and that this will serve as a very good base to further develop our understanding of this great philosophy in our own practice and lives.
The immersive nature of the course really played an important part in this too. We were so well looked after and really didn't need to think about anything except internalising what we were learning day to day. This nurturing environment combined with the daily schedule of meditation practice and study gave me a very clear insight into a way of life I would like to pursue and realise in my own life back in London.
I think most important of all was that I now feel quite clear that I would like to share this incredible philosophy and practice with others and will actively seek out teaching opportunities when I'm back home.
An all round life changing experience that I urge you to take if the opportunity arises.
– Roux Malherbe (United Kingdom)

Taryn has a lovely energy about her, she leads classes that flow well and encourages me to try challenge myself within my own practice. Taryn has a knack for helping everyone, regardless of how experienced they are. She understands that each body is different and requires different techniques. Her gentle encouragement and friendly demeanour is a delight to be around.
– Tracey Harding (Australia)

Taryn is such a passionate and inspirational yoga teacher and practising with her has had such a positive impact on my life. I walk out of every yoga class with Taryn feeling lifted, happy within my self and ready to take on the world. No matter the class size or range of abilities, Taryn meets everyone where they are at and guides them to push past the limits they set upon themselves. It is clear Taryn loves what she does, and that love and passion is felt amongst everyone who is lucky enough to practise with her. I am very grateful to Taryn for inspiring a love of yoga within me.
– Bonnie Blewitt (Australia)

I started yoga about 2 years ago with Taryn. I had never tried anything like it before so I didn't know what to expect. I was used to high intensity workouts, weight lifting and running. I barely made time for stretching and was always sore and had a lot of problems with my hip flexors. So bad that I would wake up in the middle of the night in agony from the pain and the cramping – being so young, I knew I needed to do something to make them better.
As soon as I started yoga I told Taryn the problems with my hips and she taught me a lot of poses that were specific for hip stretching and opening. I have never looked back since starting yoga, I have noticed such a difference not only in my Body and flexibility, but in my frame of mind. I would walk into a yoga class stressed and frustrated and walk out of there feeling amazing. Taryn has so much love and care for her students and for that I am forever grateful.
– Sophie Joyce (Australia)

I have been practicing yoga for just over 2 years now. My first class was a long time coming as I put it off and put it off but finally I committed to a class which Taryn was teaching. As it was my first class I was nervous and a little shy, not knowing what to expect. All of which was pushed aside with Taryns warm and welcoming nature. She made me feel welcome straight away, which made me feel so much more comfortable, from this moment I knew I would be making as many of her classes as I could. Besides her gentle, caring, lovely nature Taryn has been the most diverse teacher I have had over my 2 year yoga journey. Each class was filled with new positions and new teachings which always kept the classes fresh and exciting. After every class I always felt like I had improved my yoga. I always looked forward to seeing Taryn and participating in her classes, cant wait till I can participate once again.
– Adam Williams (Australia)

Taryn's energy and passion for what she does is contagious. I found her knowledge and commentary delivered a greater focus in my poses and my practice in general. My favourite element of her teaching style is the knowledge Taryn shares with students on the yoga mat. I found myself becoming curious about how I practice yoga and the benefits of regular practice.
I recommend yoga to anyone looking to explore well-being. I highly recommend Taryn as a passionate and knowledgeable yoga teacher that can guide you on your own journey.
– Fernando Baptista (Brazil)

I met Taryn in Rishikesh in India where I did my Teacher Training Course in January 2016. I had such a good impression when I first met her. I instantly felt good straight away, she has such a great energy! I have not met many people in my life who are as passionate as Taryn is about her profession. She is very confident in her teaching and she always strives to help achieve the best out of her students. I feel really grateful, lucky and proud that I had the chance to be taught by Taryn.
– Virginie Bibeau-Novert (Canada)

I met Taryn during my TTC in Rishikesh. I have met other yoga teachers but Taryn is the type of teacher that you really are looking forward to meet. She is so dedicated and so skilled that really makes your practice unique. She knows every different variation of each asana and while performing the asanas, she does it with a rhythmic pace that you will not loose the fluidity of the movement. Her knowledge in Sanskrit it is a plus. you don't have to go on a notebook or book to find out the meaning. I found that very helpful during my training. Besides the teacher perspective, Taryn is a great person, always smiling and willing to help you in every aspect. To go to India requires a physical and emotional effort. Taryn is always there to guide you in your Journey. I am grateful that I met her and I really hope to practice again with her.
– Dr Victor Gomez (Colombia)

I had the pleasure of having Taryn as my teacher during my 200 hour Yoga Teacher Training Course in Rishikesh in March 2016 and I'm so glad that I did! She exudes passion and is extremely knowledgeable. The energy that she brings to the studio is contagious and I found myself wanting to work harder because of it. Taryn was always encouraging, always available if you needed her and always smiling! What I learned from her I will carry with me for the future of my yoga journey.
– Elissa Sundman (USA)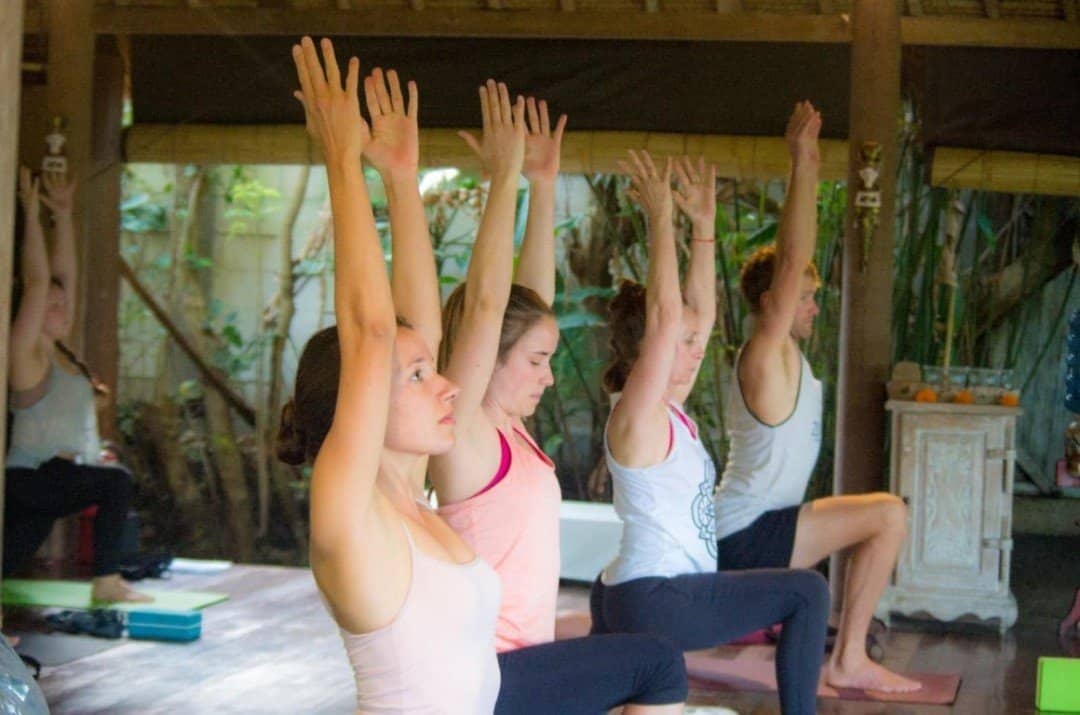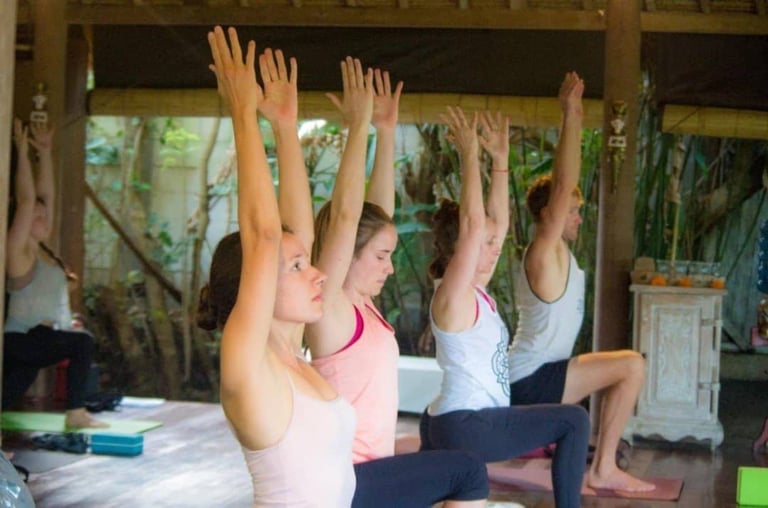 Evaluation & Certification
Assessments will be based on practical evaluation of a 30-minute and 60-minute practicum.
Student conduct will be a part of the assessment criterion.
Evaluation or certification will be carried out only for those students who have attended all classes within the 200 hour program.
Yoga Alliance Certifications in Bali – RYT 200
The certified yoga teacher training courses offered by Loka Yoga School include the 200 hour hatha vinyasa yoga teacher training program. Whether you have knowledge of this ancient practice or you are just a beginner, here at Loka Yoga School you will be able to develop your understanding of yoga to such an extent that you will in turn be able to teach yoga professionally. Following successful completion of the program, our graduates can join Yoga Alliance as a registered yoga teacher (RYT 200) as per their qualification.
Yoga Teacher Training – Code of Conduct
The Loka Yoga School Teacher Training program is rooted in the ancient wisdom of yoga. We make the greatest effort to uphold a code of conduct dictated by the heart and request our students to do the same.
Maharishi Patanjali, the originator of the Yoga Sutras, described certain modes of behaviour supportive of the spiritual practice. Your time with us should be guided by the following values: Respect (to teacher and students), Non-violence (physical, mental and emotional), Honesty, Self-Responsibility, Compassion, dedication to the practice.
In order to successfully complete our course and be certified as a 200hr yoga teacher with Loka Yoga School, you must participate in all classes. In the event of serious injury or illness and with medical advice, absence may be assessed accordingly. This is a decision made by the lead teacher. Please be prepared to immerse yourself in the studies and embark on the ultimate adventure of a lifetime!
BOOKING TERMS & CONDITIONS ARE NOTED ON OUR TEACHER TRAINING PAGE


International Yoga Teacher Training